Navigating legal waters: Independent contractors' status in Bangladesh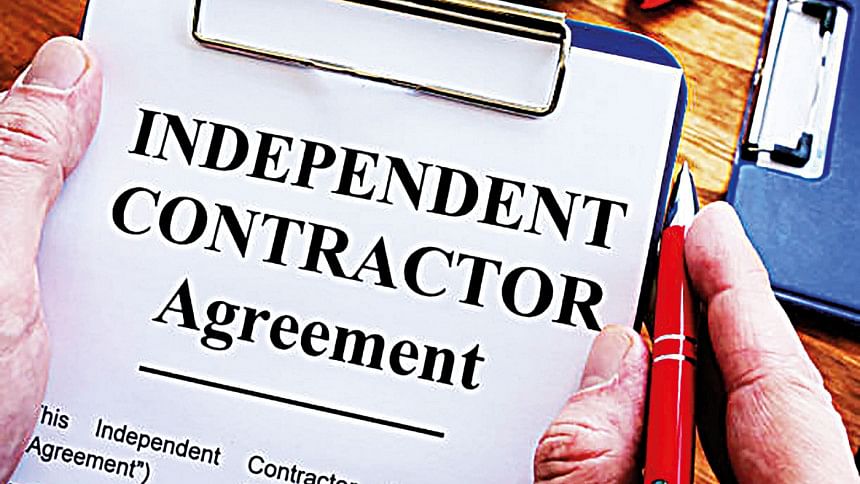 In today's rapidly evolving business landscape, the role of independent contractors has become increasingly significant. These professionals are self-employed individuals who provide valuable services to organisations without the formalities of traditional employment. While this arrangement offers flexibility and specialisation, it also comes with some legal risks. Therefore, the legal framework governing these contracts deserve our attention.
Bangladesh Contract Act 1872 regulates the engagement between independent contractors and their hirers. The Act sets out the fundamental principles for establishing valid contracts, ensuring the legal soundness of contracts. Generally, for a valid contract there must be (i) an offer and acceptance, where both parties unequivocally agree to the terms and conditions, (ii) capacity of contracting parties (thereby excluding minors, those of unsound mind, and those disqualified by law from entering into binding agreements, (iii) consent of the parties to the contract being free from coercion, undue influence, fraud, misrepresentation, or mistake, and (iv) lastly, lawful consideration and object.
The application of these principles to agreements involving independent contractors is quite fascinating. Take, for instance, non-compete clauses that seek to limit an individual's ability to engage in a similar profession. While these clauses may appear restrictive, Indian case law offers insights into their legality. Notably, the Supreme Court of India has held such clauses void, safeguarding an individual's right to earn a living. However, there are exceptions to this rule as seen in the Niranjan Golikari v The Century Spinning and Mfg. (1967) case, where contracts limiting the ability to work elsewhere during employment were upheld.
Distinguishing independent contractors from regular employees becomes pivotal, as the latter enjoy distinct legal protections under the labor laws of Bangladesh. The Bangladesh Labour Act, 2006 and the Bangladesh Labour Rules, 2015 apply exclusively to 'workers', defined as individuals engaged in manual, technical, or clerical work, which means employees who discharge their duties in accordance with instructions from their superiors, have virtually no authority to deviate, and who have no authority to hire or fire other employees. This distinction underscores the importance of clarity in categorising engagements.
The ambiguity surrounding independent contractor status is not ignored by the courts. Case law emphasises that the determination hinges on factual considerations. The Suraiya Rahman v Skill Development for Underprivileged Women and others (1997) case elucidates that the nature of control and supervision exercised by the hirer defines the relationship. The degree of power wielded by the hiring organisation over the contractor's work process thus was identified as a decisive factor.
Amidst these intricacies, misclassifying someone's employment status can have significant consequences. Although there isn't a direct penalty for erroneously classifying an independent contractor, the courts possess the power to apply labour laws if misclassification occurs. This shift retroactively awards workers the rights and benefits they would have otherwise been entitled to, compelling employers to provide gratuity, earned leave, and other benefits, proving the far-reaching ramifications of misjudgment.
In the dynamic interplay of modern business relationships, the legal and regulatory framework governing independent contractors is a symphony of rights, responsibilities, and consequences. Navigating these waters with clarity and precision is not only a legal necessity but also a strategic imperative. As our professional landscape continues to evolve, a deep understanding of these principles will empower organisations and contractors alike, fostering relationships that thrive within the bounds of legality and equity.
The author is a Senior Associate at The Legal Circle