Sharing wisdom with The Daily Star Gift Cards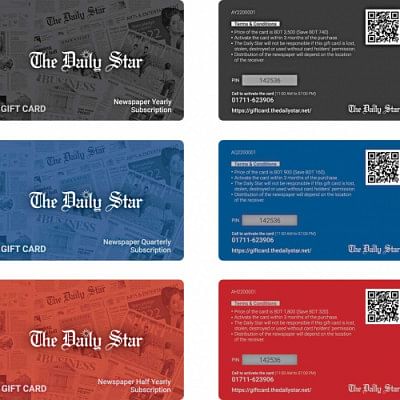 Gift cards and vouchers are an exquisite way of gift giving, where the receiver can purchase anything to their liking within a said amount. While gift card is a common custom in the retail scene, what if you could do the same in terms of sharing knowledge and information?
The Daily Star now makes it possible to share wisdom in the form of gift giving with their newly launched gift cards.
"The gift cards are a first of its kind in the newspaper industry, which is an excellent means of sharing wisdom and disseminating information with one another," said Shuvashish Roy, Head of Business at The Daily Star.  
They are available in three types, being quarterly, half-yearly and annual subscription in varied price ranges with budget saving deals. This means that newspaper subscription would cost you more if you were otherwise to take subscription via traditional means.
The quarterly blue card costs Tk 900, where you can save Tk 160. The half-yearly red card costs Tk 1800, where upon you will be able to save Tk 320. And lastly, the black yearly subscription card costs Tk 3500, which will allow you to save Tk 740.
The activation process is very simple, where you will only have to scratch the unique pin provided at the back of the card. Following this, you can either call at 01711623906 for manual activation or you can visit http://giftcard.thedailystar.net/ and select the redeem card option.
A subscriber shall start receiving newspaper regularly from The Daily Star to their given address one week after activation. These cards can be purchased from http://giftcard.thedailystar.net/ which is equipped with online payment options. However, the card has to be activated within three months of purchase.
While the gift card is a very thoughtful gift idea for family and friends, it is an even better way of B2B gift giving. Organizations and corporate giants can share this unique gift with their stakeholders, clients, employees, and vendors. A gift as such falls perfectly well within the precinct of business circles and is a great way to strengthen corporate relationships and disseminate up to date information.     
The Daily Star Gift Cards is a one-of-a-kind gift, as you are presenting something that is extremely useful and can be stored in memory for time immemorial. It shall help people stay updated with news regarding everyday occurrences on the go. After all, what can be a better gift than sharing knowledge?
Photo: Star