Top 5 sea beaches in Cox's Bazar
Sitting and sipping your favourite drink and waiting for the sunset to witness the radiant hue of the sea — experiences on the beaches of Cox's Bazar are enticing as ever. When it comes to beaches, chances are you will think about the most popular tourist spots like Laboni Point, Inani or Himchori.
If you are looking for great alternatives, let us recommend
Top 5 sea beaches in Cox's Bazar
The next time you are at Cox's Bazar, don't forget to check out the unique beaches that soothes your wanderlust.
Patuartek Beach
Located around 6 km from the Inani sea beach, this quiet beach offers a feeling of tranquillity when you start roaming by the sea. Compared to the other beaches, it's quite clean and the water is bluer like Saint Martins. There are parts of the beach where you will see red crabs along with pebbles and rocks of various sizes. There are quad bike and horse rides available at the beach for hire should you feel like wandering around the whole beach.
Sohnkhali Beach
Located 36 km from Kolatoli, Sohnkhali is a beautiful beach whose speciality is an abundance of fisherman boats or sampans that graces its coast. Being a great area for the fisherman to take rest and anchor their boats after a fishing trip, the view of colourful sampans against the backdrop of the beautiful ocean presents a surreal feeling. Because of its remote location, it's best to set off early and explore this beach during the day.
Bestway Long Beach
The beach is situated alongside the Marine Drive road, 54 km from Kolatoli. Picture a quiet and beautiful beach with lines of trees adjoining the sand separating you from the serene looking sea and its blue water, giving you the dreamlike feeling that's hard to come by in most popular sea beaches.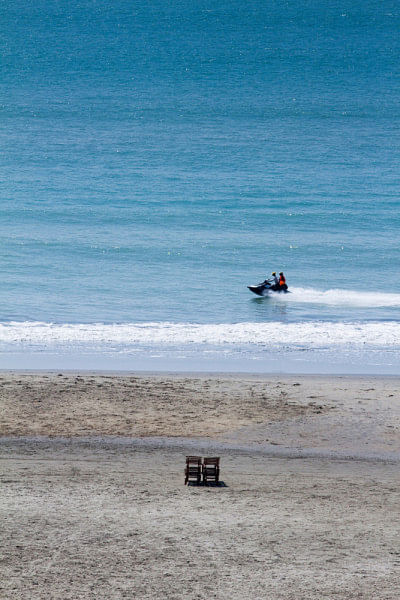 So, if you are looking for a perfect Instagrammable spot in Cox's Bazar, then this beach is a must visit.
Sea Pearl Beach Resort and Spa
Located 40 minutes away from the hustle and bustle of Cox's Bazar, Sea Pearl Beach Resort and Spa offers luxurious rooms, swimming pools, gym and spa for you to unwind. But the most unique thing has to be its private beach that boasts over 60 thousand square feet of space. Witness the lush green hills of the east and endless seas in the west that offers amazing panoramic visuals from the beach.
With exclusivity and relaxation in mind, their beach offers you the chance to witness the serenity of the sea and gives you respite from the crowded beaches.  
Mermaid Beach Resort
Perhaps no list about Cox's Bazar beaches is complete without mentioning Mermaid Beach Resort. Located in Ramu, it offers you everything you need to have a peaceful time like a fantastic restaurant, quick access to the beach and private verandas and gardens for every bungalow and villa.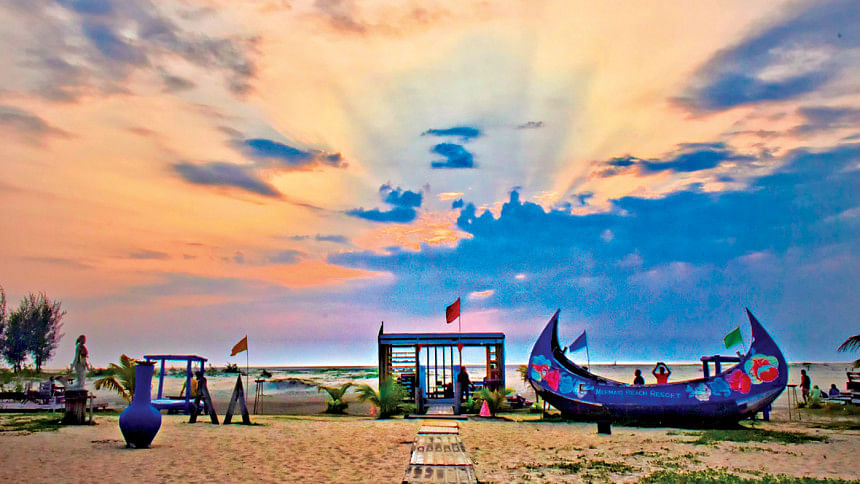 Even with all the amazing options, Mermaid's secluded and private beach views still mesmerises anyone who goes there. Especially during sunset, the pathway of the resort comes alive with humorous sounds of chatting frogs and the hypnotic ambience of the night sea.
All the sea beaches can be accessed easily from Cox's Bazar city's main Kolatoli point by autos, CNG's or cars and jeeps.
Essentials:
Sea Pearl Beach Resort and Spa address: Jaliapalong, Inani, Ukhia, Cox's Bazar 4750. # +88034152666-80.
Mermaid Beach Resort address: Pechar Dwip Marine Drive, Road, Ramu 4730. # 01841-416468