Demand for pay hike: Tea workers go on work abstention today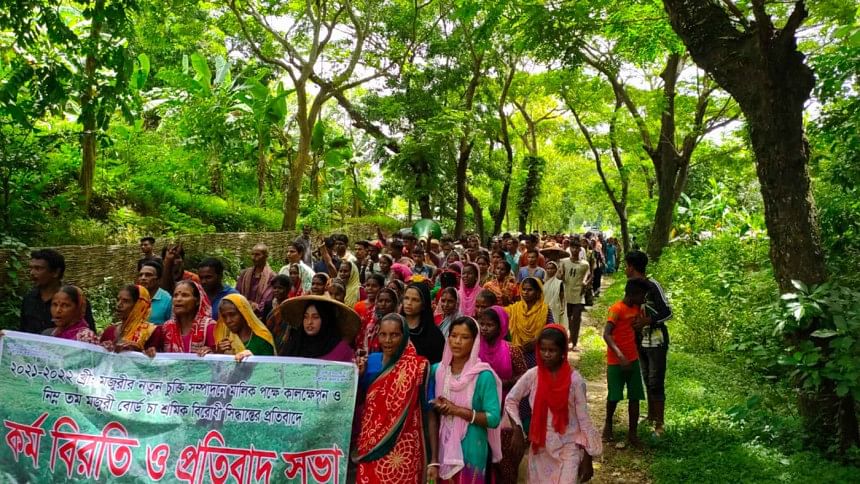 Tea garden workers across the country go on indefinite work abstention from today demanding wage hike.
Currently, a worker gets a daily wage of Tk 120. The workers are demanding Tk 300.
"We will go on work abstention for an indefinite period if our demand is not met by today [Friday]," said Nipen Paul, acting general secretary of Bangladesh Tea Workers' Union, after a meeting with tea workers at the union office in Moulvibazar's Sreemangal yesterday morning.
The workers in the last four days enforced a two-hour work abstention (9:00am to 11:00am) daily.
"As prices of essentials are increasing, it has now become difficult for us to survive with a daily wage of Tk 120," said Nipen.
"We have been demanding our wage hike for last one and a half years. But the authorities did not pay heed. So, there is no alternative to abstaining from work," he told The Daily Star.
Earlier on Thursday, Mohammad Nahidul Islam,deputy director (labour) at divisional labour office in Sreemangal, held a meeting with the tea workers' union leaders and requested them to refrain from enforcing the programme.
"I proposed holding a tripartite meeting in presence of workers, owners and government representatives on August 28 to discuss the issue.
"But the workers rejected it saying that they would not wait till August 28. They want their wage hike by Friday. We are still trying to solve the problem through talks," he told The Daily Star yesterday.
Golam Mohammad Shibli, general manager of Finlay Tea Company and Sylhet chapter's chairman of Bangladeshi Tea Sangsad, an association of tea garden owners, termed the work abstention "irrational".
"The government has constituted a board to determine the wage of tea workers. We are discussing to refix the wage. But the sudden work abstention will halt tea production," he said.
According to government statistics, around 1.40 lakh people work in 166 tea gardens across the country.
Contacted, Khaled Mamun Chowdhury, director general of the Department of Labour, said they yesterday wrote to Bangladesh Tea Workers' Union to withdraw work abstention and solve the problem through discussions.