Tea workers return to work after 15 days
Many of them say Tk-50 hike inconsistent with current prices of essentials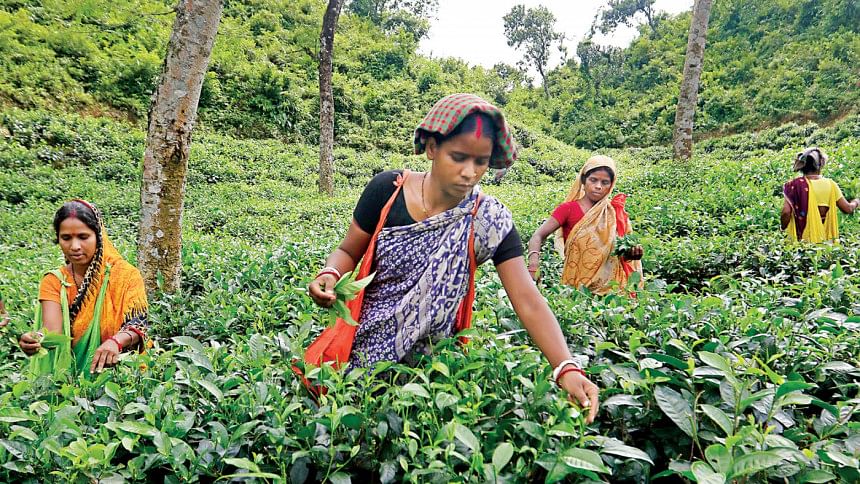 After a 15-day work abstention, tea workers resumed work for a daily wage of Tk 170 yesterday morning.
Majority of them expressed their dissatisfaction over the Tk 50 pay hike and said they resumed work as they had no alternative.
"My family and I ate rice once a day for the last 15 days. I even could not purchase medicine for my father. I have no option but to resume work," said Sukhia Ghatual, a worker in Moulvibazar's Sreemangal.
"We have resumedwork as per the directives of the prime minister. But Tk 50 hike will not make any change in our lives," said Sadhana Bauri, another tea worker in the area.
Jyotirmoy Kanu, former president of the UniversityTea Students' Union, said, "The wage has been fixed after a discussion with the tea estate owners, not the workers.
"We request the prime minister to revise the wage after talking to the workers."
Meanwhile, the tea estates went back to normalcy yesterday as thousands of workers were seen working as usual.
By yesterday morning, workers started collecting tea leaves in Khaichhara, Bhurbhuria, and Zerin tea gardens in Moulvibazar's Sreemangal.
"Most of the tea estates remain closed on Sunday. So, all the workers are expected to join work by tomorrow [today]," said Nipen Paul, acting general secretary of the Bangladesh Tea Workers Union.
Around 125,000 workers in the country's 241 tea estates have been protesting since August 9 demanding their daily wage be raised to Tk 300 from Tk 120.
They abstained from work from August 9-12 for two hours a day before going on a full-scale strike from August 13.
On August 21, some workers' leaders agreed to end the strike, accepting an offer to raise the pay to Tk 145. But most of the workers refused and continued abstaining from work.
In the last two weeks, workers held demonstrations, formed human chains, blocked roads, and rail tracks to press home their demands.
Finally, on Saturday, Prime Minister Sheikh Hasina in a meeting with a delegation of tea estate owners at the Gono Bhaban directed them to raise the daily wage of tea workers to Tk 170 from Tk 120.
She also asked the workers to withdraw their work abstention and resume work Sunday.