Demo for tk 300 daily wage: Tea workers vow not to back down
Block roads in Moulvibazar for hours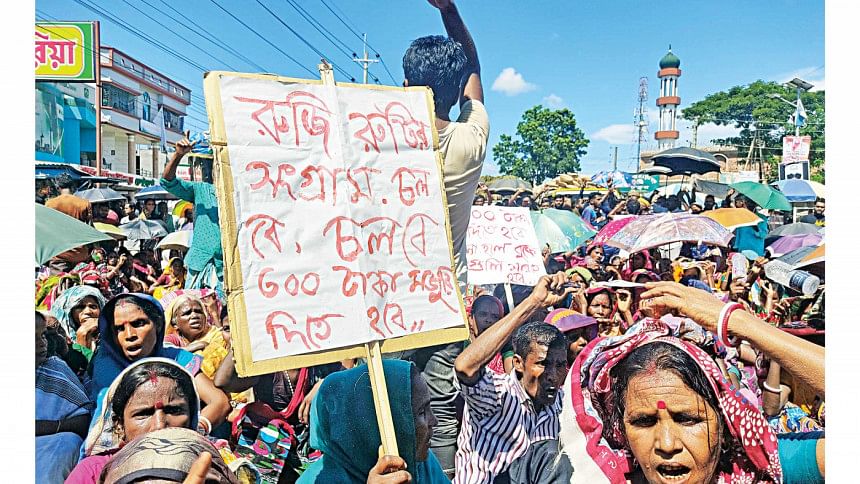 Hundreds of tea workers blocked roads for hours at multiple points of Moulvibazar yesterday, the 12th day of their work abstention, to press home their demand for a daily wage of Tk 300.
One group of workers blocked the Juri-Barlekha regional highway for about four hours from around 11:00am, while another group staged a demonstration on the Dhaka-Bianibazar regional highway for about three hours from noon.
A third group blockaded the Dhaka-Sylhet highway in Sreemangal upazila's Satgaon for around two and a half hours.
In the last couple of days, some workers in a few tea gardens had resumed work, but they rejoined the strike yesterday, said Kajal Kalindi, panchayat president at Satgaon Tea Garden.
"They have joined the movement again. Our movement is going on peacefully -- we will continue it until our demand is met," he added.
Meanwhile, Environment, Forest and Climate Change Affairs Minister Md Shahab Uddin yesterday met the demonstrating workers in Juri upazila.
He announced that the prime minister will talk to the workers within three days to solve the problem.
Senior officials of the district administrations, law enforcement agencies and the labour department visited different spots during the protests to persuade the labours to go back to work.
But the workers are steadfast about their demand, said Jadob Rudra Paul, president of Bangladesh Tea Workers' Union in Dhamai Tea Garden of Juri upazila.
The workers of all 23 tea gardens in Sylhet Valley held a meeting yesterday and decided not to resume work until their demand is met, said Bimol Dhar, president of Kamaichhara Tea Garden Panchayet in Sylhet Valley.
In Habiganj, Ishrat Jahan, deputy commissioner, held another meeting with tea workers at Chunarughat upazila parishad to convince workers to return to work.
"We realise that the tea workers' daily wage is inconsistent with current prices of commodities. We have conveyed this to our higher authorities. We are hopeful that the prime minister will talk to you soon to solve the problem," she told the workers.
But the workers remain defiant.
"We have informed the DC clearly that we will not join work before our daily wages are increased to Tk 300," Rabindra Gour, president of Bangladesh Tea Workers' Union in Laskarpur Valley of Habiganj, told The Daily Star.
Around 125,000 workers in the country's 241 tea estates have been holding protests since August 9 demanding their daily wages be raised to Tk 300 from Tk 120.
They abstained from work from August 9-12 for two hours a day before going on a full-scale strike from August 13.
On August 21, their leaders agreed to end the strike, accepting an offer to raise the pay to Tk 145. But many workers refused the hike and continued the protest.