EC's role in Gazipur laudable
It must also ensure fair campaign in the lead-up to elections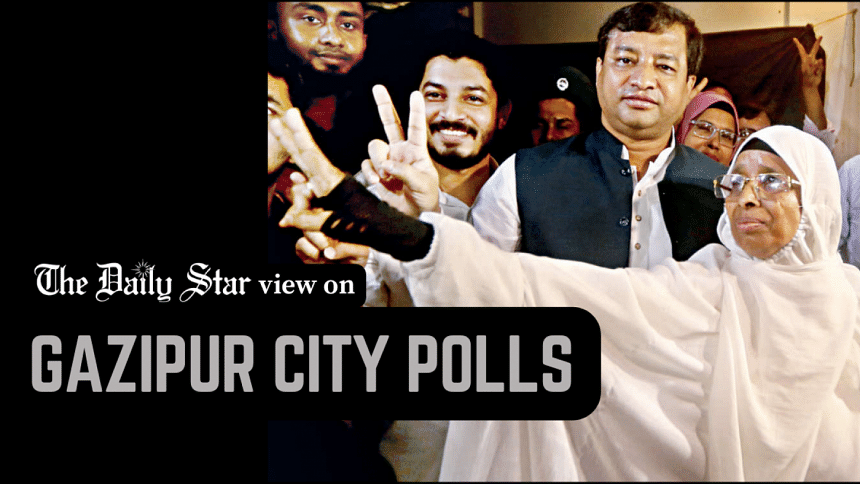 In what was perhaps a surprising twist to a dramatic unfolding of events centring the Gazipur city polls, independent candidate Zaida Khatun was elected city mayor on Thursday, defeating the Awami League candidate Azmat Ullah Khan. What made her win particularly remarkable – apart from the fact that she's the mother of suspended Gazipur mayor Zahangir Alam and had no political aspirations before her son was disqualified from running as an independent candidate – was the fact that her polling agents, as well as her supporters, were largely missing from the voting centres. Her campaign, too, was mostly subdued. Azmat Ullah, on the other hand, enjoyed all the blessings of the ruling party. According to our reports, on election day, the presence of his supporters was overwhelming at most of the polling centres. And yet, Zaida defeated Azmat by 16,197 votes, in what was largely a peaceful election, as per our observation.
We commend the Election Commission for holding a violence-free and fair election in Gazipur City Corporation, in which people's verdict could be clearly heard. There is no denying that all eyes are now on the other city polls, and the EC has a critical role to play in convincing all concerned that it is able to carry out its constitutional obligation properly and independently.
The commission must also remember that an election is not a one-off event, and it has a duty to ensure that campaigns leading up to the elections are equally fair as well. The allegations of attacks on Zahangir and his mother must be investigated, as well as the allegations of electoral conduct violations by the supporters of the AL nominee. The EC must also take note of the low-voter turnout, which has been a consistent red flag in the past polls as well, signifying people's lack of interest in the electoral process. It is incumbent upon the commission to make people believe that their vote still counts. 
The results have also sent a clear message to the ruling party: it can no longer ignore people's sentiments. While the AL may have had good reasons to expel Zahangir from the party, it appears that people did not like the heavy-handed way in which he was targeted, particularly the threats on his life and that of his mother. Moving forward, the party must be more careful in choosing candidates whom people trust. More importantly, it must realise that the more aggressive it acts during the election campaigns, the more it risks alienating the voters. The ruling party must provide space to the opposition to carry out its programmes and campaigns, without threats and intimidation for its own sake.