Revitalizing Delhi's school system: A triumphant journey
When Delhi Chief Minister Arvind Kejriwal hit the streets in India's national capital on January 16 this year to protest the alleged non-approval by the Lt Governor Saxena to his government's proposal to send school teachers abroad for training, it was viewed by his critics as a move to politicize a burning public issue relating to school education. But more than that, it served to bring to the fore the issue of education that has largely remained on the backburner in India's political and electoral discourse.
In fact, education has never been a major poll issue for most Indian political parties except when it was framed in the freebies template like the promise of free schooling. You think of government or municipal schools in vast swathes of India's cities and villages and the images that spring up in your mind are of dilapidated buildings and stories of mismanagement, poor exam results, missing teachers and students and poor quality of mid-deal meal.
But the Delhi government and Aam Aadmi Party chief headed by Chief Minister Arvind Kejriwal has sought to change the traditional narrative in the last seven years, particularly after the party came back to power with an overwhelming majority in Delhi legislature winning 67 of the total of 70 seats. In fact, Aam Aadmi Party has brought to the fore education and health as poll planks in a way never seen before. It invested heavily and brought certain structural reforms to overhaul the government school education system which is accessed by the poorest of the poor segment of the population in a city of nearly two crore people.
According to Shailendra Sharma, Principal Advisor to Director Education at Directorate of Education, the structural changes pertain mainly to four main areas—physical infrastructure, teachers training, greater involvement of the people through elected and empowered School Management Committees (SMCs) and learning improvement interventions.
A massive facelift to government schools, which were until a few years ago had decrepit buildings, unhygienic toilets and inadequate drinking water, drew parents of many middle-class families to send their children to these schools.
According to Delhi government statistics, the city government spent Rs 769 billion, nearly 25 per cent of its total budget, between 2015 and 2021 on 1,037 schools run by it to cater to nearly 180 lakh students in nearly 1,000 government schools. The 25 per cent budget has been consistently maintained for the last six years and is more than double what the previous governments spent in the previous seven years.
Delhi government figures show its investment on education as ratio to aggregate expenditure has risen to be the highest among all the states of India. The Kejriwal government focussed on refurbishing the school infrastructure, introducing innovative curriculums, changing the students' mindset, setting up high quality higher education institutes, promoting the spirit of entrepreneurship among students by setting up the Delhi Skills and Entrepreneurship University, Teacher's University and Sports University set up.
The Delhi government teamed up with experts and universities to design new curriculums and roped in private entities to clean hundreds of schools, employed former defence personnel as "estate managers" on contract to supervise building repair. This helped reduce the administrative burden of principals who could now concentrate on his core activity of teaching. 
In 2016, the Delhi government made a path-breaking decision to establish school management committees, consisting of parents, teachers, and local officials, as a platform for articulating concerns regarding school education and holding the government accountable. The main goal was to decrease the trust deficit and communication gap among the three essential segments of education: students, teachers, and parents.
Section 21 of the Right to Education Act 2009 provides for the formation of School Management Committees in government schools. These committees are expected to perform three core functions in addition to any other functions assigned to them. The AAP government made sure that elections were held in the SMCs after the two-year tenure of its parent-members had ended. The SMCs played a crucial role in streamlining the school admission process, which was often marred by complaints of favoritism and political influence, and in ensuring attendance of irregular students, two major areas of concern in the past. Other important measures taken included regular training of SMC members to increase their capacity and the introduction of an SMC App, which allows schools, parents, and other community members to directly connect with decision-makers.
The use of digital technology in the school admission process and a single admission form that allows for choice of any public school has ensured transparency and relieved children and their parents from having to visit multiple schools for separate admission forms. This was especially helpful for daily wage-earning parents who would have otherwise missed out on their earnings while submitting admission forms at different schools.
The Delhi government claims to have "significantly" increased its budget for teacher training programs, which has allowed 1,407 teachers to be trained abroad in institutions such as Cambridge University, Singapore, and top Indian business schools such as the Indian Institutes of Management. In addition, 500 school principals have attended leadership sessions at the IIMs in Ahmedabad and Lucknow. Additionally, 102 school heads participated in a 12-day educational program at Cambridge University to gain insight into international practices, and 22 more went to Finland for a similar experience.
The Kejriwal government also embarked on a campaign to improve learning outcomes in schools and close the gaps of children after a preliminary assessment of class 6-8  found that a majority of students could not read simple text or solve a simple arithmetic division. The city government decided to reduce the syllabus for these students, bring in some supplementary reading material to make them pick up reading and kept them in a separate section, said Delhi government officials. The students were segregated in three groups on the basis of their basic learning skills (ability to read and do basic maths). It yielded tangible results: the pass percentage in class 9 improved from 52% in 2015-16 to 57% in 2017-18.
A four-month campaign was launched to assist students to perform well as per their grade level assessment. This drive was a culmination of the learnings from a 'Chunauti (Challenge) 2018' which the government statistics say led to a 20 % increase in the number of students between class 3-5 who can solve arithmetic division problems, a 12 % increase (between pre-test and post-test) in the number of students between class 3-5 who can read a story in Hindi and a 15 % increase in children of class 6-9 who can read 'advance story' in Hindi. Besides, students have been provided financial assistance to achieve academic excellence. However, the creation of three separate groups of students faced some criticism on the ground of creating a feeling of discrimination and inferiority complex among impressionable minds at such a tender age.
The results of the Kejriwal government's efforts to tone up government school education are there for all to see. For the first time in the history of Delhi, the government schools got a result of 99.9% in Central Board of Secondary Education (CBSE) XIIth examinations in 2022, four Delhi government schools have ranked among top ten government schools in India for 2021-22.
During the pre-Covid academic year 2019-20, the pass rate of Delhi government schools was 94.24% in Class 12. The CBSE data say the pass percentage of Delhi government schools in Class 10 is 81.36%. Last year, the pass rate for Class 10 was 99.04% and during the pre-pandemic academic year 2019-20, the pass rate of Delhi government schools was 71.6% in Class 10. According to Delhi government data, in 2022, 160 government schools recorded a cent per cent pass rate and 876 schools recorded a pass rate of over 90% in Class 12. In Class 10, 95 schools recorded a 100% pass rate and 398 schools a rate of over 90%.
Buoyed by the results, 2.5 lakh children from private schools have shifted to government schools, according to Delhi government statistics, reversing a long-running trend. The Delhi government's efforts to turn around the story of its schools have already produced a change in people's attitudes. While no one expects an exodus from expensive private schools to government schools, the singular achievement of the Kejriwal government through its school education reforms is to challenge the prevailing negative perception about the quality of education and students in government schools. It has clearly demonstrated that students in government schools are no less inferior and may be equal to or even better than their peers in private schools, and there is no reason for condescension from any quarters.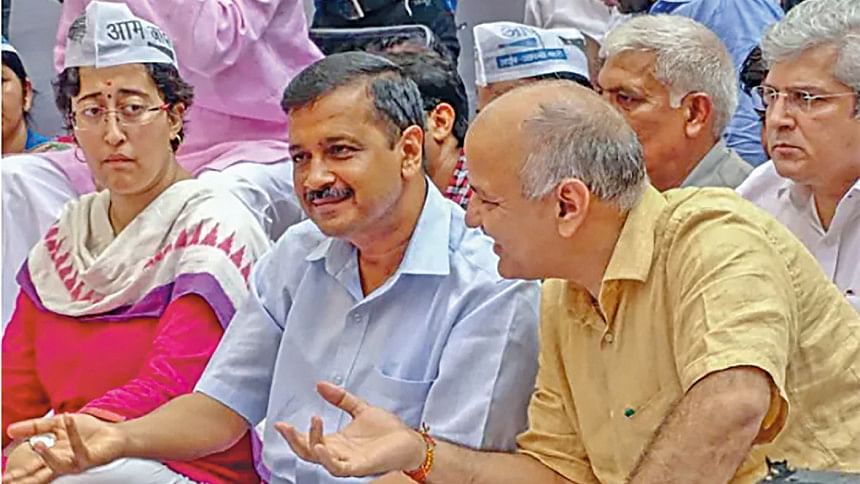 According to official statistics, Delhi government school students have set another performance benchmark--336 girls, which represents 59% of the National Eligibility-cum-Entrance Test qualifying students. Additionally, 64 students have qualified for the Joint Engineering Exams Advanced, and five students have secured a seat in the Indian Institutes of Technology, which is the highest number from a single Delhi government school.
Starting from the 2021-22 academic session, the Delhi government established a new Delhi Board of School Education (DBSE) by granting affiliation to 30 government schools, consisting of 20 Schools of Specialized Excellence (SoSE) and 10 general schools. The DBSE signed a MoU with the International Baccalaureate (IB) to serve as its knowledge partner and receive support in curriculum and teacher training from the international education program. At a later stage, the option of affiliation will be offered to approximately 1,700 private schools, but it will not be mandatory.
The DBSE will be the third Board in addition to the existing two national boards, the Central Board of Secondary Education (CBSE) and the Council for the Indian School Certificate Examinations (ICSE). Education experts expect this move to increase competition among the three Boards regarding themes such as access to quality education and equity. If the DBSE schools provide quality education, students from economically disadvantaged backgrounds, who are part of India's aspirational class, can look forward to pursuing higher studies in premier institutions both in India and abroad.
The Delhi government has taken another major step in reforming school education with the motto "Catch them young." In an effort to instill an entrepreneurial spirit in students, the government launched the Entrepreneurship Mindset Curriculum in July 2019 in all government schools for classes IX to XII. It was decided that all students from class 9 to class 12 would receive Rs 2,000 each as seed money to foster an entrepreneurial mindset.
This was launched as a compulsory non-graded subject consisting of a 40-minute class every day for 25,000 students, who will be monitored over a four-year period. A program of student-entrepreneur interaction was initiated in October 2019 with the goal of creating more "job-providers" in the country. To date, 539 schools have completed at least one entrepreneur interaction in their schools, and over 9,000 students have shared their learnings.
The Delhi government has established its own secondary and higher secondary boards, including 20 Schools of Specialized Excellence (SoSE) and 10 general schools, which have partnered with the Australian Council for Educational Research (ACER), a research and assessment organization. Additionally, the government launched 20 Schools of Specialized Excellence in Science, Technology, Engineering, and Mathematics (STEM) to help students prepare for advanced careers and elite higher education exams.
Additionally, a school was established for students of social sciences, offering courses in sciences and mathematics based on student interest. The goal of the school is to foster a strong research mindset in its students.
The government has also placed an emphasis on skill and entrepreneurship development to help students become immediately employable and to pave the way for further studies and training at the university level. In terms of performing and virtual arts, students will be trained rigorously through partnerships with renowned global organizations to improve their skills in dance, drama, music, and visual arts, enabling them to become professional practitioners. By 2022-23, a total of 17 campuses are expected to be operational.
The two individuals regarded as the architects of the Delhi government's school education reform are Manish Sisodia, who is the Deputy Chief Minister and a close aide of Chief Minister Arvind Kejriwal, and Atishi, who is a former advisor to Sisodia. Atishi, who goes by one name, is an alumnus of St. Stephen's College in Delhi and Oxford University, and also a Rhodes Scholar in educational research.
The Kejriwal government's education transformation system is a project in progress and a learning curve. Despite tangible achievements, the student-to-teacher ratio in government schools is far from uniform and many school buildings still need basic upgrades. The government has to work on to set right certain fundamental weaknesses: 21,000 guest teachers still make up 38% of teachers in government schools and more than half of government schools are functioning without proper principals.
Kejriwal hitting the streets on the issue of the Lt Governor's reported holding up of the permission for sending school teachers for training abroad was symptomatic of how the issue of school education reforms can turn into a political tussle. It is a problem inherent in the very foundational structure of the Delhi government. Delhi, like most Indian states, is not a full-fledged state, does not enjoy autonomy in executing its own decisions and has to depend on green signal from the Lt Governor who is considered a representative of the central government controlled by the Bharatiya Janata Party. it is not just education but on several other areas the Kejriwal administration has had several confrontations with the Lt Governor in the past. It would be unfortunate if the progress in government school education reforms is caught up in the whirlpool of politics for it relates to the future of the country.
Pallab Bhattacharya is a special correspondent for The Daily Star. He writes from New Delhi, India.