Dhoni says will take time to decide on IPL future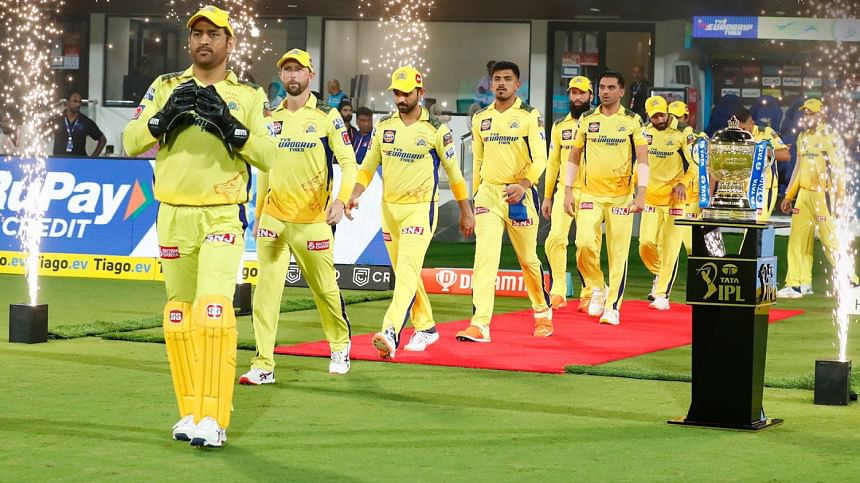 Chennai skipper M.S. Dhoni said on Tuesday that he will take time before IPL's December auction to decide on his playing future after he led Super Kings to their 10th final in the T20 tournament.
Dhoni might have played his last match at home M.A. Chidambaram Stadium in Chennai as the four-time winners beat holders Gujarat Titans by 15 runs in the first play-off.
Dhoni, with an injured knee that has limited his ability to run between the wickets, has fuelled speculation by thanking the crowds who have turned up in large numbers home and away this season.
"I don't know, I have eight, nine months to decide," Dhoni said when asked by presenter Harsha Bhogle whether the play-off match was his last at home.
"The small auction will be around December, so why to take the headache right now. I have ample time to decide," he said.
"I will always be there for CSK whether in playing form or sitting somewhere. I don't really know. But frankly it takes a heavy toll. I have been out of home from January, been practising since March, so we will see."
The 41-year-old has been India's most decorated cricketer and led the national team to two World Cup triumphs including the inaugural T20 event in 2007.
At his peak, Dhoni, flourished in the role of an innings finisher. He has carried his batting form and acumen for leadership into the IPL. He has a fan base of millions who fondly call him "Thala", or "leader" in the Tamil language.
The wicketkeeper-batsman has reinvented himself this season as a lower-order batsman coming in at number eight and hitting a few big sixes.
Tuesday was a brief farewell. He walked out to a rousing reception at the nearly packed stadium but fell for one after two balls.
Dhoni, known as 'Captain Cool', then rallied his team to defend 172 as they dismissed Gujarat for 157.
Chennai will meet the winner of the third play-off in the final on Sunday at the world's biggest cricket stadium in Ahmedabad.