Prottasha relishes her taunters' u-turn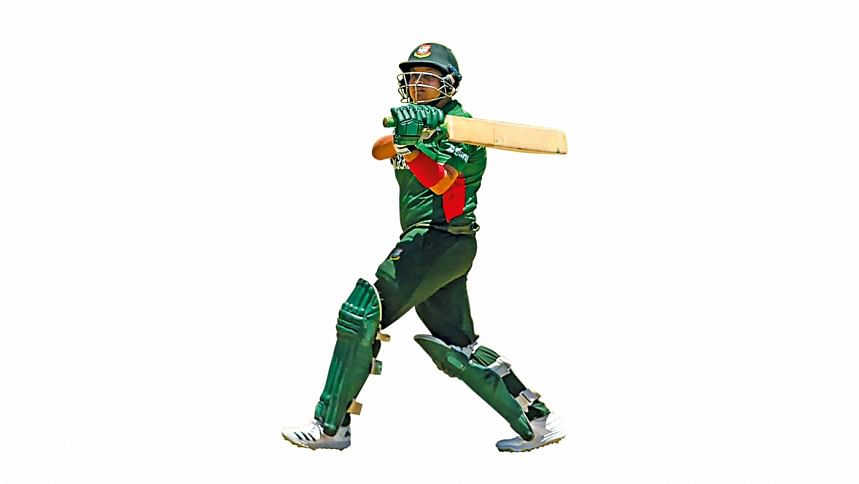 Despite having hardly any expectations, Bangladesh Women's Under-19 team surprised everyone with their performance in the recently concluded ICC Women's Under-19 T20 World Cup in South Africa. Afia Prottasha was among the few cricketers who shone bright in the mega event as she displayed glimpses of her hard-hitting ability. The Daily Star's Mazhar Uddin caught up with Prottasha and the cricketer from Rajshahi addressed her game, future plans along with a few other topics during an exclusive interview, the excerpts of which are given below:
The Daily Star (DS): How did you begin your journey in cricket?
Afia Prottasha (AP): I heard from my parents that when I was a kid and whenever they asked me what toy I needed, I used to reply: bat and ball. It all started from there. And since my father was also a cricketer, he used to take me to the ground. There was a field near my house where I started practising. There, Tushar sir and Saad sir helped me a lot. 
DS: Your father had a great impact in you becoming a cricketer.
AP: My father, being a pace-bowling all-rounder, used to assist me in the batting drills, and it took place even one or two months ahead of any tournament. He always bowled quick during the drills and said that if you are able to face fast bowlers, it will help you become a better batter.
DS: How was the preparation of the team, and you personally, while approaching the World Cup?
AP: Our preparation began a couple of years back, when a total of 40 cricketers started the training camp and worked really hard ever since. There was a message from the coaching staff that we need to play aggressive cricket. If I talk about my own preparation, I always tried to improve my game. Our head coach Dipu Roy Chowdhury sir and Ruhul Amin sir helped me a lot. I love to play lofted strokes and having observed this, they tried to enhance that skill and specifically worked on it. It worked well for me.
I want to improve my game and I think it (national call-up) will eventually happen when the time is right. My goal is to serve the national team for a long time.
DS: We have seen you hitting some big sixes in the World Cup. Tell us about your big-hitting ability.
AP: To be honest, I never intend to hit big sixes whenever I go out to bat. My main focus is to play according to the [merit of the] ball. I used to practise with a tennis ball since my childhood, I also played taped-tennis tournaments with the boys, and that helped me to develop my natural habit. Actually, it's not important which position I bat at. I will try to adapt and deliver for my team in any position.
DS: Could you share the story of your encounter with national cricketer Mahedi Hasan.
AP: We were in a camp in Khulna and there I possessed a poor-quality bat. While I was batting, I couldn't connect the ball properly. However, Mahedi Hasan bhai was observing the net session and he approached me and, to my surprise, offered his bat. Once I held and used it, I felt great and I had realised the difference between a good bat and an average one.
DS: What was the situation in the dressing room after the South Africa loss as Bangladesh could have qualified for the semi-final if we had won that game?
AP: The way we started off the tournament, everyone in the country was expecting us to bring the trophy. It was a tight game (vs. South Africa) and our emotions were running high. We made a few mistakes and after the game were all in tears since we were almost there in the semi-finals.
DS: Four cricketers from the U-19 World Cup team were called up in the national team. Do you feel that you could have also made it to the senior team?
AP: To be honest, I want to improve my game and I think it (national call-up) will eventually happen when the time is right. My goal is to serve the national team for a long time. 
DS: Who is your role model?
AP: I follow the batting of Virat Kohli to improve my game. I try to learn a lot from his technique and mentality as a batter.
DS: Has everything changed around you after coming from the World Cup?
AP: To be honest, yes. Since returning to my hometown everyone has been appreciating me. Interestingly, when I started playing cricket, many people from my area used to complain to my father about why I play cricket being a girl. They commented on my dress as well. But My father told me one thing: if you want to continue, don't bother about what others say.
Now I am enjoying the fact that those people who resorted to taunt me in the past are encouraging me.