The all-new and improved Porsche: 718 Spyder RS
Most of us have seen a 718 Boxster here in Bangladesh. Although it is part of the 718 lineup, the all-new Porsche 718 Spyder RS is not the same as the Boxster. It is an exceptional sports car that combines classic design elements with modern technology. The latest addition to Porsche's 718 lineup promises to deliver an exhilarating driving experience like no other, equivalent to the 718 Cayman GT4 RS.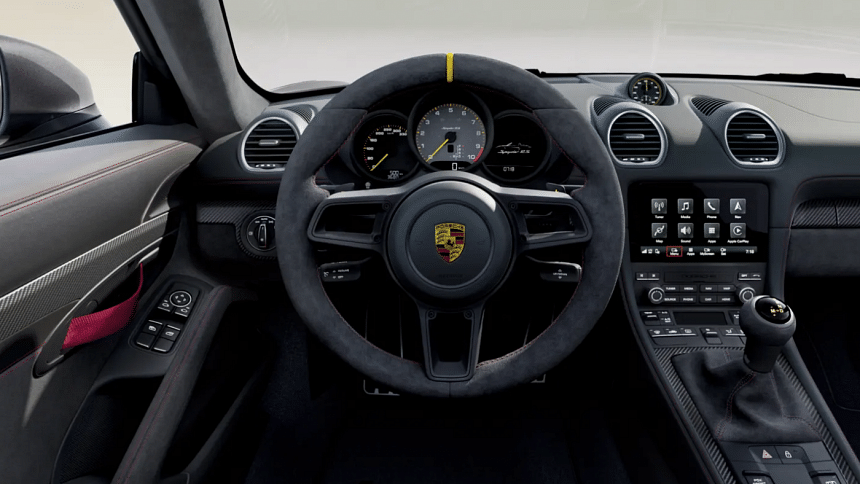 The design of the Porsche 718 Spyder RS is a nod to the iconic Porsche 550 Spyder, which was a successful race car in the 1950s. It follows the basic design language of the old 718 Spyder but has different bumpers. The front bumper of the 718 Spyder RS has a more aggressive design with a lot of aerodynamics and larger air intakes to improve airflow and engine cooling. The front splitter is shorter than the regular 718 Spyder, and the car features different and lighter forged rims. The Spyder RS is also 30mm lower and 40 kg lighter than the Spyder. The car has no fake vents or intakes; everything you see is functional. The car features a sleek, low-slung body with sharp lines and a long, sloping hood. The rear of the car is dominated by a prominent spoiler and two large exhaust pipes, giving it a distinctive and aggressive look.
Under the hood, the regular Boxster and Boxster S come with 2-litre and 2.5-litre turbocharged engines, while the 718 Spyder comes with the same naturally aspirated 4.0-litre flat-six engine as a GTS that revs up to 8000 RPM. However, the Spyder RS has the same displacement but revs up to 9000 RPM. It has the same engine as the 911 GT3 and the 718 Cayman RS, and the driving experience is said to be identical. The engine is tuned to produce 493 horsepower and 331 lb-ft of torque. The engine is also mated to a PDK transmission, which comes with a 7-speed dual-clutch as a standard option. The Porsche 718 Spyder RS can accelerate from 0 to 60 mph in just 3.4 seconds and has a top speed of 186 mph. The car's handling is exceptional, thanks to its lightweight construction, which includes an aluminium body and chassis. The car's suspension is also highly tuned to provide excellent cornering ability and precise steering. Porsche has reduced spring and damping rates for a more relaxed, characteristically convertible setup. As a road car, this might end up handling even better than the GT4, since the suspension of a GT4 is very stiff and more track-focused.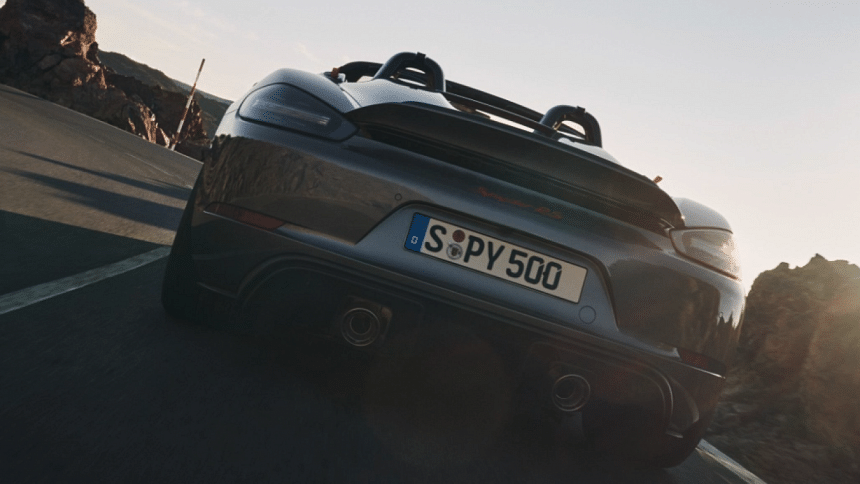 Inside, the Porsche 718 Spyder RS has a driver-focused cockpit with supportive carbon fibre sports seats and a minimalist dashboard. The interior oozes with Alcantara and carbon fibre, and is quite similar to the regular Spyder. Porsche has focused on weight reduction, which is why they used fabrics and replaced traditional door levers. They also reduced weight from the soft top compared to a 718 Spyder.
Overall, the Porsche 718 Spyder RS is an exceptional sports car that combines classic design elements with modern technology. It is a car that is built for driving enthusiasts who want a pure, unadulterated driving experience. If you're in the market for a sports car that is both thrilling to drive and visually stunning, the Porsche 718 Spyder RS is definitely worth considering. It's also worth noting that this is probably the last fully octane-driven, naturally aspirated car that Porsche will make before everything goes fully electric. Also, if you want it to be fully spec'd out, Porsche will provide you with their Weissach package that includes even lighter magnesium wheels and 935-inspired titanium exhaust outlets. It is set to go out in 2024 with a starting price of 162k dollars.