Biman plans flights to Vancouver, Los Angeles
Will codeshare with Air Canada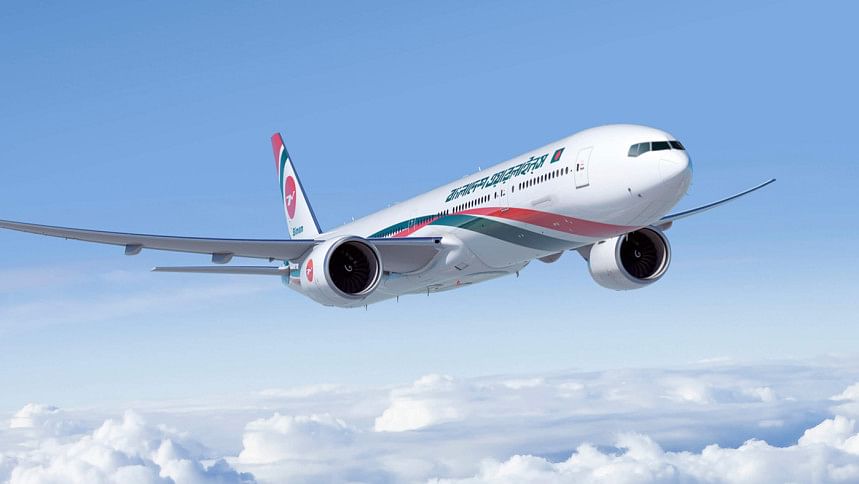 Biman Bangladesh Airlines Ltd is planning to carry its passengers to Vancouver in Canada and Los Angeles in the US through codesharing with Air Canada via Narita of Japan by January next year.
Codeshare is a partnership between two airlines that allows one to place its two-letter identification code on the flight schedules of the other.
This allows the first to market and sell tickets and the second to operate the flight, specifically to destinations the first does not fly to.
These agreements allow airlines to offer numerous flights without additional equipment, resources and costs.
Passengers get a wide choice of flights, avail convenience in booking, checking in, luggage handling and travelling and save time.
In Biman's case, the flight would be enlisted with Biman's identification code (BG) but actually be run by Air Canada.
Canada or US-bound passengers will then fly to Narita on Biman's aircraft and, after a stopover, reach Vancouver or Los Angles on Air Canada's aircraft.
This will all be possible with a single ticket, boarding passes and baggage tags issued by Biman.
Currently, passengers from Dhaka use Singapore Airlines or Malaysian Airlines to take a layover in Singapore or Kuala Lumpur and reach Vancouver or Los Angeles. The total flight time is over 20 hours.
Biman's plan will save passengers nearly five hours, with the flight to Narita taking six hours and that to Vancouver or Los Angeles over the Pacific Sea around nine hours.
"Using codeshare with Air Canada, Biman passengers will be able to travel to Vancouver and Los Angeles seamlessly using the boarding card of the national flag carrier of Bangladesh," said Biman Managing Director and CEO Shafiul Azim.
"Air Canada has already responded to our proposal and work is ongoing to enter into an agreement with Air Canada. We are expecting to make it effective by January next year," he told The Daily Star yesterday.
The codesharing is expected to increase the national flag carrier's passengers on its Narita flights as a large number of Bangladeshi expatriates reside in Vancouver and Los Angeles, he said.
Earlier in August, Biman signed its first codesharing agreement with Gulf Air to expand its flight network in the Gulf region.
Codesharing with Air Canada will also make Biman's Dhaka-Narita flight, which resumed last September after 17 years, more popular among Bangladeshi expatriates, said the Biman MD.
Apart from Bangladeshi and Japanese passengers, a large number of Nepalese nationals and a number of Indian citizens also use Biman's three weekly Dhaka-Narita-Dhaka flights.
Under an agreement between Bangladesh and Japan, Tokyo allowed Biman Bangladesh Airlines to enjoy a "fifth freedom facility" in operating flights in that country.
The fifth freedom gives an airline the right to carry passengers from its own country to a second country and from that country onward to a third country and so on.