Finding nutritional food on campus remains a challenge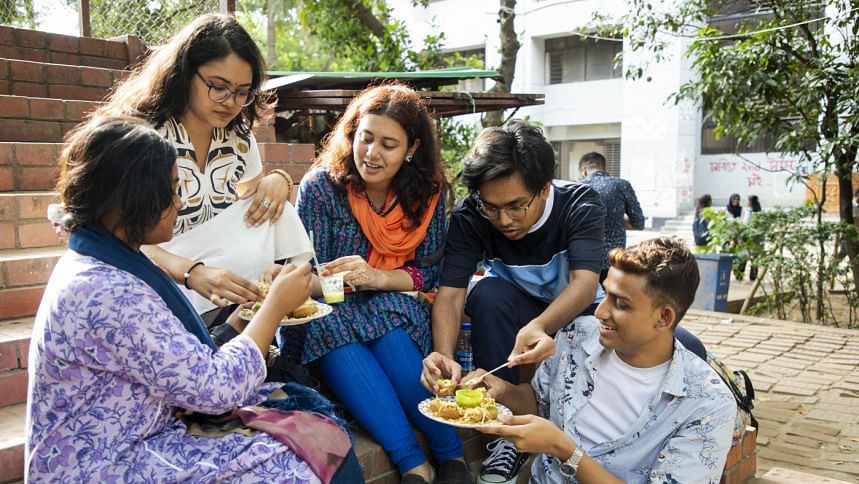 University students in Dhaka have a busy schedule due to their long commutes, classes, part-time jobs, and of course, studies. A satisfying meal at one's favourite eatery, at home, or in the campus cafeteria during a study break may provide the best release from the tedium of academic problems. Yet, too often, people prioritise their hunger over their health and wellbeing. 
While most of us are aware that we should eat foods from a wide variety of food groups, when we are away from home, we tend to prioritise foods that provide the greatest return in terms of energy, taste, and cost. But how do we continue to meet our regular nutritional needs?
There are many factors that contribute to the vastly different experiences that students have at various institutions, such as the quality of the on-campus cafeteria and the location of the university. For campuses located on the fringe of Dhaka city, students may be forced to eat all of their meals on campus, which increases their time away from home and decreases their dining options. Some universities, however, have convenient access to fast food restaurants and other dining options because they are located in commercial areas. 
Fourth-year BBA students Salsabil Noor Nokshi and Fahim Rahman say that most North South University (NSU) students choose to eat at one of the many nearby street vendors or restaurants rather than the more hygienic and nutritious options available a little further away from campus. 
Fahim claims that "many students order in" because of the convenient food delivery options available in the Bashundhara neighbourhood. 
Nokshi says, "After a long, exhausting day, there is nothing more discouraging than biting into a sandwich only to find that it tastes as bland as paper towels despite the exorbitant prices, so street food it is." 
Adrita Khanam*, BBA sophomore at the University of Dhaka says she would rather eat daal-bhaat cooked at home than fried food or tehari. As a student living on campus, however, she frequently feels confined by her surroundings. 
She elaborates, "The food in the Department of Fine Arts is cleaner and cheaper than the food in my department's cafeteria." 
Azra Humayra, third-year Journalism major at the same university shared a similar sentiment, saying, "The canteens here are subsidised, and they don't care enough about feeding the students nutritious food." 
However, most students are on a tight budget, so it is essential that nutritious food be made available at reasonable prices.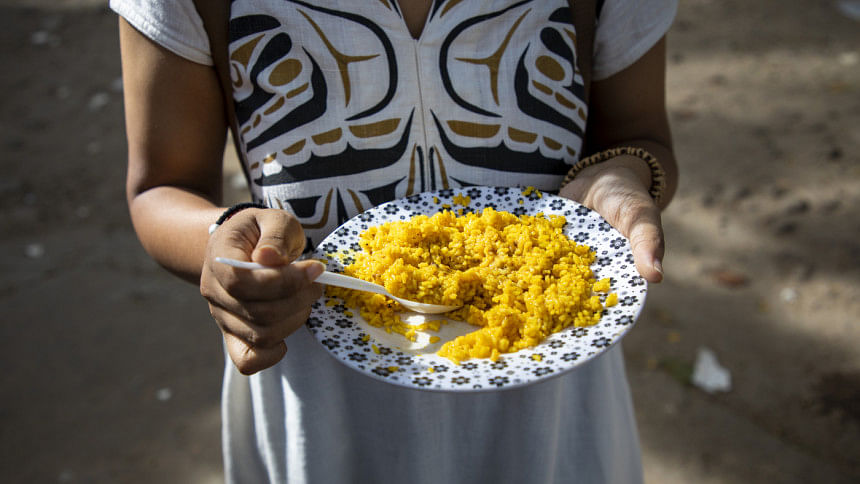 "Eating habits are very important to the overall health and academic performance of university students," says Tripty Chowdhury, a Senior Nutritionist at Bangabandhu Sheikh Mujib Medical University (BSMMU).  She argues that poor-quality ingredients, especially sugar, salt, oil, and spices, are one of the biggest deterrents to a healthy diet and regular exercise. 
Ushmila Tamim, a fourth-year English major at University of Liberal Arts Bangladesh (ULAB), says that in addition to fried food, tea, coffee, and heartier meals like polao, biryani, tehari, the cafeteria also serves a variety of desserts. She is grateful for the variety of on-campus resources but is concerned about their financial and physical toll. 
Cafes regularly spring up near and even on university campuses to meet the rising demand for sugary sodas, caffeinated beverages, and other carbonated drinks among students. 
Fatiha Taiara, a fourth-year Media Studies student at ULAB, say, "Many of my friends rely on caffeinated drinks instead of food when they are hungry or sleepy because it is a quick fix."
Tripty Chowdhury warns against drinking more than three cups of tea or coffee per day, preferably without milk and sugar, because, she says, "Caffeine gives us a boost of energy but can be harmful for those who suffer from anxiety or blood pressure swings on a regular basis." 
The responses from different students show that the universities in Dhaka need to raise the quality of their cafeterias and provide more nutritious food options. Even though many universities offer meal plans with healthy and varied options, the rising cost of these plans is becoming a major concern for many students. 
Tripty Chowdhury recommends replacing carbonated drinks with lemonades and fresh juice and adding fresh salad crates, hard-boiled eggs, vegetables, and fat-free, probiotic-enriched yoghurt to the cafeteria's food selection. She also suggests having a nutrition expert on campus and posting health charts in the cafeteria to help students, faculty, and authorities make educated decisions.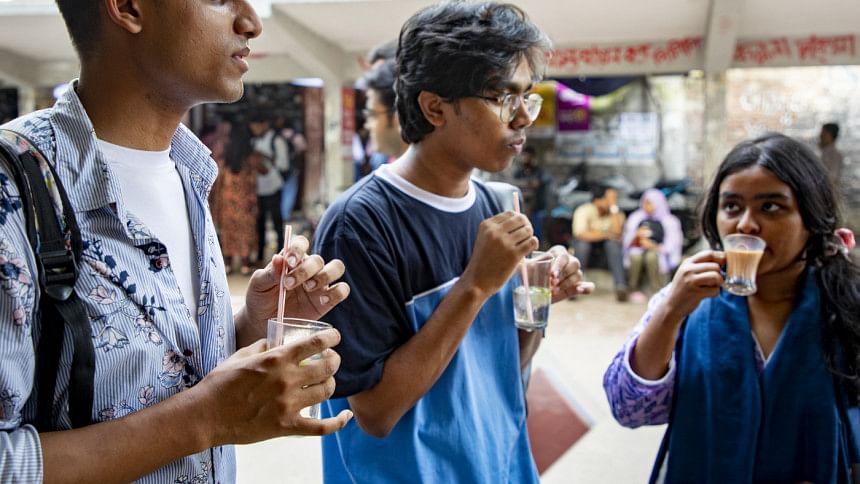 Students have suggested that, among other things, adding more nutrient-dense options to the menu, reducing the availability of fried foods, using higher-quality ingredients, cooking meals in a cleaner kitchen, and properly storing food could improve the cafeteria's food quality and safety. 
According to Tanha Tarannum, a fourth-year Media Studies student at the Bangladesh University of Professionals (BUP), "We have recently seen some changes regarding increasing the variety of items and decreasing the price rates, and the authority acted on our suggestion."  
She says that although the cafeteria is a bit pricey all around, it does offer some reasonably priced healthy options, such as seasonal fruits and juices. 
University administrations should prioritise providing students with healthy and varied food options because of the positive effects it can have on students' mental health, academic performance, and resilience. If there is a greater awareness raised about the importance of proper nutrition, and if the dining facilities on campus are modified to be healthier, then the academic performance of students as well as their overall health can be significantly improved.
*Names have been changed upon request
Nahian Jamal Joyeeta is a student of journalism at ULAB.