Home is where my books are
How do you pack 25 years of your life in two suitcases?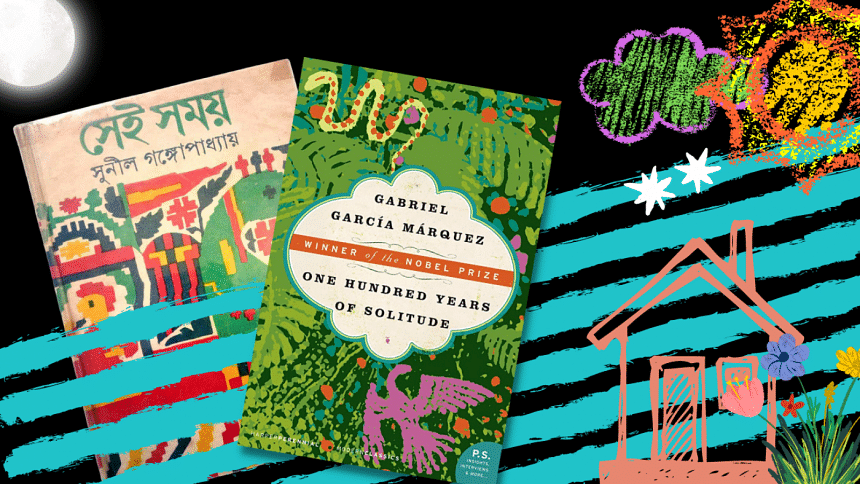 How do you pack 25 years of your life in two suitcases?
This was the first thing I asked myself when I booked my tickets to another country, where I will spend the next two years pursuing graduate studies. The airline has strict instructions regarding the weight limit each passenger is allowed to carry, a precise amount of 46 kilos. How easy do they think it is to carry everything and set up a new life, a new home, in a whole new land? 
Home has always been a fleeting idea, never a particular structure. It was not a room of my own, but rather a meal cooked by my mother, the music my sister plays for us on Friday afternoons, and the countless books we have collected over the years. 
Satyajit Ray was a staple in this home while growing up. Hiding the huge hardbound cover of Golpo 101 or a Feluda Shomogra under the textbooks while in classes was an extreme sport and one of my fondest memories from school. To this day, the stories smell like winter vacation to me, when I could curl up underneath a blanket and devour stories so rich in imagery. Then came Golpo Guchchha by Tagore, a collection of Russian stories in Bangla, and another translated anthology of European fairy tales. The impressive collection of Bangla fiction that my parents had in store for us allowed us to grow beyond our years, as we ploughed through the thick volumes of Sunil's Time trilogy—Shei Shomoy, Prothom Alo and Purba Pashchim. Every page of Muhammad Zafar Iqbal's books on our shelf not only has in it his stories but also ours, the ones we created when we read them before bed, in stealth, to keep the lights on just for a few more minutes. 
With each year, as we grew up, our choices of books started adding variety to the shelf. We discovered Akhtaruzzaman Elias and Shahidul Zahir. After stepping out of the comfort zone of the mother tongue at the school library with volumes of Harry Potter, there came Jhumpa Lahiri, Arundhati Roy, Harper Lee, Marquez, and Marlon James. They gave me the most powerful weapon to exist to date—words. Once I realised this, they never eluded me, not even for a split second. 
I opened the window for love and some light, and poetry found its way in. Meanwhile, in my younger years, my father would try to instil in me the habit of reading nonfiction. He started small, from newspaper or magazine columns, eventually venturing into relevant, simple, and age appropriate materials published by Bishwo Shahitto Kendro. But I would rebel, in my never-ending quest for stories. With new friends in university, I found newfound access to more genres of literature and a need to understand and reason with the realities of life. On a quest to seek joy in the mundane, nonfiction finally found its way to our shared shelf (I hope you're proud, Papa!). 
Now that I look back, these books, mostly works of fiction, have defined the concept of home for me as I grew up. Our bookshelf contains many things, but most of all, a lot of love with which we curated them. It contains memories of my father, who took us to the Boi Mela every February and wrote our names on the first pages of the books with his effortlessly beautiful Bangla lettering. It contains his wisdom and understanding of the world which he wished to pass on to us. It contains the love for Bangla novels shared by my mother and my sister. It contains memories of our friends, both old and new, the ones that are here and the ones that we lost, who knew us well enough to know that the books they gave us as presents would remain in our hearts rent-free, along with the notes of endearment that came with them. What I read and what I am and how I see the world and its people—all of it has been shaped by these contrasting yet passionate adventures of reading with my family.  
But the question remains. How do you pack 25 years' worth of memories in two suitcases to make a home in a new country? How do you pack the absolute essentials?
You don't. When it came to picking the books that I wanted to fit into one suitcase, I could not decide on a number of works of fiction, each carrying a core piece of my entire being. It has been an emotionally draining task. 
And so, surprisingly for a devourer of stories such as myself, most of the books that I picked to take with me are works of nonfiction. In my new home in a new country, Bertolt Brecht's On Art and Politics and Romila Thapar's Voices of Dissent will work as constant reminders of what I'm doing and why I'm doing it. One Hundred Years of Solitude will keep me company during days of isolation, and Shakti Chattopadhyay's collection of poems will satiate my eternal craving for Bangla. 
Why am I leaving my beloved stories behind, you ask? 
Well, I figured I knew the answer all along. If it was the stories that worked as my home, they should also stay where they belong—in my home, that is this rogue city. When I come back, they will welcome me with open arms, and will help me settle back in instantly. I will come back, after all. 
Till then, home needs to remain home and some things need to remain unchanged. 
Nahaly Nafisa Khan is a writer and journalist. She is working as a sub-editor at The Daily Star's City Desk.