"Local jazz scene is growing and has mainstream potential"
In conversation with jazz musician Imran Ahmed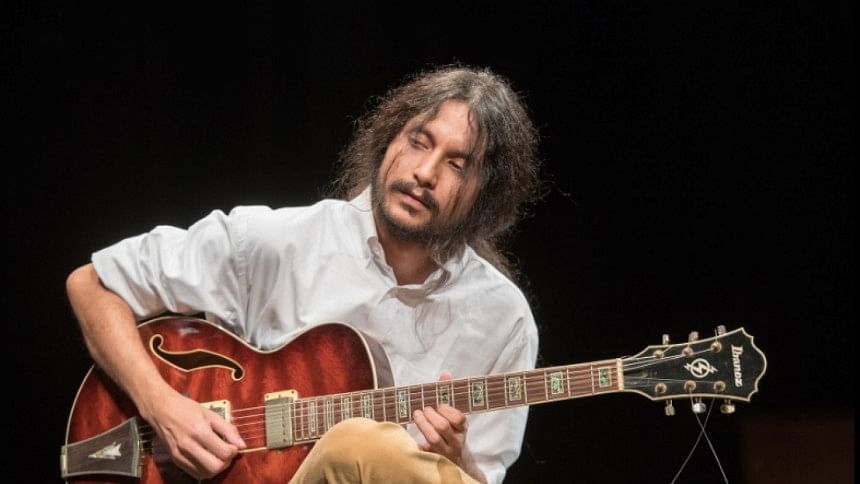 Popular Jazz band 'Imran Ahmed Trio' will be soon releasing their album titled 'Imran Ahmed Trio: Live in Warsaw' from the Slovakian label 'Hevhetia'. The 20-year-old label has released more than 280 albums so far and is one of the most active jazz labels in Central Europe.
In this interview, Imran Ahmed talks to us about the soon-to-be-released album, his journey with jazz music and his thoughts on the prospects of this genre in the country.
Could you tell us about how the album came to be?
We originally did not plan on recording an album. It was a regular tour back in 2019, the videos of which we usually upload on YouTube. But this was a very special concert in the Polish National Radio Theatre, supported by the Embassy of Bangladesh in Warsaw and the then Ambassador of Bangladesh in Poland, Mr Mahfuzur Rahman himself.
Many prominent jazz artists have previously performed in this venue, I even saw Sting and Motorhead's names there. Polish National Radio Theatre also has one of the oldest and best analogue audio console systems, and hence our tour producer in Europe, Jakub Krzeszowski suggested that we record this show properly.
The audio recording was of really good quality, and we invested some money to record the video properly as well. Jakub got Maciej Glowinski, a cinematographer on board for this purpose. Maciej made a quality production happen in black and white, with the help of 6-7 cameras. We initially thought of uploading the entire video on YouTube, but later, Jakub met the owner of Hevhetia and shared our materials. They liked the production and wanted to release it on their website as an album. After months of negotiations and discussions, the deal was finally sealed.
The album will be released in December, but before that, I'll be launching my website on September 20, through which I want to give the fans early access to the album. They can visit the website, imranahmedmusic.com, and purchase the entire one-hour-seventeen-minute long concert video.
Do you think the album could have been released from a local label, instead of a foreign one?
If I'm being brutally honest, I don't think the local labels want my music. They always have reservations regarding the type of music we are doing, without any vocalist in the band. These are the questions that I believe we should not be facing at this point, after playing internationally for quite a while. The foreign labels have always been interested, and I think if we had financial backing, we could have released more albums from them by now.
The local labels never showed an interest in our music. One reason behind this could be our production being very different from the ones they are used to. It's pretty expensive. Everything has to be played live, with little to no margin for further layering. The capture quality has to be really good, so that adds to the cost of audio production.
There was another incident that changed my perception towards approaching local labels. When we released our album 'Away and Home' back in 2017, I contacted G-series, and they were pretty sceptical. We invested our own money to get around 500-1000 copies of the CDs made from them. When we took the CDs to Europe, more than half of them were not working. Later, we distributed the album by ourselves on digital platforms. After that, I lost the confidence to approach local labels with our music. But I also think if the local labels are ever interested in our music, we will get a really good response out of that.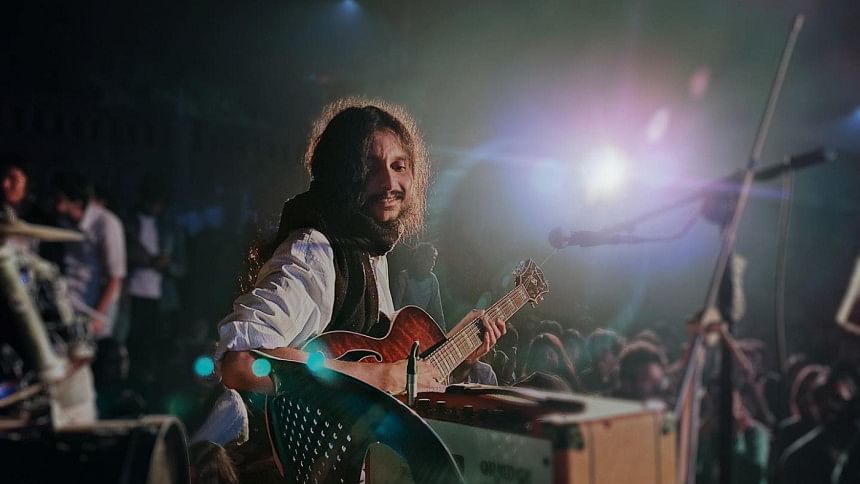 How would you describe the jazz scene in Bangladesh?
I do not know if we have a well-established jazz scene in our country yet. Jazz has a very stereotypical image, associated mostly with the works of artists like Miles Davis and John Coltrane. However, jazz is also a form that evolves with time. The very framework of jazz offers this freedom to the artists. As cliched as it sounds, jazz is more of a lifestyle than a genre. Improvisation and spontaneity will always play a huge role in jazz. And that requires being regularly in touch with the music and practicing.
I think a good number of artists or bands are not growing because they do not get to dive into this lifestyle that intensely. But I also believe that the local jazz scene is growing, because when I started back in 2014, there were no jazz bands in the country, but now we have the confidence to play and refer to our performances as 'jazz acts'.
Your band has introduced jazz music to a great number of young listeners in the country. Do you believe that jazz has mainstream potential in Bangladesh?
There's a narrative about jazz music in the country that I really don't agree with, that our audiences don't quite understand the music. Every time I hear this I personally feel offended on behalf of our audiences. We did our first jazz gig in 2014, at the EMK Centre in Dhanmondi, and that show sold all the tickets. That gave us a confidence boost that the music that we do is not that alien that the masses wouldn't understand.
I strongly believe that jazz has mainstream potential in the country. What we, jazz musicians do, is very similar to Indian classical music, in terms of improvisation and spontaneity. Classical musicians improvise on a basic rhythm and melodic structure, and that is exactly what we do. Jazz music is just different from Indian classical in terms of grammar. If classical can sustain as a mainstream form, so can jazz.
The response we get from live shows proves that our audiences not only understand the music but also enjoy it, otherwise we wouldn't be getting the gigs that we get. There's some kind of elitism at play here that labels a particular kind of music for a particular audience, and that culture needs changing, in my opinion.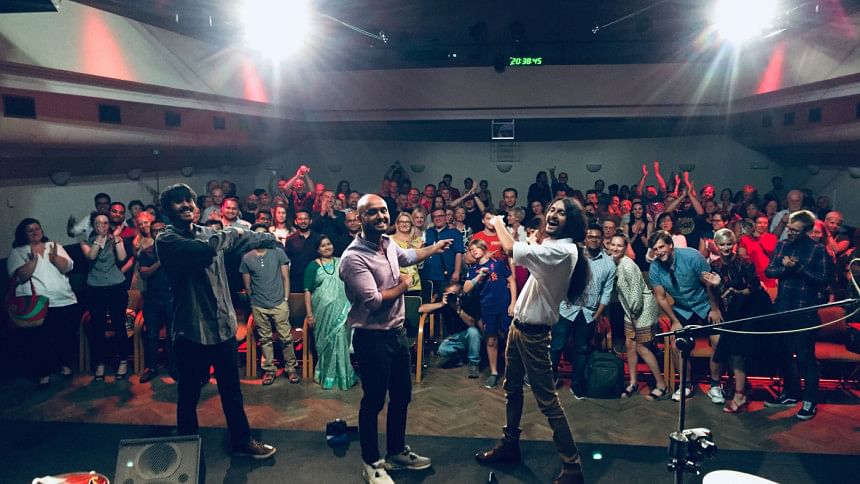 Do you believe this form of elitism can restrict you as an artist?
Absolutely. Music itself is a very diverse art form in nature. An entire personality of an artist can be reflected through music. This form of elitism restricts the listening process of an artist as well, eventually restricting their self-expression through the music.
You didn't start your musical journey with jazz. What attracted you to make this transition happen? And how has this journey been?
I have been playing the guitar since the fourth grade. I was in a metal band while being an O' Levels student. Bands like Powersurge and Mechanix had a great influence on me, and I was trying to get better with the guitar at that time. I was trying to figure out what I wanted to do next after my A' Levels. I joined the folk band 'Lalon' and by the time I was seventeen years old, I had already played for one and a half years with them. We did shows all over the country, and the band already had three albums out by then.
This got monotonous after a while. I started researching musicians and their works on the internet. Every extraordinary guitarist that I came across on the internet had played jazz at some point in their careers. That's how my younger self perceived jazz to be the next level of musicianship. I discovered Guthrie Govan and John McLaughlin, and after listening to John McLaughlin, I became totally obsessed with jazz music.
I wanted to surround myself with good musicians and to learn from them. I started applying to music schools while playing with Lalon. Swarnabhoomi Academy of Music in Chennai was the only school that offered me a scholarship. I was in Chennai studying music from 2014 to 2016. All my teachers in Swarnabhumi were from different parts of the world. My guitar teacher was from the USA, the piano faculty and vocalist was from Brazil, the drum faculty was from Mexico and the bass player was from Columbia. But they all had one thing in common. They were all from jazz backgrounds. I saw them in action, in the musical journey as well as the commercial aspect of it, and the education influenced me to pursue jazz.
What are your future plans for your music?
The plan is to continue what I am doing right now and make more people participate in the scene. I want to contribute to the arena of music education and make learning enjoyable for the students. I teach some aspiring musicians, and another plan includes giving them proper exposure. I am well connected to the European teaching scene of jazz musicians, and I want to use this network for this purpose.
I picture a future where we will have a proper jazz conservatory in Bangladesh. If we produce more musicians, we'll get more shows. And if we get more shows, we'll produce more musicians. The two processes just compliment each other. I believe this is how our local scene will grow.