Like father, like son: 'We both support Argentina'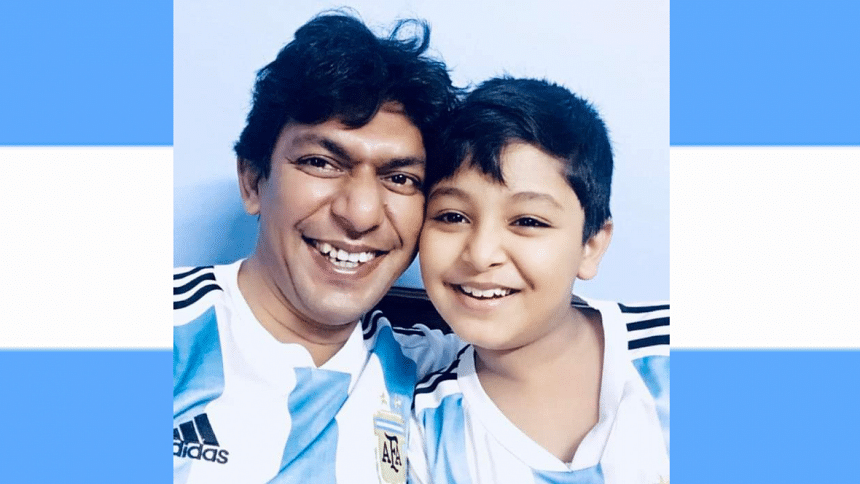 November 20 marked the beginning of the FIFA World Cup. The entire world is following the tournament closely, in hopes that the team they support is able to make it to the final and win the grandest prize in football.
The football craze has also touched Bangladesh, with most people in the country either supporting Brazil or Argentina. Celebrities are no different, as they too are passionately supporting their teams on this journey.
Renowned actor Chanchal Chowdhury, who has also been caught up in the football craze, spoke to The Daily Star, earlier today, about the World Cup and his favourite team.
How much do you enjoy football?
I like any and every game. However, I particularly like football and cricket a lot more. I love playing  football ever since I was a kid—particularly during my school days in the village. Those memories are still fresh in my mind and that is why football is one of my favourite games.
 
People are supporting many teams from this year's World Cup. Could you tell us about your favourite team?
I have been a supporter of Argentina for quite some time. I remember that this team won the World Cup in 1986.  Back then, I was in school. There was no electricity in my village. We would usually go to the chairman's house, or someone else's house, to watch the game together, on the black and white TV.  Since way back then, I have had a deep love for Maradona and his team.
What does the game mean to you?
For me, the game is all about entertainment. I want to enjoy the game, and we should all enjoy it together. Too much madness over a game is not ideal. No one should do bad things for the sake of a game. Not everyone will support the same team and that is fine. But this can be done with beauty and grace. So, it best not to argue and bicker over who we support.
Which team will your son, Shuddho, be supporting?
Shuddho also supports Argentina. Like father, like son, we both support Argentina. We both watch the games together and I enjoy it a lot.
Do you believe that Argentina has what it takes to become the champions?
No one can say for sure. All of the teams that come to the World Cup, have to come through the qualifiers and play well to make it this far. Everyone wants to play their best game and give their best effort. Of course, I want my favourite team to be the champions. But it is impossible to say what destiny holds for anyone. That is why, I will say that, the winners of the World Cup will be the team that plays the best throughout the tournament.
Today will be the first game of Argentina. Will you be watching it?
Currently, I will be busy with shooting. I do want to watch the game, but I don't know if I will be able to due to my shooting schedule. Right now, I am busy working on a new web-series, under the banner of Chorki. So, let's see if I can make time to catch the game today.