My tumultuous love-affair with Bangladesh Cricket Team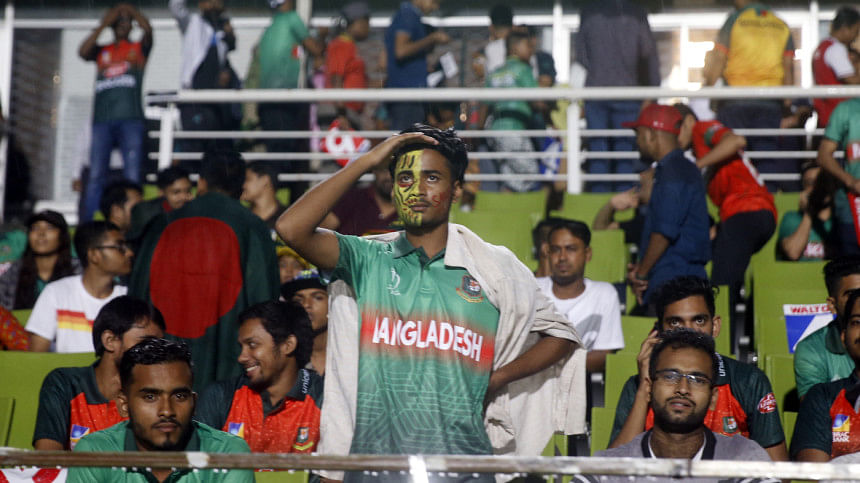 Not all of us are cricket gurus or analysts. Some of watch the game for purely entertainment purposes. The Bangladesh national cricket team brings a stroke of joy into our otherwise mundane life. However, this iota of joy comes at the cost of our frazzled nerves.
I don't understand cricket that much, but I have wholeheartedly loved the game ever since I saw flamboyant Ravi Shastri hitting four and sixes. When Bangladesh started playing and toppled India, they took my first favourite spot. I gave my heart to the Tigers.
I watch each game from start to finish; watch the pre- and post-game analysis, eagerly await the toss, and pray constantly that they have a good day on the field. And then, read all about it in the newspaper the next day.
Yes, I put that much time for Bangladesh cricket! That much blind faith in their performance, much to my foolhardiness. Though, they never fail to enthuse a fan like me to no limits, their antics, both inside and outside the field, is as good as any soap opera.
Now, I don't want to go into the nitty-gritties of the board's and selection team's inanity. Sports politics is very complex to me. Yet, I will vote for my Tigers on any given day, setting aside their arrogance, their over confidence and so on and so forth.
I will also overlook the fact that we don't have quality openers, or our top batting order unable to build partnerships, or choking at crucial games, or their inability to win outside the borders of Mirpur stadium.
Sadly, fans like me will always hope that the next game will be better, that they won't repeat their old mistakes. We console ourselves by thinking that it was just a bad day on the field. However, these bad days are trending hashtags at the Tigers' den. We hardly ever get to see a good day.
And yet our hopes remain high; we always stand by our Tigers, old or new. In our daydreams, we see them triumph in their next tournament and bringing home a trophy.
In all honesty, the Tigers' fan club, consisting of members like me, are the real losers for always believing in their fabled abilities. Our team supposedly contains top ranking players of the world. So where is this supposed performance?
Like I said before, I don't understand the subtle dynamics of the game; I am not a cricket guru. My rantings are purely from the point of view of a die-hard fan. Consider this a therapy session of me venting out my frustrations about my broken heart after every game.
This sounds especially silly because every time they lose, I promise myself never to watch them play again. And yet, like an unashamed fool, whenever the Bangladesh Tigers is on the pitch, I follow the game through whatever means. I hear the game on the radio (quick shoutout to Radio Bhumi's commentary style) while I am in the car, constantly check updates on Cricinfo when I am not near a television set, and glued to the TV when at home.
If they are losing wickets or the game, I turn off the TV and pretend I don't care about them missing a catch and dropping someone twice or getting run out or caught behind. Though, every few seconds, I sneak a peek on Cricinfo with half an eye open, like I do when watching a horror film.
I cannot stay away from them. I have a bitter love story with the Tigers, jam-packed with superstitions and delusions. If they score a four when I am not in the room, I will stay on that spot till they run dry of fours. If one gets out while I was munching on a packet of chips, then chips is forever banned as a choice during game munchies! If switching off the TV somehow changed the score for the better, then that TV will stay off, while I stay seated in front of the switched-off TV. I even repeat the same kurti I wore when they won a game!
You see, for me, these small rituals matter more than their statistics and performance figures. They are an unpredictable team. They will lose a winning game and win a losing one. So, I rely on my antics more than theirs.
As predicted, this on-going Asia cup is playing havoc with my hypertension — it goes up and down like the scores of their top order batsmen. I have emotionally invested so much on them, with no hopes of any return, that my soppiness can only be compared to a supporting role of a bad Bangla cinema script.
I might just die before the Tigers mature and grow some claws. From a fan who doesn't understand much, the Tigers need to play their best game instead of focusing on game politics, fat cheques and endorsement.
My head cannot take any more cricketing riddles. I think I will finally call it quits. I give up on the Tigers. Promise (not)!