Experiencing the joy of FIFA World Cup live at the stadium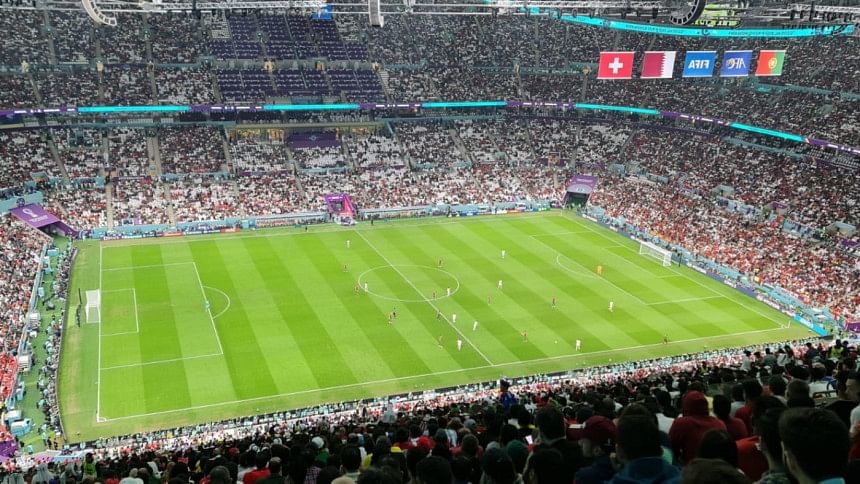 Whether or not we are football fanatics, watching the FIFA world cup live from the stadium is something almost all of us have in our bucket list. Most people spend months, or even years planning for this day. But what does it really feel like to watch the game from the bleachers? Well, watching the FIFA world cup live is not just about a game, but it is an entire journey.
United by the language of football
Getting tickets to your preferred match and then finding accommodation is a big challenge, but once you step into the stadium, you are inundated with elation and every struggle and sacrifice seems worth it. "Watching FIFA World Cup upfront had always been in my bucket list and once I stepped into the stadium, I could not stop smiling for a moment and was almost in tears," said Mehtab Hussain, who went to watch his first-ever World Cup match.      
The energy inside the stadium is so infectious that it can be felt reverberating around its perimeter. Crowds cheering, supporters dancing, flags waving – all united by one common language; football. In the spirit of football, fans, players, and former players all sit together, and for some, catching a glimpse of their favorite players or being in such a close proximity is by itself something of a lifetime achievement.    
"Football is a game where you do not have to take friends along to watch with you, and still enjoy to the fullest. Even with people from various nations accumulated, you end up having conversations with those who understand your language of football and get to know people along the way," said Zubaer Bin Alam who is a supporter of Spain.    
Melting pot of cultures
FIFA World Cup is one of those rare events where people from all corners of the world come together. The stadium becomes a melting pot of cultures with crowds from various nations. Even the walk to the stadium reflects this — singers and dancers performing, people doing acrobatics, and playing instruments – all portraying the practices of different countries.
Walk into the stadium and you'll experience a whole new party! How different countries are supported says a lot about their crowd. "South Americans cheer very loudly, whereas supporters for African nations go all out with colours and face paint. Europeans on the other hand, like to keep things subtle," shared Sadik Ahmed, who has watched five matches this World Cup.
It is a surreal feeling when people from various nations come together to support their favourite teams, even if their country is not playing.
Countrywide carnival in Qatar
FIFA initially faced criticism for choosing Qatar as the host nation for this year's World Cup. However, anyone who has been there to watch a match will barely find anything to complain about. They created everything from a seamless platform to get tickets to making transportation free for all with Hayya cards, and centrally placing accommodation sites, ensuring accessibility to various places.
"Apart from food expenses, I did not have to worry about anything at all upon my arrival at Qatar. Everything was planned amazingly, with proper directions given!" remarked Anila, who has been planning this trip for over a year.
Qatar being a small country also proved to be an advantage. As the eight stadiums were dispersed within a relatively small radius, the country became somewhat of a carnival. Restaurants, streets, malls, beaches, and even the metro were abuzz with the festive spirit where everyone was in a celebratory mood.     
FIFA Fan Festival enthused with singing, dancing, and performances, and streets wrapped in flags offering walks with stalls selling souvenirs, merchandise, and food on both sides were arranged for fans to enjoy while not in the match. Apart from these, people also got to experience the olden days of Qatar by exploring souks (old bazars) that were kept in their primitive conditions.      
Turning the tables of Islamophobia     
If updates about World Cup have been in your radar, then you must have come across news that highlights Islam with the numerous restrictions imposed, which created fear in the minds of people. While in reality, those who actually went to Qatar came back with a changed perspective of Islam altogether.
"By mingling with people from the Muslim community, people left with the message that Muslims are just like everyone else. They enjoy the games and cheer with others, and they have no hatred for people from other communities," said Tasmit Afiyat Arny, who has seen multiple matches this World Cup.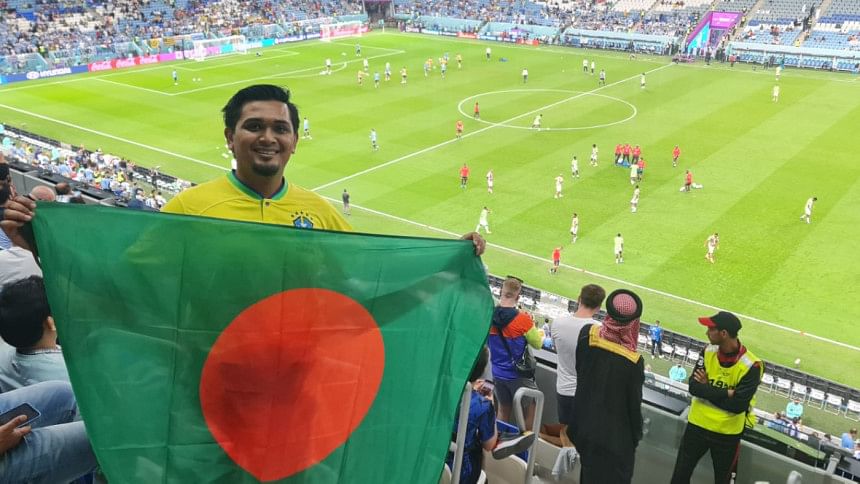 There were obviously subtle cues to explore the religion and stimulate interest towards Islam, such as QR codes that direct one towards Islamic sites, messages from the Prophet (PBUH) on the streets, mosques made of glass to spark curiosity from onlookers, and masjids painted in bright colours in accommodation sites. However, none of it was forcefully imposed.
Moreover, people were flattered with their hospitality as citizens of Qatar were distributing homemade sweets post matches and encouraging people to try on their traditional kaffiyeh (headdress) made with flags.
Cosily watching the World Cup from our screens has its own joy but it is a completely different experience to watch it upfront. Having the screens lifted and witnessing everything happen in front your eyes make you feel like a part of the game.  
Photo: Mehtab Hussain, Zubaer Bin Alam