In a first, Biman signs code-share deal with Gulf Air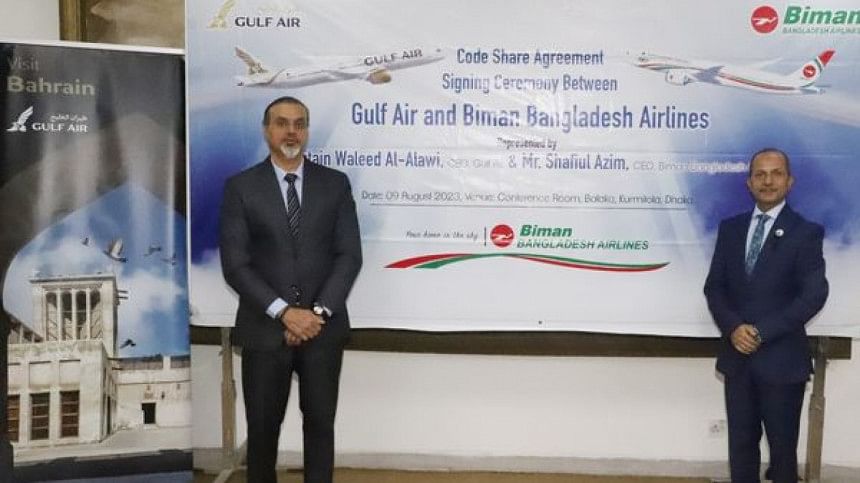 Biman Bangladesh Airlines for the first time has signed a strategic code-share agreement with Gulf Air to facilitate travelling between Bangladesh and the Gulf region.
The signing programme of the landmark partnership agreement was held virtually at Biman head office today with representatives from both airlines connected through a web platform.
With this agreement, Biman and Gulf Air will collaborate closely to expand their flight networks, offering an extensive range of options to their passengers.
The code-share agreement will also enable travellers to seamlessly book flights operated by either airline, providing increased flexibility and efficiency in travel planning.
Under this agreement, passengers can travel between Dhaka and Bahrain, with onward connections to Chattogram and Sylhet available through both airlines.
"We are thrilled to join hands with Gulf Air in this code-share agreement, which marks a significant milestone for both airlines. This partnership will unlock new possibilities for our customers and strengthen the bonds between Bangladesh and the Gulf countries," said Biman MD and CEO Shafiul Azim.
Capt Waleed Al Alawi, CEO of Gulf Air, commented, "We are delighted to be partnering with Biman Bangladesh Airlines. Through this code-share agreement, we are looking forward to offer our passengers an expanded network of destinations and more travel choices."