Shop owner and BNP leader Mokbul made key accused in case over New Market violence
Over 1200 sued in 3 cases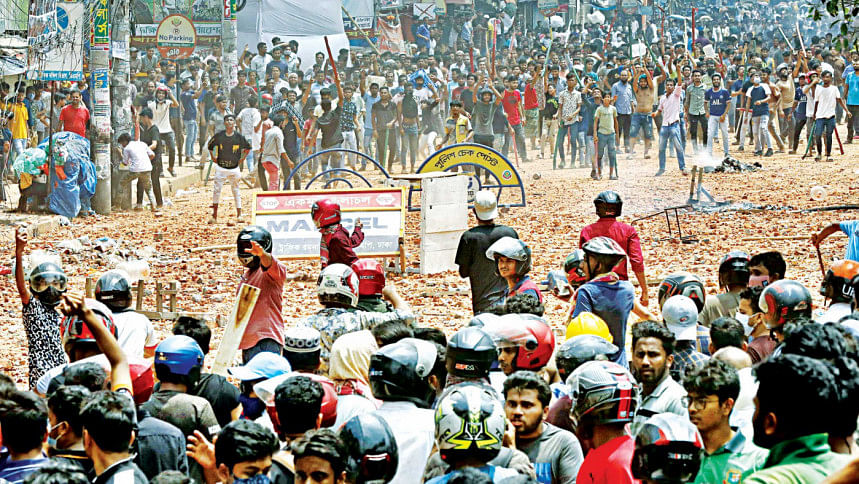 Police have filed a case against former New Market thana BNP president Makbul Hossain and former general secretary Jahangir Hossain Patwari for obstructing police in discharging duties, assaulting law enforcement officers, and damaging property.
Makbul owns two shops in the capital's New Market area. Employees of the two shops engaged in a brawl on Monday night, which spilled over into daylong pitched battles between Dhaka College students and shopkeepers the following day, leaving two dead and scores of others wounded.
Yamin Kabir, inspector (investigation) of New Market Police Station, filed the case on Wednesday. In the case statement he narrated details of the clashes in which 10 to 15 policemen were also wounded.
Apart from Makbul and Jahangir, 22 others were named as accused in the case. Another 800 to 1,000 unidentified Dhaka College students and New Market traders and workers were also accused.
Makbul, the main accused, said instead of filing the case against the real culprits, police filed a politically motivated case against BNP leaders and its affiliated organisations. He also alleged that police framed him to harass him.
He said another accused in the case is BNP leader Amir Hossain Alamgir, who has a shop in the capital's Gulistan area.
Makbul said one of the shops he owns in New Market is run by his brother, and the other by his cousin.
"I have not even gone to the New Market area in the last four months," he added.
The deadly clash ensued after a worker of one his shops called some Dhaka College students to punish the employee of the other shop following a brawl between the two employees.
In the case statement, Inspector Yamin mentioned that Makbul, Amir Hossain Alamgir, Mizan, Tipu, Jahangir Hossain Patwary, Hasan Jahangir Mithu, Harun Hawlader, Shah Alam Shontu, Shahidul Islam Shahid, Japani Faruq, Mizan Bepary, Asif instigated the skirmishes.
Rahmat, Sumon, Jashim, Bilal, Harun, Toha, Monir, Bachchu, Julhas, Mithu, Mintu and Babul and 200 to 300 unidentified traders and workers armed with sticks, rods and hockey sticks threw brickbats at Dhaka College students who took position at the college main gate after vandalising New Market.
In return, 500 to 600 unidentified students also pelted bricks chips towards them, reads the case statement.
The same day, a sub-inspector of the New Market Police Station filed another case with the station against 150 to 200 unidentified people under the Explosive Substances Act.
SHOPS REOPEN
Shops in the area reopened today following an hours-long meeting among representatives of traders, and Dhaka College students and teachers.
At the meeting students placed 10 demands, said Fuad Hasan, a Bangladesh Chhatra Leader of Dhaka College unit.
The demands include punishment of the instigators and attackers, bearing treatment cost of injured students by traders and law enforcers , compensation to the family of Nahid to be borne by traders, withdrawal of DMP deputy commissioner, additional deputy commissioners and officer-in-charge of New Market Police Station, code of conduct for shop employees, clearing sidewalks, stop of illegal car parking and extortion, formation of a monitoring cell to stop harassment and sexual abuse of shoppers and cancelling lease of Chandrima Super Market and New Super Market and returning the land to Dhaka College.
President of Bangladesh Shop Owners Association Helal Uddin, who led the traders at the meeting held at Science Laboratory, said the meeting was successful.
He said a core committee will be formed comprising representatives of teachers, students and traders who will resolve any complaints.
Admitting harassment of shoppers by some employees, Helal said there will be complaint boxes for aggrieved persons.
He also said identity cards will be issued to all shop workers.