All 538 fraud victims finally fly to Saudi to perform hajj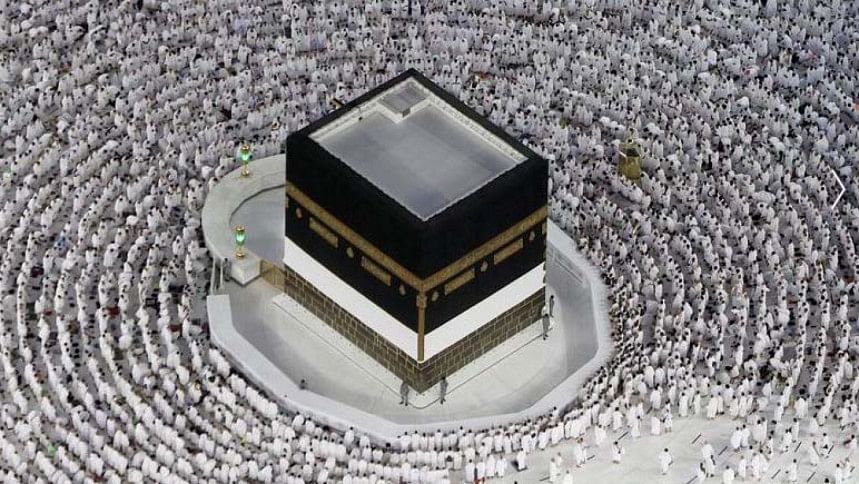 At least 339 people, who were victims of fraud by a private hajj agency, finally flew off to Saudi Arabia to perform hajj.
The last batch of the 538 intended hajis left Dhaka last evening by a flight of Biman Bangladesh Airlines, thanks to an initiative of the Hajj Agencies Association of Bangladesh (HAAB), a platform of private hajj agencies
With this, HAAB sent all the 538 Hajj pilgrims to Saudi Arabia in three phases.
Apart from them, at least 5,500 more hajj pilgrims, who were facing uncertainty over visa complications, have also been confirmed to go to Saudi Arabia.
HAAB President M Shahadat Hossain Taslim said they would be able to send all the intended hajj pilgrims as the Saudi government gave eight additional slots to Biman to operate hajj flights.
Following Prime Minister Sheikh Hasina's strict instructions, we have taken measures so that not a single hajj pilgrim is left behind, he added.
Taslim said HAAB has provided all kinds of assistance including visas and tickets for the pilgrims.
The 538 intended hajis, who arranged the pilgrimage through SM Travels, were left in limbo as the owner of the agency, Shah Alam, went into hiding on June 14.
They paid around Tk 38 crore as package fees to Shah Alam.
The development comes as the last of the scheduled hajj flights will leave tonight.
Of around 1.22 lakh intended hajj pilgrims, a total of 1, 12,636 went to Saudi Arabia as of last night by 299 flights of Biman, Saudia and Flynas, according to sources at the Hajj Camp at the city's Ashkona.
That leaves around 10,000 intended hajis who will have to go to the Kingdom by today.
Of the total intended pilgrims, 10,360 people will perform hajj under government management and the rest 1.12 lakh people will perform hajj under 603 private management.
Secretary of the Ministry of Religious Affairs, A Hamid Zamaddar, said, "There is no uncertainty about sending all the hajj flights as Saudi Arabia has approved additional flights to cover the capacity loss. As a result, no one would face problems regarding hajj flights from Bangladesh."
The hajj is scheduled to be celebrated on June 27. Hajj flights started on May 21.
The return hajj flights will start on July 2.