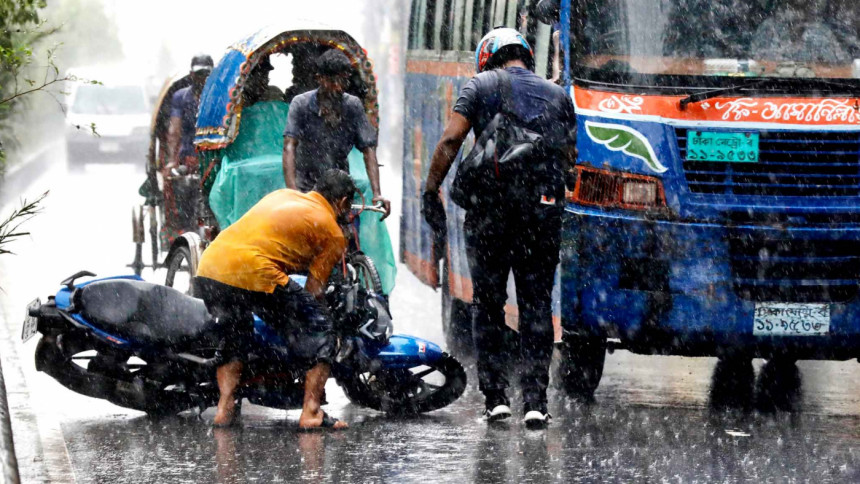 One marker for the oft-chanted prophecy of Bangladesh as the Asian Tiger can be explained through the rise and rise of motorcycles. The city scene is fast becoming like any other Southeast Asian city-hive where the swarms of buzzing motorcycles thrive. Thanks to ride-sharing services, you can cry out, "O Bhai, send (pathao) me a ride, or I will grab a Grab," to reach your destination in an uber-cool style to beat the proverbial gridlock. Thanks to eased financial schemes, more and more people can afford to have motorcycles as their preferred mode of transportation.
Motorbikes are inarguably the fastest way to commute, especially in the busy streets of Dhaka, where the "bee"-sy drivers can dart in and out of traffic jams. They tack and veer to cut across cars and buses. They climb onto footpaths and plunge into potholes; they act like ilish machh to go against the stream in one-way streets. They gang up on cars waiting at stop signs as they consider traffic signals a public nuisance. This herd behaviour is the same in other developing countries, too, where the small, inexpensive motorcycles and scooters have become an alternative mode of public transportation.
This was pretty evident when thousands of bikers hit the highways in Bangladesh in an unprecedented move during this Eid break. Once Eid was over, we woke up to the horrendous news of at least 145 people killed in 164 accidents involving motorbikes. Motorcycles were involved in 44.08 percent of the accidents and 34.85 percent of the deaths that occurred over the Eid holidays.
Why would so many bikers risk long journeys on highways? Motorbikes do give a false sense of liberty. More and more people wanted to break away from the monopoly of bus owners and the hassles of getting train tickets. The same concept of liberty prevails in the way a growing number of people are embracing motorbikes as their first choice of transport. But this has been helped by certain government policies and the financial schemes of motorcycle vendors. While motorcycle sales are closely connected to economic stability, the down payment facilities offered by merchant banks have contributed to the rise in the sales of motorcycles. The app-based ride-sharing policy promises employment, too.
According to Statista.com, revenue from Bangladesh's motorcycle market is projected to reach USD 3.81 billion in 2022 with an annual growth rate of 6.33 percent. They project a market volume of USD 4.87 billion by 2026. In terms of unit sales, an estimated 646,140 bikes will be sold by the end of 2022, which is expected to rise to 803,550 in 2026. Our official registration record, however, does not correspond with the sales figure. In 2021, only 375,252 motorcycles were registered in Bangladesh, of which 99,810 were in Dhaka, according to Ceicdata.com.
In the first two months of 2022, as per Bangladesh Road Transport Authority (BRTA) website, 3,123 private passenger cars were sold against 84,583 motorcycles. The phenomenal growth of motorcycles is reminiscent of the introduction of Ford automobiles a century ago. What happened to America in the space of a generation is now happening in the developing world in Asia and parts of Africa. The wheels are on the move.
Interestingly, one of the major manufacturers of motorcycles, China, is progressively phasing out its production. As a country located on the higher rung of social growth, it knows the downsides of the two-wheelers. Traffic congestion and carbon emission are cited as two major causes. However, the squeeze in the domestic market does not tally with their export figures of motorcycles. The sales figures mentioned above show how we are subscribing to a transport system which is not without vulnerabilities.
Our Asian cousins know that motorcycles are deadly, and in one estimate they are even deadlier than HIV/AIDS or tuberculosis in Asia.
In Bangkok, there is a voluntary/special ambulance service called the "body collectors," whose job is to patrol night streets to collect bodies of accident victims—mostly pedestrians hit by bikers or vehicles that have met accidents. In Thailand and Laos, motorcycle crashes represent 74 percent of all road deaths, while in Cambodia, the figure stands at 67 percent. Our own fatality figures during the Eid break show a similar trend. According to a report published in Foreign Policy, "Across Asia, which is the epicentre of the motorcycle boom, two- and three-wheeled vehicles account for about a third of all highway deaths, with the highest numbers in Southeast Asia."
The motorcycle-related casualty rate in wealthy countries such as the US, however, is around 12-20 percent. The minimal casualty rate in the US suggests that many of these accidents could have been avoided if there was a strict imposition of traffic rules. Corruption greases the wheels that roam the streets. Bikers are not willing to obtain licences, wear helmets or follow rules as they know that they can take advantage of the already corrupt system. Many of these bikers are street-smart enough to buy their way out of the system. The common view across the region is that police are there to steal your money.
There is a complete disregard for traffic signs. Once again, the situation is not unique in Bangladesh. A recent study in Cambodia shows that 70 percent of motorists don't know the meaning of a STOP sign. Our situation is likely to be worse as the only sign that works in the country is the police baton.
The growing number of motorcycles is a sign of economic progress, but it is also a sign of progressive degeneration of our overall social health. Bikers rule the roads with their adrenaline rushes, their road rage, and their newfound freedom. Conversely, the growing number of casualties suggests that they exist in a vulnerable system that is waiting for a two-stroke thrombosis.
Dr Shamsad Mortuza is the pro-vice-chancellor of the University of Liberal Arts Bangladesh (ULAB).