Easy, Tiger! Hold your horses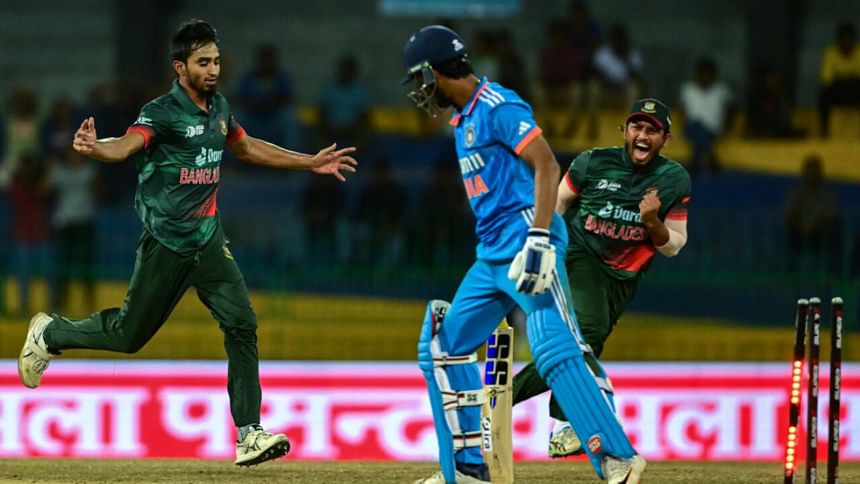 The youngest member of Team Tigers, Tanzim Hasan Sakib, has been on an emotional roller coaster ever since his impressive performance in the Asia Cup Super Four match on September 15. The debutant pacer dismissed Indian Captain Rohit Sharma in his fourth international delivery and then scalped the wicket of the other opener, Tilak Varma. Young Tanzim gave the mighty Indian team a wake-up call when they appeared overconfident due to the fact that Bangladesh had only beaten them once in their 14 Asia Cup meetings, and that was in 2012 on home turf.
Tanzim's performance catapulted him to stardom's centre stage, where the spotlight shines rather harshly on those basking in its glow. Even before Tanzim could relish in his success, he came under public scrutiny for comments he made a year ago. His Facebook remarks exhibit blatant sexism veiled in religious dogmatism. In the past, as an ordinary citizen, his views might have stirred some murmurs among his social media friends, and they would have been easily forgotten in the ever-changing digital cacophony. But as a rising sports icon, Tanzim discovers that his words have far-reaching consequences.
We must keep in mind that Tanzim is the product of his upbringing and cultural context. His regressive remarks about women stem from the patriarchal system's deeply held beliefs. His case is not unique.
Both social media and international media are aflame with anger. Women's advocacy organisations and offended supporters are slamming Tanzim for his sexist remarks. A section of the syndicated press, many of them from India, cites a self-exiled Bangladeshi women's rights activist who reminded the youngest tiger that the jersey he wore to gain fame was sewn by women. So it is evident that Tanzim's argument that women lose their charm, chastity, integrity, and social role when exposed to the outside world lacks merit. He found himself at the epicentre of a storm he hadn't anticipated. To his rescue, the officials of Bangladesh Cricket Board (BCB) issued a public statement, assuring everyone that the young pacer would refrain from making any such public comments in the future. However, the defence they forwarded, quoting Tanzim, did not assist the cause either. The young man reportedly said that his mother is a woman, so how could he not respect women.
The Tanzim episode provides us with an opportunity to examine the double-edged sword of fame, where privileges and responsibilities collide. The repercussions of Tanzim's misogynistic remarks extend well beyond the headlines. It reminds us of the complicated world of sudden stardom and the blurred lines between personal opinions and public responsibility. This is also true for jobseekers who do not realise that their digital footprints have the potential to hurt their future careers. I think that while Tanzim's past regressive remarks about women from a religious perspective are troubling, we should focus on nurturing his sports talent while addressing issues of cultural sensitivity, without unjustly singling him out for problems related to patriarchy and religious dogmatism.
It is essential to acknowledge that individuals grow and evolve over time. We must keep in mind that Tanzim is the product of his upbringing and cultural context. His regressive remarks about women stem from the patriarchal system's deeply held beliefs. His case is not unique. Just last week, we heard a top administrator of a university making similar sexist comments. Condemning Tanzim without addressing the underlying causes of his viewpoints does little to promote understanding or change. Instead, Tanzim's late realisation and public admission can be used to initiate a productive dialogue about cultural sensitivity, religious tolerance, and the importance of education and awareness.
At the same time, while his talent should be celebrated and nurtured, his personal beliefs should be the subject of the same respectful discourse extended to other members of society. We also need to remember that his past remarks on women from a religious perspective are a reflection of a pervasive cultural insensitivity and religious dogmatism in our society. Instead of singling out and vilifying a young cricketer, we should seize this opportunity for constructive dialogue and development. This may require an overhauling of our education system, including our attitudes towards morality and ethics. Right now, we should foster Tanzim's ability as a sportsman while addressing the underlying issues with empathy, education, and sensitivity. In doing so, we can aspire to create a more inclusive and tolerant world, one in which rising sports stars can flourish while maturing into responsible and culturally aware individuals.
---
Dr Shamsad Mortuza is professor of English at Dhaka University.
---
Views expressed in this article are the author's own.
---
Follow The Daily Star Opinion on Facebook for the latest opinions, commentaries and analyses by experts and professionals. To contribute your article or letter to The Daily Star Opinion, see our guidelines for submission.
---