Mirsarai tragedy: Some coincidences are akin to death traps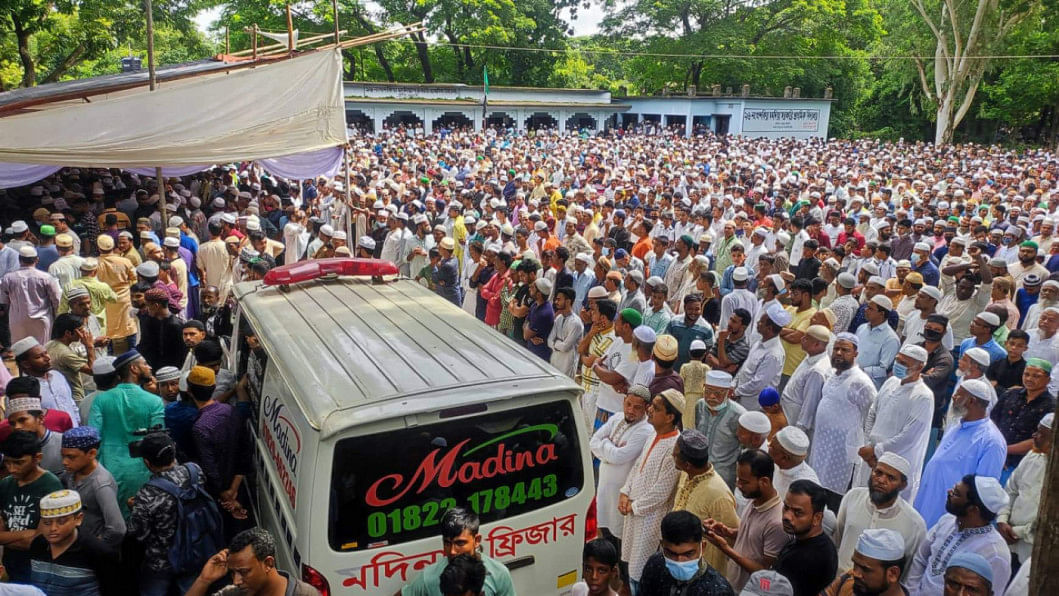 On July 29, the Mahanagar Provati Express started from Dhaka for Chattogram. Unrelated until the tragedy, students and teachers of R&J Coaching Centre in Hathazari started towards Khoiyachhara Waterfall in a microbus, their touristic destination being Chattogram's Mirsarai upazila. No mortal knew that the two vehicles would meet at 1:30pm at Khoiyachhara level crossing with tragic consequences.
Eleven passengers of the microbus, including seven students, were killed in the collision, as the train, before decelerating, dragged it for a kilometre along the track. Six persons were severely injured.
The on-duty guard at the crossing had gone to offer his Jumma prayers, leaving the converging vehicles at the mercy of destiny, although he claimed he had lowered the boom barriers on both sides of the track. It may have been his regular practice. Was it a coincidence on that fateful Friday? Or neglect of duty by the gateman?
In a further twist of fate, according to the Bangladesh Railway (BR) authorities, after a train from Chattogram had crossed the gate, and assuming the coast was clear and therefore safe, the passengers of the microbus ill-advisedly and perilously lifted the boom barriers. As the microbus resumed its journey, the Mahanagar Provati arrived and hit the microbus. Was it a coincidence? Or a lack of citizens' responsibility?
In performing his religious obligation, the guard, now under arrest, ignored his duty as prescribed in Islam. Islam, like perhaps all religions, lays importance on duty. Work is ibadah, i.e. worship. "If one makes the intention to seek a halal rizq (sustenance) that is pleasing to Allah, then his/her work becomes an act of worship which the individual is rewarded for."
Namaz is a part of a Muslim's normal daily routine. It is a Muslim's duty to God. One should not make prayers an issue to neglect one's duty. This happens in our offices and factories. Some of us take unusually long breaks for namaz.
In order to accommodate duties and chores of life, Islam has a system of waqt, a range of time for each of the five daily prayers. Congregational prayers in masjids, although encouraged, are not obligatory. Then there is qaza, meaning make-up prayers, if one has missed a waqt.
On that ill-fated afternoon, gross negligence by the guard, miscalculation and reckless conduct on the part of both parties – the driver and the microbus passengers, as well as the speed of the train as it passed the level crossing – are the causes of the tragic mishap.
According to BR data released in 2020, at least 419 people were killed and more than 2,000 sustained injuries in 4,914 train accidents at different level crossings, both legal and illegal, over the preceding 15 years. That's almost 30 fatalities per year. During that period, 961 legal level crossings did not have any gatekeepers, turning them into hotspots for accidents.
The BR, as well as the roads and highways authorities, should survey every level crossing across the country to assess traffic flow capacity. If vehicles cross a railway track regularly, stringent structural and supervisory safety measures must be put in place. Constructing overpasses at busy city and municipal level crossings will improve the situation. More than ever before, the Mirsarai misfortune highlights the need for trained gatekeepers with adequate pay.
Dr Nizamuddin Ahmed is an architect and a professor, a Commonwealth scholar and a fellow, Woodbadger scout leader, Baden-Powell fellow, and a Major Donor Rotarian.