When in Qatar, be a Qatari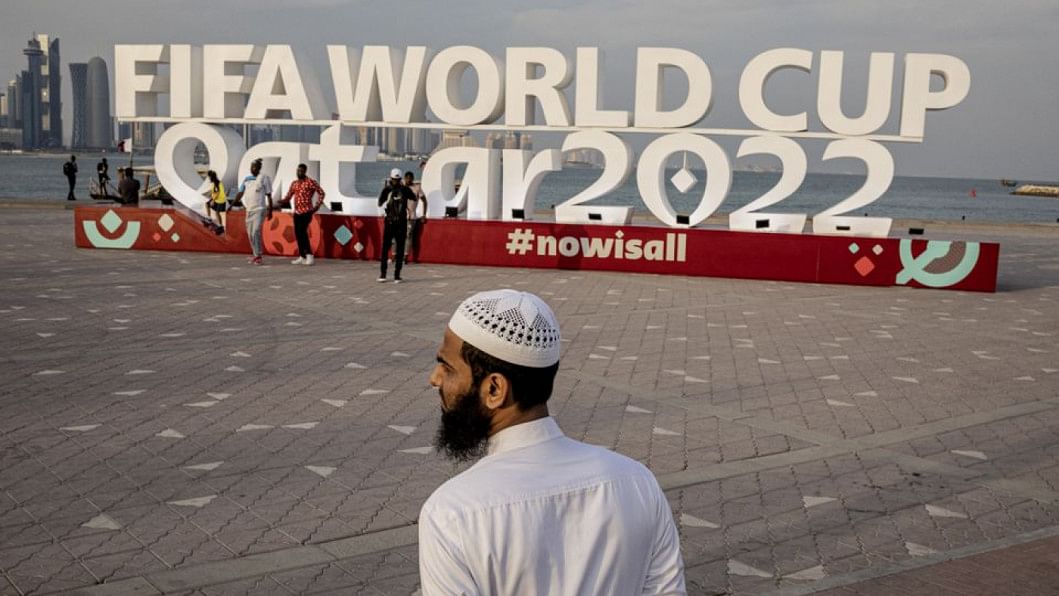 The desert World Cup is coming to its end. The quarter finals are over and we are anxiously waiting for the semis. Not only has the starting line-up of thirty-two teams been whittled down to the last four standing, it seems that the plethora of media bombardment on the hosts have significantly decreased.
In the days leading up to the greatest show on earth, miserably apt was the Bangla saying, "Jare dekhte nari, tar cholon banka" (One whom you cannot bear, unacceptable is that person's behaviour).
Abuse and death of migrant workers in the build-up to the Qatar World Cup have appeared over-focused to some, but are obviously condemnable whatever the scale. In the midst of that rhetoric, the wily scribe forgets (!) that lead consultants and safety supervisors were also expatriates, many from the very countries making the most noise. Not a note of disapproval about their own kind.
The Western media were picking issues about matters that had little to do with football: empty seats, delays at turnstiles, digital glitches, matches scheduled in Winter, selective alcohol ban, and dressing up in ways not popular in that part of the world. There was however not a word of praise about ground conditions, dressing room facilities, ball quality, or of the ephemeral Stadium 974 made with shipping containers, a bold statement towards a greener environment.
A section of the media was instigating a cultural warfare, whereas journalists could harp on "no room for racism", a stigma often dominating European football, and recently exposed in English cricket.
Spectators can leave a venue because they have lost interest in the match. It's called freedom of movement. Cost of tickets could be a cause for the barren galleries. Electromechanical entrances can underperform and cause delays. Digital devices are notorious for misbehaving without warning. Seasons flip between the hemispheres by divine decree, and no football can be played in a forty-degrees saucepan.
Qatar is a Muslim country whose tenets include not consuming alcohol. In India, too, consumption of alcohol is prohibited in the states of Bihar, Gujarat, Nagaland, and Mizoram. Those who risk dying from lack of beer for two hours may note that since 1985 (37 years), drinking alcoholic beverages has been banned inside English football stadia to combat violence and hooliganism. So, should an English fan get intoxicated in the desert city only because he cannot do so in his own country?
Qatari fans did not land in Japan (2002) expecting locals to wear the traditional Arabian abayha. Nor did they insist in the States (1994) that every male must plant a peck on either cheek as a formal greeting. They did not order a full camel barbecue at Germany 2006. Nor that the Adhan be recited five times a day over the PA system during the 2014 festival at Brazil. So, where's the logic to disregard matters that are sensitive to the 2022 hosts? It is only civil to follow local customs.
There are national standards, local customs, and etiquette. The international press is shy to make noise about the "scarf ban" during the French Open. Excuse me, that too is a right. A 12-year-old English boy was asked not to come to his Hull school because his haircut resembled that of 2002 Brazilian footballer Ronaldo Nazario. Seems Qatar is not the only country imposing restrictions.
Whereas the sword dance during the opening at the Al Bayt Stadium may have been intimidating to the timid, no blood was shed. We don't expect the warmongers to usher in tanks and bombers at their inaugural ceremony, but these Morality Marshalls are not vocal about quarter of the world being bombed for decades.
It has been alleged that Qatar resorted to bribery to obtain the World Cup rights. If true, the bribe would have been received by FIFA executives, almost all of whom are not Qataris. Is it then fair for decision-maker and under-investigation Sepp Blatter, FIFA president 1998-2015, to concede during Qatar that "Qatar had been the wrong choice to host the World Cup"?
With the exception of the Barcelona Olympics 1992, when paralympic archer Antonio Rebollo set alight the Games flame with a flaming arrow from several hundred metres away, never before did a person with extreme disability or so young, out of government, nor from royalty, have had the honour to declare open a world event. Twenty-year old Ghanem Al-Muftah did that with verses from the Holy Quran. Again, no significant appreciation of culture. They are rather loud about inclusion.
The cup is not only about teams competing for sporting supremacy. It is about world fellowship, learning about each other, and acceptance. Despite the media's muddled viewpoint, the World Cup is being played in wonderful spirit, with several visiting fans showing laudable sensitivity to local culture. A heart-warming moment symbolising people coming together involved an English fan struggling with his ghutra, and the "Qatari equivalent of Prince William" helping him.
Dr Nizamuddin Ahmed is professor of Architecture, practising at BashaBari Ltd., a Commonwealth Scholar and a Fellow, Woodbadger Scout Leader and a Baden-Powell Fellow, and a Major Donor Rotarian.