Bangladesh must advocate for legal migration opportunities for the climate-vulnerable
The last 15 years have seen an increase in the frequency and intensity of cyclones, floods and tidal surges in Bangladesh. The impacts of salinity intrusion and drought have worsened in the last couple of years. These climate events have taken a toll on the livelihoods of the coastal population and their ability to adapt.
Agricultural options are already scarce in coastal areas, and due to extreme salinity and change in rainfall patterns, harvesting paddy or other seasonal crops has become quite difficult. On the other hand, shrimp cultivation, despite being popular in coastal areas, hasn't generated much employment opportunities. It is also vulnerable to climate change effects, as the shrimp farms can be washed away by powerful tidal surges and cyclones. Apart from agricultural activities, options for entrepreneurship and service industry jobs are also limited in coastal villages.
If you look in from the outside, it might seem like the local youth and their families have very little hope for the future. Poverty, school dropouts, early marriage, and health problems due to the use of saline water are widespread. But if you hear about their dreams, you will be surprised at their resilience.
Many local youth have already completed college or even postgraduate studies. The internet has now reached even the remotest villages of Padmapukur and Koyra, connecting people and their ideas. Young people are not just playing games on their smartphones, but accessing information on job opportunities, at home and abroad.
For instance, I met an HSC student in Kaikhali Union of Shyamnagar, Satkhira, who was planning to learn IT skills to get some freelance or online jobs. Ambitions have no boundaries. I met eight-year-old Asmat, who has already made up his mind about becoming a pilot. He doesn't want to be a van driver like his father, who works hard to make ends meet.
Another HSC candidate, Sadiya, is looking for opportunities to work abroad. In fact, many adolescents like her are fascinated by overseas employment. For instance, a man was telling me how he goes to work in India every year. Although one of his friends was caught by the police and jailed for a few months for illegally working there, he still considers it profitable because he finds no viable work opportunities in his village during the rainy season.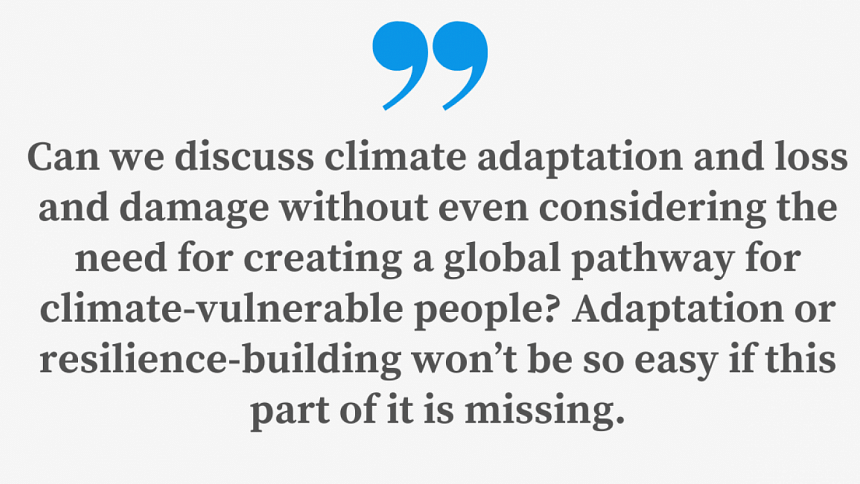 The young population in the coastal villages want to develop their skills and knowledge and advance their career. But in the absence of training and employment opportunities, many of them fail to fulfill their potential. They end up working in brick kilns or other informal sector jobs where exploitation of labor is quite prevalent. The lack of necessary protection mechanisms also leads to failed migration for some.
However, the parents of these young children also understand the importance of research for local adaptation. Many have expressed their hope that the government will make special arrangements to export manpower from their climate-vulnerable villages.
People in the coastal areas might not have any knowledge about the GCM (Global Compact on Migration) objectives that aim to create a legal pathway for their overseas migration. They are also not very conscious about the government's action plans designed for their adaptation. Still, they are raising demands for overseas jobs and training opportunities to become self-sufficient and resilient, no matter where they are.
But how far have we progressed in achieving the GCM objectives? So far, it took the biggest step by calling on the state parties to plan visa options for climate-vulnerable people. But there is still a long way to go to yield substantial policies and translate them into tangible benefits. The politics around climate migration remains an intractable issue. For instance, at COP27, climate migration was not included on the agenda. But can we discuss climate adaptation and loss and damage without even considering the need for creating a global pathway for climate-vulnerable people? Adaptation or resilience-building won't be so easy if this part of it is missing.
Advocacy on climate migration at COP27 is an opportunity to influence the wealthiest countries to play their part. Other than getting their general affirmation or commitment, we must make them accountable to provide financing and technical support to establish safe pathways for overseas migration. The government of Bangladesh can play a strong role here in discussing legal frameworks to promote overseas employment for the climate-vulnerable people in Bangladesh.
Shakirul Islam is the founding chair of Ovibashi Karmi Unnayan Program (OKUP), a grassroots migrants' organisation in Bangladesh.