Home, not a cage. Safety, not a curfew.
I have always envied my male friends for having too much freedom. The freedom to roam around the city streets in the quiet and calmness of the night. The freedom to randomly plan trips and stayovers. The freedom of enjoying an entire concert without missing the headliner's performance and not worrying about getting home.
Only later in my life did I realise that it was never too much freedom, it was only the natural amount of freedom that they had access to, while we did not.
Our access to the most basic of things – going out for a night stroll on the city streets, coming home late at night from work without being scared for our lives – have always been restricted owing to safety issues, as we have always been told.
We would be reminded of the deeply rooted misogyny in every sphere of life. That no one is ready to ensure your safety, but will blame you for things that you have no fault in. That it's easier to cage yourself rather than ask for security and justice.
Around 9:30pm on July 17, a Chittagong University (CU) student was sexually assaulted by a group of young men, who recorded the incident to threaten her into silence. After much delay, the CU proctorial body took the victim's complaint, which was followed by a meeting of all hall provosts who came to a unanimous decision of imposing a curfew on the female university students. As per the new directives, no female student will be allowed to enter dormitories after 10:00pm.
The decision was met with a powerful protest by CU students, who asked the most valid question: "Is it legal to harass us on our own campus after 10:00pm?"
This is 2022. Imagine asking for security from your own alma mater and being caged as part of the solution. Your perpetrators will roam free, while you will be locked inside the confines of your dorms. Talk about progressive and liberal values.
Universities are supposed to be the most progressive and liberal spaces in a country. They should be the one institution that promotes freethinking, freedom of speech, expression, and movement that offers equal opportunities for intellectual growth and a safe environment for everyone, regardless of their race, class, and gender.
In reality, our universities don't fit into this category. The curfew culture for women is prevalent in all public universities across the country. At the beginning of this year, I worked on a story on this issue that required me to talk to female students of many public universities to know their take on it. While sharing their experiences and difficulties with the curfew, all of them unanimously agreed on one thing: It is an outdated practice that needs to go.
Yet our guardians, our teachers, fail to listen to our voices and impose an outdated practice more strictly. The authorities have always claimed that it is for the girls' safety that they impose curfew. If the girls are not comfortable entering the dorm after curfew and have to travel halfway across the city to find a place for the night, how does that make them any safer? Does this not empower the potential perpetrators and the existing narrative of victim-blaming?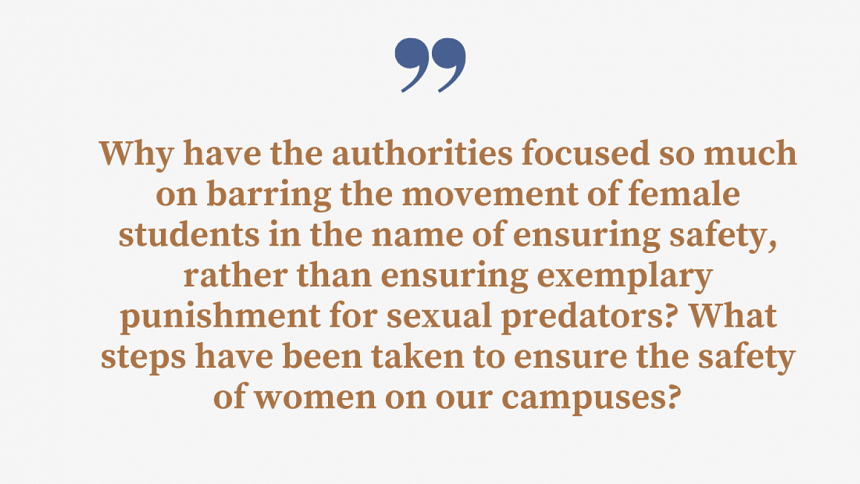 The curfew leaves little to no scope for residential female students to engage in extracurricular activities, internships, or even enjoy a concert happening on the campus premises. All the students that I talked to have called this rule inherently misogynistic, as no such provision exists for the male students of any university, who can enter their dorms at any time of the night. Why have the authorities focused so much on barring the movement of female students in the name of ensuring safety, rather than ensuring exemplary punishment for sexual predators? What steps have been taken to ensure the safety of women on our campuses?
Why do the sexual harassment prevention cells remain inactive in most universities despite a clear directive from the High Court? Why have they been made inaccessible to the students? Why does information regarding the cell remain nowhere to be seen on the websites of the universities? How many complaints have they taken so far and how many cases of harassment have they solved as of yet?
I talked to a CU student who has been at the forefront of the ongoing movement. She told me that some 10 months ago, another female student of CU lodged a sexual harassment complaint that is yet to be resolved.
In 2016, another student was harassed in the medical centre of the university by an on-duty doctor. When she filed a complaint, new regulations were imposed. Female students could only get treatment from female doctors, and as no female doctors were available after 9:30pm, in case of medical emergencies, female students would have to be accompanied by the house tutors of their respective halls.
"Imagine the absurdity of the provision. On one occasion of sickness, I needed to be injected with saline immediately. When my friends took me to the medical centre, they refused to treat me because my house tutor did not accompany me. How do I get the house tutor at 2:00am in the morning?" said my friend from CU.
The accused doctor is still employed in the medical centre, while female students are denied treatment during medical emergencies. Our universities hold us back for gender, while they should be the pioneers of the movement against patriarchy and misogyny.
More than anything else, our alma maters are supposed to be our homes. And home is where all your needs are met. Where you return after long tiring days for peace, without any anxiety. Where you're truly free. Where you're safe and protected.
And what we need is a home, not a cage. It's the need of the hour that the authorities listen to our voices, before the feminine rage becomes a bit too much for them to take.
Nahaly Nafisa Khan is a journalist at The Daily Star.