How do bus strikes ahead of BNP rallies affect transport workers?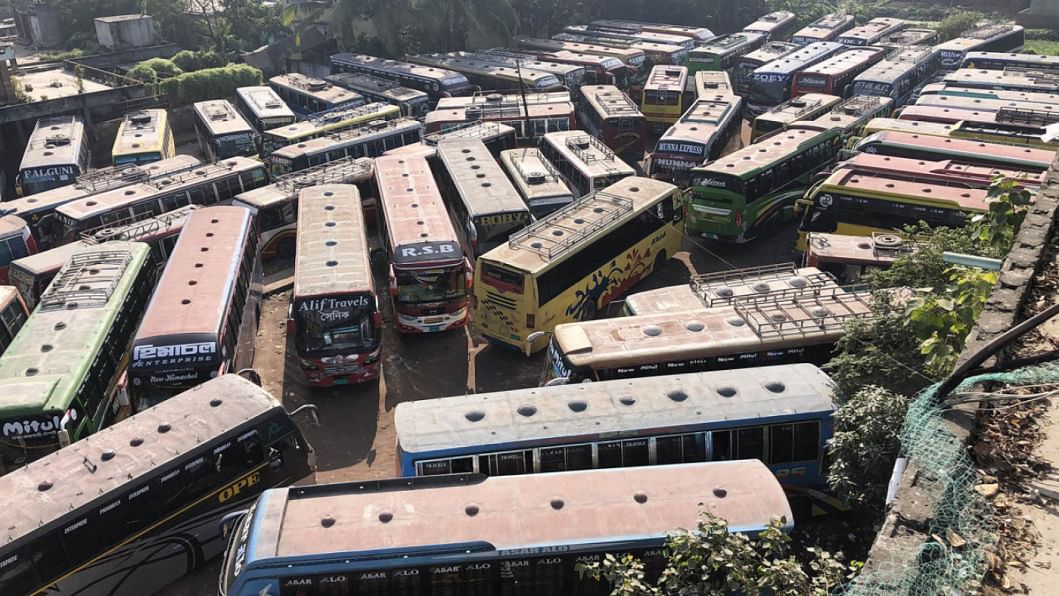 To bolster their grassroots support, both the Awami League and BNP have been holding rallies in various parts of the country in preparation for the upcoming general election. Such mass gatherings are nothing new; this practice exists in democratic countries all over the world. But in recent years, many new features have been added to them in Bangladesh. Among them is the suffering the country's ordinary citizens have to face with regard to freedom of movement and access to transport.
When the ruling party holds a rally, many roads are blocked off. We saw this on December 6, when the Dhaka Metropolitan Police (DMP) closed off certain roads and asked the public to use alternative routes during Bangladesh Chhatra League's (BCL) rally in Dhaka. And when it comes to the opposition's rally, we find restrictions are placed on public transport. Both tactics cause massive public inconvenience throughout the day and create great difficulties for ordinary people.
However, it seems like political leaders consider this to be minor inconveniences only. According to a Prothom Alo report, on December 8, the Cumilla-Noakhali highway was closed for five hours, and an HSC public examination centre was shifted to another institution when the Cumilla South District Awami League unit decided to hold their triennial meeting on its premises. This was a meeting attended by lawmakers whose very roles involve making life easier for the public, not adding to their difficulties.
Ahead of BNP's Rajshahi rally on December 3, divisional transport owners called an indefinite transport strike from December 1, without even speaking to the local administration about their demands. The day the rally ended, they called off the strike. During almost every BNP rally that we have seen so far, local transport owners have called strikes – ironically with the same demands of road safety activists of banning three-wheelers and auto-rickshaws from highways and regional highways, and amending the Road Transport Act, 2018. 
However, the only result of these "demands" so far has been ordinary people having to pay exorbitant fares to commute. Although owners' associations claim these strikes are called in the interests of owners and public transport workers, the reality is that workers have nothing to gain from them. 
I spoke with many bus drivers and transport workers during the three-day strike in Rajshahi, and almost everyone said it did not serve their interests. Rather, they ended up losing income, and many struggled to buy food and medicine for their families. Some struggled to pay for their children's education, while others had to borrow money to bear expenses.
According to the Bogura District Workers Union and District Motor Owners Association, around 3,000 buses run daily on 34 routes in the entire district, which holds more than 23,000 transport workers. The owners say if the buses stop running for a single day, they lose more than Tk 1 crore in earnings. A driver's assistant works from dawn to dusk and earns only Tk 500-600 as daily wage. If the buses stop running, these workers lose more than Tk 1.5 crore per day all together. 
There seem to be no end in sight in this unethical practice of calling strikes to discourage political gatherings, but it is causing a silent ire among workers, who told me they don't want to be the victims of this political game. They have a lot to say, but they can't say it for fear of losing their jobs. "How will I eat if I lose my job amid such high inflation?" one transport worker asked. According to certain union leaders, these workers are being exploited by transport owners.
I asked the leaders of transport owners' associations if the workers get anything when there is no work due to a strike. In reply, the leaders said if bus services are suspended, the owners pay for the workers' food, but they are not provided with any wages or cash support.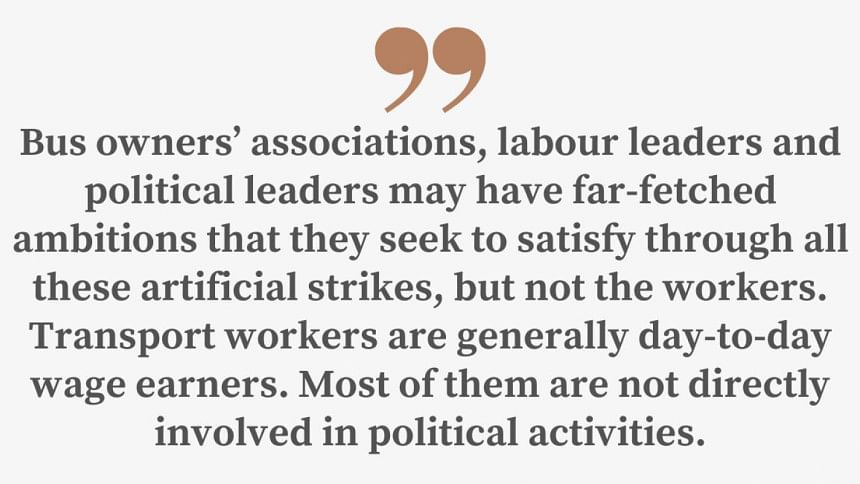 BNP's last rally was held in Dhaka on December 10. This time, the picture of people's suffering was worse. Even the transport owners told the media about their woes. Even though there was no transport strike, there were less than half the number of buses usually on the road.
According to reports, the police set up many check posts on roads that enter Dhaka city, two days before BNP's rally. Although small vehicles were allowed to enter the capital, buses were not allowed. The police also conducted comprehensive searches of passengers, including the personal images and texts on their phones.
Many transport owners outside of Dhaka also chose to stop their bus services due to this harassment of passengers and unnecessary delays. In fact, bus counters of the busiest terminals in Dhaka sold tickets at half price due to fewer long-distance passengers. The number of buses which run in city regularly dropped significantly. Thus, hundreds of thousands of the transport workers in Dhaka were affected.
As per our constitution, every citizen of this country is entitled to a number of rights, but a number of these rights are being undermined to serve political interests. Low-income, mostly marginalised groups, who are commonly apolitical, are bearing the brunt of this.
Criticising different political parties is not my main objective here. My main concern is the public nuisance that is being created around BNP's political movement. It is now an open secret that the bus strikes have been called to reduce the number of people attending their rallies. As a result, people from all walks of life have been put in difficult positions. People who travel from one district to another to do small business, those who transport emergency medicines, or the person who earns a living from selling small items on the roads or on the buses, do the politicians care for them?
Bus owners' associations, labour leaders and political leaders may have ambitions they seek to satisfy through these artificial strikes, but not the workers. Transport workers are generally day-to-day wage earners. Most of them are not directly involved in political activities. They get up in the morning and go to work. At the end of the day, they return home with a small wage to take care of their families. It is their fundamental right to seek a livelihood. So why are these low-income people being deprived of that?
Mostafa Shabuj is the Bogura correspondent of The Daily Star.