More heatwaves are coming our way. Are we prepared?
While Bangladesh has a lot of experience in tackling cyclones and floods, we have not taken heat stress into consideration until now.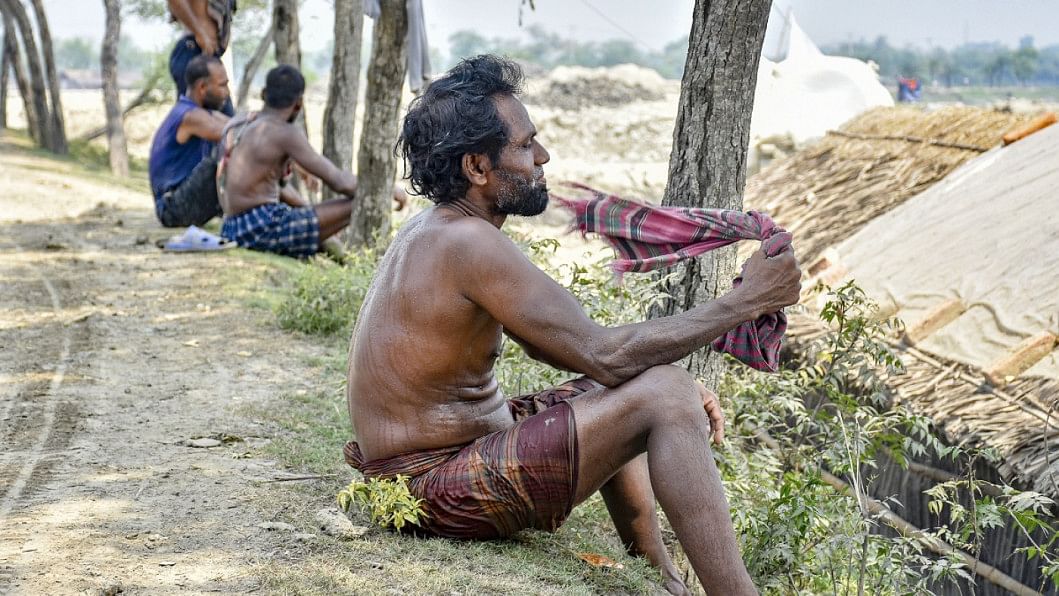 The Intergovernmental Panel on Climate Change (IPCC) recently completed its sixth assessment report (AR6), with the Synthesis Report coming out in March. The Synthesis Report carries some key messages about the impacts of climate change and the actions needed to avert the worst of them.
The first new message in the AR6 report came from Working Group I, according to which the scientific community is now able to credibly attribute the impacts of human-induced climate change to the greenhouse (GHG) emissions happening since the industrial revolution began. That message was followed by Working Group II reporting that there are numerous examples of unprecedented weather events that are now causing losses and damages, thanks to human-induced climate change, and that these impacts will only get worse.
The other key message, regarding the possibility of keeping the global mean temperature below 1.5 degrees Celsius, as decided in the Paris Agreement in 2015, is losing attention day by day. It is still theoretically possible to stay under the 1.5-degree limit if all the countries take emergency measures to reduce their emissions within this decade, but that seems unlikely. The likelihood of crossing the 1.5-degree threshold within this decade is real now; in fact, efforts have to be made so that the temperature rise does not exceed two degrees Celsius. This is quite bad news for us.
Another message coming out of AR6 is the enhanced likelihood of extreme heatwaves around the world, especially in South Asia. And, as if on cue, Bangladesh is now experiencing the hottest weather in over six decades, and this is likely to become the new normal going forward.
While Bangladesh has a lot of positive knowledge and experience in tackling cyclones and floods, we have not taken heat stress into consideration until now. In fact, we don't even maintain statistics of heat-related deaths.
Hence, we need to rapidly find ways to deal with heat stress, including providing training to doctors so they are able to diagnose and treat patients for heat stress, as well as collect statistics on heat-related health impacts including loss of lives.
At the same time, we need to raise the level of awareness among the general public as well as the relevant agencies, so they can take measures to protect themselves from heat stress during peak temperatures.
Among those who are most vulnerable – and hence need to be prioritised – are farmers working in the fields, as well as day labourers and rickshaw pullers. The protective measures can range from simply staying out of the sun to ensuring plenty of water intake and knowing where to get medical treatment for heat-related health issues if needed.
People also need to be made aware of how to keep themselves cool at home; this is particularly relevant for slum residents in major cities like Dhaka.
Finally, we need to learn from our neighbouring countries like India and Pakistan, who have much more experience of dealing with severe heatwaves. In fact, the International Centre for Climate Change and Development (ICCCAD) recently joined with a leading Indian research institute to develop a heat action plan for the city of Rajshahi in northern Bangladesh. Similar heat action plans need to be developed quickly for other cities and towns as well as for the rural parts of the country.
The scientific community has made it crystal clear that the whole world has entered the era of loss and damage from human-induced climate change, and that no country is prepared for what is to come. While this is certainly bad news, Bangladesh can lead the world in tackling the climate change impacts in coming years.
Dr Saleemul Huq is director of the International Centre for Climate Change and Development (ICCCAD) at Independent University, Bangladesh (IUB).