Scale up climate change adaptation as soon as possible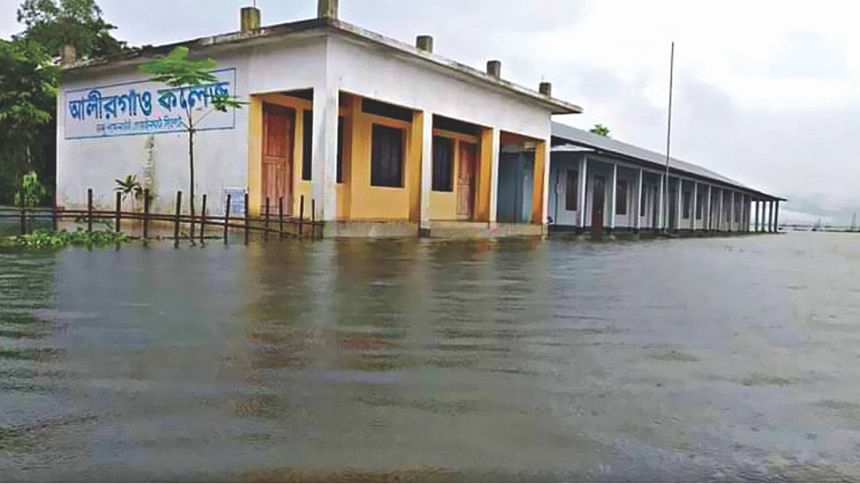 The recent floods in Bandarban and Chattogram have left behind a trail of deaths, while waterlogging put countless lives in misery. To make matters worse, this was just one of the many episodes caused by unusually heavy rainfall, and we must expect more of such incidents as human-induced climate change continues. While Bangladesh has been doing quite well in adapting to climate change, there is still a long way to go with not much time to waste. Serious actions need to be taken urgently to boost the country's resilience.
First, ministries and agencies should ensure that all government agencies are involved with adaptation efforts. The Ministry of Environment, Forests and Climate Change alone cannot be responsible for or monopolise combating climate change. It should rather act as a catalyst for governmental and even non-governmental actors to take steps.
It is imperative that the planning ministry, which will prepare the ninth Five Year Plan, incorporate cross-ministry activities for climate change adaptation in the new plan.
In regards to the finance ministry, the national budget has a climate change component which needs to be better monitored and evaluated to make it more impactful. Besides, the Economic Relations Division needs to gear up its capacity to access sizeable climate change funding from global adaptation funds like the Green Climate Fund and Adaptation Fund, and from multilateral development banks such as the World Bank and Asian Development Bank. While Bangladesh has managed to obtain tens of millions of dollars worth of climate finance, our climate action needs require hundreds of millions, if not billions of dollars.
The local government ministry, along with the Local Government Engineering Department, needs to invest heavily to scale up efforts for locally-led adaptation; this should be our national priority. Also, the water resources ministry needs to manage water more efficiently, and the agriculture ministry should do more to develop and spread new varieties of climate-resistant crops, fish, and livestock. The disaster management and relief ministry also has an essential role to play in addressing loss and damage from climate change.
Finally, the education ministry must educate the new generation to not only know about climate change and its effects but also on tackling these issues.
Moving on to the non-government sector, we already have a successful network of over 50 universities and research institutes in Bangladesh, collaborating under the Gobeshona framework. These establishments can be engaged to work with the government, NGOs, and private sector actors to carry out research that can be used to take effective action.
Thousands of NGOs are already playing an excellent role in different regions. It is essential to bring them all under one umbrella so they can share their learnings and experiences. The National Platform on Locally-Led Adaptation, started by NGOs and research institutions, is working to this effect.
The private sector, which consists of large corporations as well as millions of small and medium enterprises, will have to be pushed to action as soon as possible. Besides this, the media can help inform people about matters of climate change.
Finally, our young girls and boys, who are the future of Bangladesh and of the world at large, are pivotal for this mission. If we invest our resources to turn them into champions of climate change adaptation, they can surely pave the way for a sustainable future.
To be sure, Bangladesh has what it takes to tackle climate change by bringing together key players and all of society. But there is no time to lose.
Dr Saleemul Huq is director of the International Centre for Climate Change and Development and a professor at Independent University, Bangladesh.