Bangladeshi team wins bronze at World Robot Olympiad 2022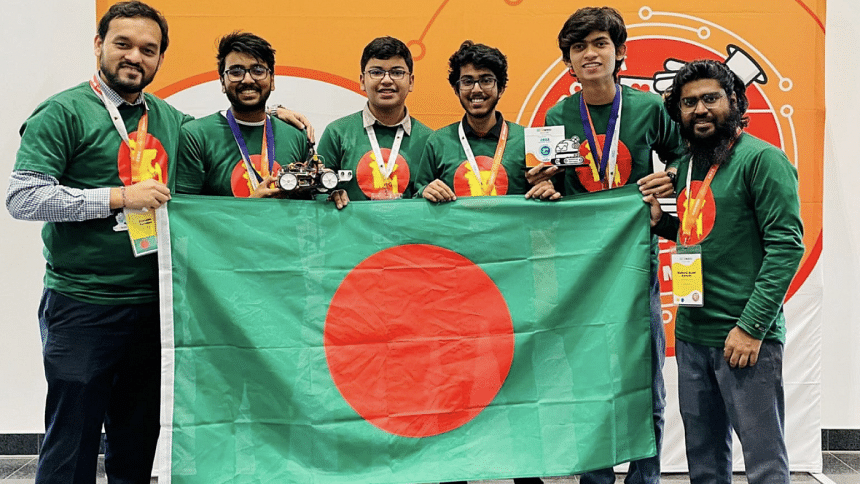 Team Lazy-go, consisting of Tausif Samin from Islamic University of Technology and Iqbal Samin Prithul from Bangladesh University of Professionals, bagged the bronze medal in the Future Engineers category at World Robot Olympiad 2022.
Another team from Bangladesh, Team Robonium, achieved the eighth position in the Future Innovators category. This team included Israfil Shaheen Arannya from Cantonment Public School and College, Rangpur and Mir Muhammad Abidul Haq Ahnaf.
The World Robot Olympiad (WRO) is an annual international robotics competition held in more than 85 nations across the world. This tournament, hosted by the nonprofit organisation World Robot Olympiad Association (WROA), is split into four categories for students aged between 8 to 19 years. It intends to help young people develop their creativity and problem-solving skills in a fun and engaging way.
The Future Engineers event brings current research challenges into schools and teaches students an engineering workflow by solving real-world-problems. Teams were allowed to use any robot, controller, and materials that are in line with the regulations. The game changes every 3 or 4 years and the present game is based on the idea of autonomous driving.
The challenge is to build a robot with a steering drive that can drive around a track autonomously. Each year, little changes are introduced to motivate the students to keep on developing and updating their robots.
This year, two teams from Bangladesh participated in the global competition. Team Lazy-go, who won bronze in the Future Engineers category, ended up with a score of 73 and recorded the best lap time in the first round.
Team Robonium, on the other hand, achieved the eighth position in the Future Innovators category. They participated in a project-based competition where students were asked to create their own intelligent robotics solution relating to the theme. The teams then presented their project and robot model in front of the judge panel on the competition day, where they were judged on the basis of their robotics-related solution and on several aspects of innovation and entrepreneurship.
Every team that competes in the international round must first pass a national round hosted by a local association, according to WRO rules. Bangladesh Open Source Network (BdOSN) hosted the national competition and selected the teams to represent Bangladesh in the global round. The teams were accompanied and supported by Redwan Ferdous, their team leader, and Maherul Azam Koreashi, the deputy team leader.
This is the first time team Bangladesh physically participated in this Olympiad, creating history with a brilliant debut performance. The event, held in Germany, witnessed the participation of more than 400 teams from 70 countries. The Olympiad will be hosted by Panama next year.
Maisha Islam Monamee is a student of IBA, DU, and a freelance journalist who likes reading, scribbling, and blogging. Write to her at mislammonamee@gmail.com