Mbappe's aim is to win Ballon d'Or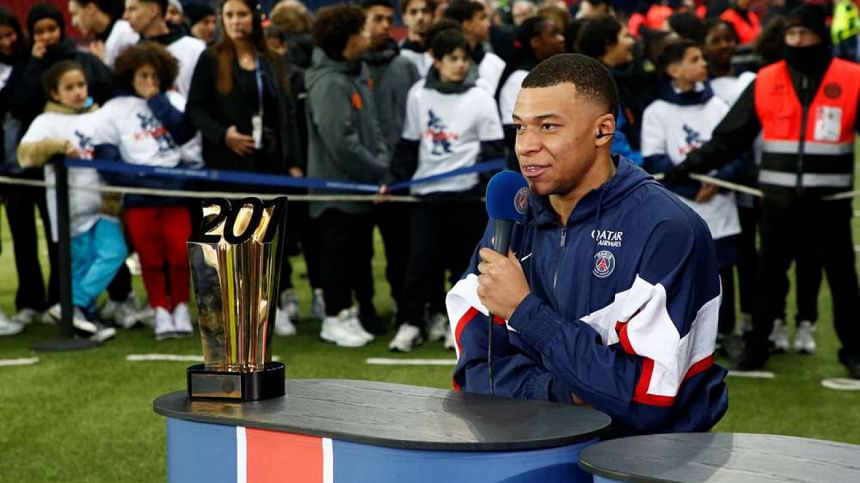 Kylian Mbappe became Paris Saint-Germain's all-time top scorer with his 201st goal for the club as the Ligue 1 leaders warmed up for their crunch trip to Bayern Munich with a 4-2 win over Nantes on Saturday.
The France superstar had equalled Edinson Cavani's previous record mark of 200 goals with a brace in last week's win at Marseille and went one better by netting in stoppage time at the Parc des Princes.
"I'm already focused on Wednesday's game (against Bayern Munich). I enjoyed it with the fans, which was really special. I'd like to thank everyone who was at the stadium, supporting me, encouraging me and applauding me. 
"I think I've scored some great goals; I've got a nice gallery with these 201 goals. Last week, it was a great day at the office, but tonight was very special. Every footballer plays to leave their name and their mark on footballing history so that they don't get forgotten. I think that with this record, I'll be remembered here," said Mbappe after the match.
"The Ballon d'Or is always an aim. For a player like me, it's something that's in your sights, but it's not a priority at the moment. It stays in the back of my mind, which is normal. If I keep going like this, I don't think I'll be very far off it," he added when asked about his personal aims.
Mbappe reached the record in just 247 appearances since signing from Monaco aged 18 in 2017.
Uruguay star Cavani needed 298 games, and seven years, to establish the previous record in 2020.
The 24-year-old Mbappe was handed a trophy by the club after the game to mark his record in an on-field presentation.
"I play to make history and I have always said I wanted to make history in France, in the capital of my country, in my city, and I am doing that. It's magnificent, but there is still a lot to be done," Mbappe told broadcaster Canal Plus.
"For me, as a native Parisian, this is special. If someone had said to me I would score the goal to beat the record while wearing the captain's armband, I would not have believed it."