A great dream of a nation, finally fulfilled
Heartiest congratulations to the PM, the technical team and workers, and the people of Bangladesh, on Padma Bridge's opening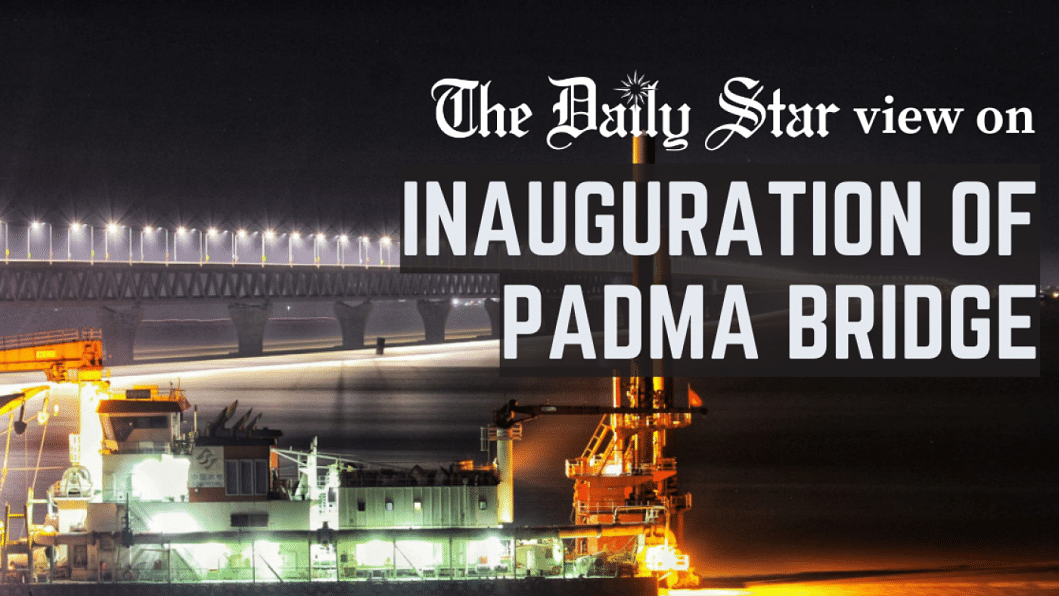 There can be no doubt that the Padma Bridge, set to be inaugurated tomorrow, is going to forever change the course of the lives of people in the south and southwestern parts of Bangladesh. The 6.15km multipurpose bridge, one of the longest river crossings in the world, is expected to increase the GDP of the impoverished south-southwest Bangladesh by as much as 2.3 percent, and the national GDP by 1.2 percent. In addition to establishing the much-needed direct road and rail communications between Dhaka, the capital city and the hub of all things, and 21 districts in the southern region, the bridge will also lead to greater connectivity and trade among Asian countries. Despite concerns about the escalated cost of the project, credible and independent research has concluded that for every taka spent on the bridge, it is expected to generate about Tk 2 of social good. It is reassuring to know that the people's investment will be returned to the people.
But beyond all facts and figures, the Padma Bridge stands as the embodiment of the dream of hundreds of thousands of people in south and southwest Bangladesh for decades. It is a testament to a nation's determination to confront and conquer all challenges and stand on one's own feet. Padma is notorious for its strong current. Taming this river to build the foundation of the bridge was no mean feat. This mammoth project has been implemented with money raised by ourselves. It did face challenges: Deadlines had to be extended, project cost was revised several times, a pandemic almost brought the construction work to a halt. But all these challenges fell flat before the sheer determination of our prime minister to see the project through.
We congratulate Prime Minister Sheikh Hasina on this auspicious occasion for her vision and determination. There is no doubt that without her steely resolve this project would not have seen the light of day. We also note the invaluable contribution of the experts who turned dreams into concrete realities, the workers who toiled day in and day out, even during the pandemic, to breathe life into the steel and concrete, and the local industries who supplied quality materials for the project. Most of all, we congratulate the people of the country, whose dreams and funds have truly made it possible.
Moving forward, we hope that the Padma Bridge is only the beginning of a new future for the people of southern Bangladesh, and that steps are taken to ensure that judicious support is provided to the southern districts and those most vulnerable to truly benefit from the mega investment. It is a proud moment for Bangladesh, a moment that can launch us into a future where the needs and aspirations of the people finally take centre stage of policymaking.