Plight and struggle of tea workers continue forever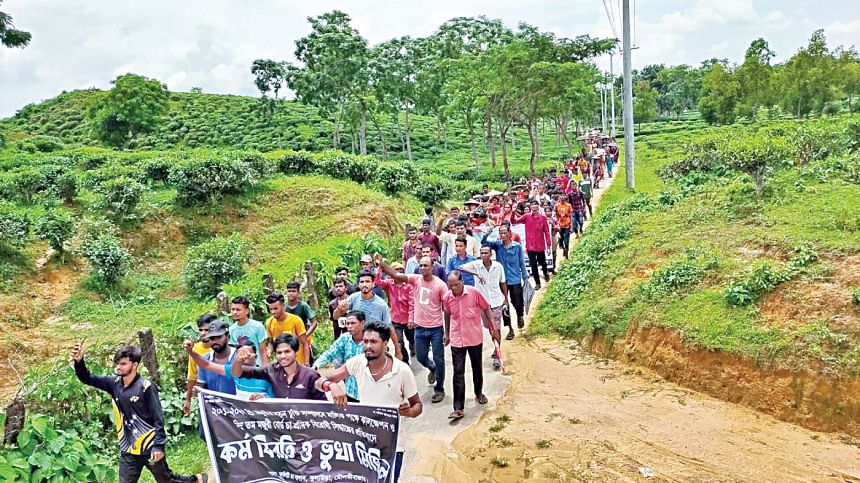 Basanti Bauri, 40, of Moulvibazar works for a renowned tea estate as a "plucker". Her day starts at 5:00am sharp. After paying homage to the family deity, she prepares food for her three children and husband.
The meal consists of slices of bread and a mixture of dried and crushed tea leaves, salt, a little pepper and onion. Sometimes she cannot even afford onion and pepper.
Basanti has to work from 9:00am to 5:00pm at a stretch. She has to pluck a minimum 22kg of tea leaves to avoid forced pay-cut. However, to earn some extra, she always tries to gather 30 to 40kg of tea leaves daily.
She takes two more slices of bread and the tea leaf mixture with her for lunch. Her children and husband, who is a worker in the processing factory of the tea estate, have to eat the same bland food for lunch and afternoon snacks.
"We can have rice only for supper. I try to grow vegetables which I cook at night. Most days, we eat rice, pulse and potatoes. We cannot afford egg or fish with our meagre salary," said Basanti.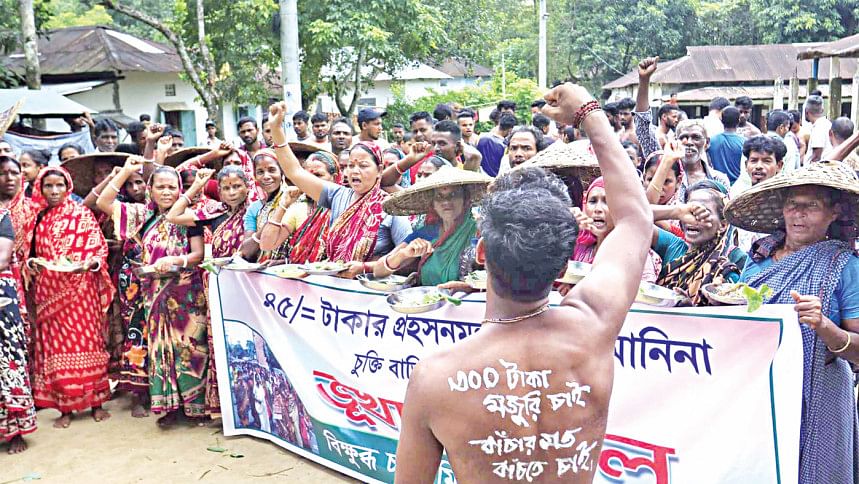 We can have rice only for supper. I try to grow vegetables which I cook at night. Most days, we eat rice, pulse and potatoes. We cannot afford egg or fish with our meagre salary.
Also, most of the tea workers cannot afford quality education, accommodation, healthcare and other daily necessities with their meagre salary of only Tk 120 per day.
With the rise in the prices of essentials, their situation has become more desperate, leading more than 100,000 tea workers of Sylhet and Chattogram districts to take to the streets on August 13, demanding a wage hike.
In accordance with rising inflation, they demanded Tk 300 daily wage.
However, stating that tea workers get daily benefits worth Tk 402.88, the owners refused to increase their wages and, while writing this report on Thursday, workers of most of the tea estates were continuing their work abstention.
These correspondents talked to tea workers about the benefits they receive from the estates and found stark contrasts between the claims of the authorities and what the workers said.
According to them, lack of nutritious food, lack of quality education, liveable accommodation and healthcare, along with outrageously low salaries, have pushed the workers to the limit.
Harihar Gaddi, an organiser of the ongoing protest, said, "We are Bangladeshi citizens and we are voters but we are deliberately kept in such a condition that we shall work in the tea estates generation after generation. We cannot continue our education after the primary level or learn any other trade except plucking and processing tea leaves."
Harihar's claim is also supported by a recent survey conducted by Unicef.
The survey reveals that 61.4 percent of tea garden workers and families are poor, which is almost three times the national poverty rate while the rate of extreme poverty in tea-garden areas is estimated at 42.7 percent.
According to the survey, the average span of schooling at the primary level in the tea garden areas is 2.9 years, compared to the national average of 6.2 years.
School students in tea garden areas do not access any benefit under the Primary Education Stipend Programme while a total of 5.4 percent of primary school-going children did not get back to school after Covid outbreak.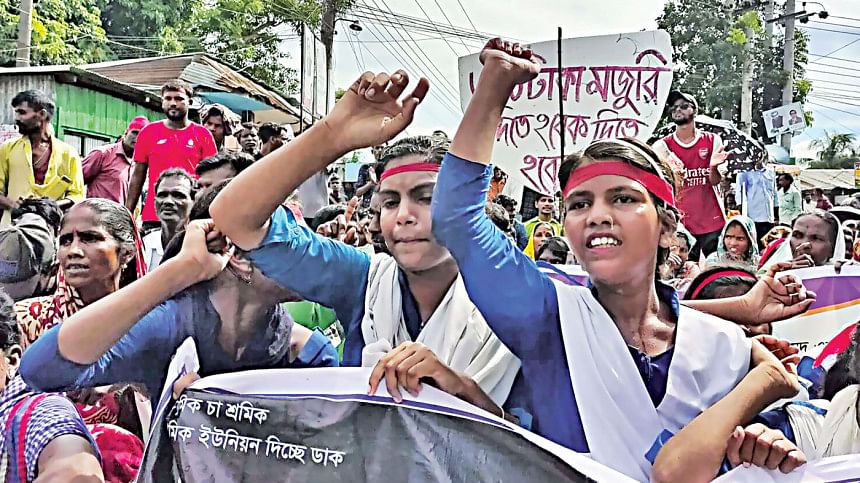 Most of the tea garden workers cannot send their children to secondary schools, let alone colleges and universities.
According to Nripen Pal, acting general secretary of Bangladesh Tea Workers' Union, there are only one or two high schools in Moulvibazar district, where 20 to 30 children from the plantation worker communities usually get enrolled every year.
High schools are located so far away from the gardens that their children cannot access them.
"Secondary education is not free. There are expenditures for books and tuition fees which are not affordable for most tea worker families. Before completing their secondary education, most of the students get a job in the tea garden or cultivate land that we obtain from the tea estate for rice cultivation," said Nripen.
As a result, the lives of tea garden workers remain confined to the labourers' quarters of the tea estates generation after generation.
And, living in the quarters is too miserable to believe. Tea estate authorities built houses for their workers, but most of them are very small and have become dilapidated.
The area of each of these houses is usually 12 by 18 feet -- suitable for four people. However, in houses of this size, sometimes eight to ten people have to cram together along with their cattle and poultries. Most of these houses are made of mud walls with roofs made of asbestos, tin or clay tiles.
According to Bangladesh Labour Rules 2015, tea garden authorities are liable to build pucca houses for their workers at the rate of 10 percent a year. However, many of the owners did not abide by this rule.
An estimation of Bangladesh Tea Board shows there are 18,490 pucca houses for workers in all the tea estates whereas the number of mud houses is 57,059.
"We live like animals in these houses," Haribhajan Bauri, Basanti's husband, said. "Even pets of our owners are better treated and get better accommodation and food than us."
Such an unhealthy living environment and the arduous nature of their job create a lot of health hazards among tea workers.
Shunil Biswas is a private practitioner in Moulvibazar district and many of his patients are tea garden workers.
"Many of my patients come to me with symptoms of urinary tract infection, uterine problems and symptoms of severe lung infection," he said.
"Living in unhealthy conditions, lack of sanitation, early childbearing and high consumption of tobacco can be the causes of their frequent health hazards."
According to Nripen, most of the tea gardens do not have access to water and sanitary latrines near the tea garden. Workers, many of whom are female, have to relieve themselves in the open and clean themselves with water from nearby water sources.
Again, many workers constantly chew raw tobacco, which reportedly helps them continue their work for a long time without having a proper meal.
"We get very basic treatment and medicine from the dispensary of the tea estate. Most of the elderly workers, who suffer from a lot of diseases and health conditions, cannot continue treatment due to overwhelming expenses and die without any treatment," said Harihar Gaddi, the worker leader.
"What treatment can you afford if you earn only Tk 120 per day and no more than Tk 6,000 per month in this time of inflation? If our wages are not increased, how shall we survive?"
However, even after 12 days of negotiations and promises, the administration and owners of the estates failed to reach a solution.
"Initially we were told by the administration that our wages would be increased up to Tk 145 per day due to the intervention of the honourable prime minister. However, both sides rejected it," said Nripen, the union leader.
"Politicians and administrative officials are putting tremendous pressure on us to return to the workplace with the promise that they would increase our wage before the Durga festival. But, we cannot rely on their promises as they have duped us many times."
What owners say
On the other hand, leaders of Bangladesh Tea Association (BTA), the representative body of all tea estates of the Greater Sylhet and Chittagong, claimed that almost all the tea estates will go bankrupt if they have to increase workers' wage according to the demand.
M Shah Alam, chairman of BTA, said, "Along with a daily wage of Tk 120, a tea worker who works in the garden gets plucking bonus of Tk 65, festival bonus of Tk 4.60, earned leave allowance of Tk 4.60, sick leave with pay worth Tk 6.58, festival allowance of Tk of 15.45, provident fund of Tk 9 per day. If we consider all these earnings, a worker gets TK 226.13 per day."
Furthermore, the chairman added,  tea estates pay Tk 176.75 worth of benefits to their workers every day -- which comprise subsidised ration of rice and atta flour, medical service, pension, land for rice cultivation, expenses for children of the workers, expenses for cattle rearing, house rent, house maintenance and other welfare activities for the workers.
A worker gets 10.615kg of rice/wheat every week at the price of only Tk 2 per kg. They also receive atta at this rate.
"We have already suffered financial losses of hundreds of crores of taka due to the strike in this peak season and we shall not be able to recover this loss soon. You cannot compare our industry with that in India or Sri Lanka where the price of tea is much higher than Bangladesh," said the chairman.
"We cannot determine or increase the price of our products as traditionally, tea is sold in auction houses. However, we would like to negotiate with our workers and want to have a win-win situation as soon as possible to save the industry."
However, worker leaders and researchers disputed these claims. According to Nripen Pal, "BTA leaders' statement about our benefits is full of exaggeration. The benefits they provide are bare minimum and for these facilities such as land and cattle, they cut our rations."
Appealing to the prime minister to intervene as soon as possible, he added, "Without increasing the wage, we shall not survive. Again, we also want to return to work because our children and family members are starving. We hope our prime minister will not abandon us in this time of crisis."
Meanwhile, Prime Minister Sheikh Hasina has invited the owners of the tea estates to a meeting at her official residence today to discuss the ongoing crisis.