A diverse longlist for the 2023 International Booker Prize
Novels from India, the Caribbean, Ukraine, Spain, Bulgaria, Ivory Coast, France, Germany, Mexico, Sweden, China, Norway and South Korea in the longlist.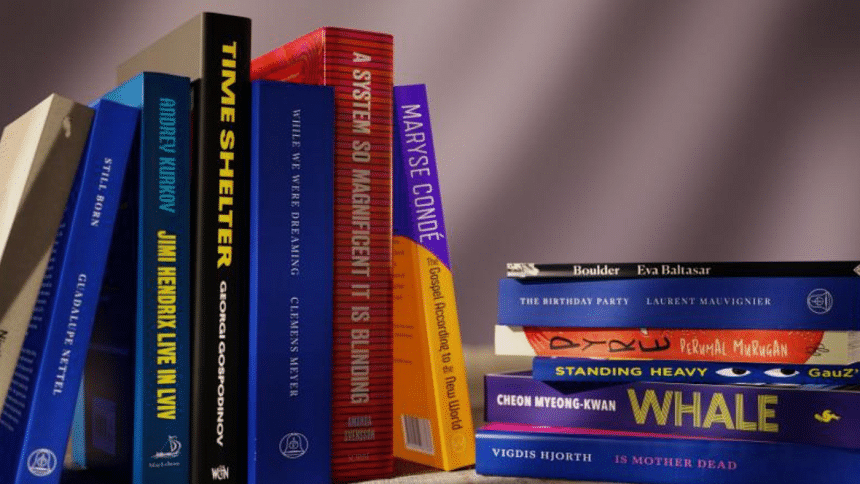 On March 14, 2023, the International Booker prize announced its longlist of 13 books nominated for this year's prize.
Consisting of books written by a diverse set of authors, including the oldest author to ever be nominated for the prize, this year's nominees hail from different parts of the world, including India, the Caribbean, Ukraine, Spain, Bulgaria, Ivory Coast, France, Germany, Mexico, Sweden, China, Norway and South Korea. 
The books nominated this time are Ninth Building written by Zou Jingzhi and translated by Jeremy Tiang, A System So Magnificent It Is Blinding written by Amanda Svensson and translated by Nichola Smalley, Still Born written by Guadalupe Nettel and translated by Rosalind Harvey, Pyre written by Perumal Murugan and translated by Aniruddhan Vasudevan, While We Were Dreaming written by Clemens Meyer and translated by Katy Derbyshire, The Birthday Party written by Laurent Mauvignier and translated by Daniel Levin Becker, Jimi Hendrix Live in Lviv written by Andrey Kurkov and translated by Reuben Woolley, Is Mother Dead written by Vigdis Hjorth and translated by Charlotte Barslund, Standing Heavy written by GauZ' and translated by Frank Wynne, Time Shelter written by Georgi Gospodinov and translated by Angela Rodel, The Gospel According to the New World written by Maryse Condé and translated by Richard Philcox, Whale written by Cheon Myeong-kwan and translated by Chi-Young Kim, and Boulder written by Eva Baltasar and translated by Julia Sanches. 
Caribbean author Maryse Condé, who became the oldest author to ever be nominated at the age of 89, dictated her nominated novel, The Gospel According to the New World (World Editions) to her husband and translator Richard Philcox due to a degenerative neurological disorder which impacts her ability to speak and see properly. They became the first spouse team of author and translator to be nominated for the prize. 
Their novel narrates the story of Pascal, a strikingly beautiful individual with grey-green eyes which resemble the sea, who sets out to find his origins. Often rumoured to be the child of God, he travels across communities as he tries to unfold "the meaning of his mission". 
This year's list also includes the first books originally written in Bulgarian, Catalan and Tamil to have been nominated for the award. 
Perumal Murugan's nominated novel Pyre (Hamish Hamilton), which was written in Tamil and translated by Aniruddhan Vasudevan, tells the story of a young inter-caste couple, named Saroja and Kumaresan, who have to daringly survive in the conservative backdrop of rural Tamil Nadu. Murugan, who had to withdraw all his books from sale after being threatened by right-wing Hindutva groups in India a few years ago, is a professor of Tamil literature and author of 10 novels.
On the other hand, Georgi Gospodinov's novel Time Shelter (Liveright), which was translated from the Bulgarian by Angela Rodel, tells the story of a "clinic for the past" which offers a promising treatment for Alzheimer's sufferers as each floor of the clinic carefully replicates a different decade to the smallest detail, making patients "transport" back in time. However, as a rising number of healthy people use the clinic to escape the horrors of the present day, unexpected developments occur which results in a conundrum.
 
This year's panel of judges is chaired by the prize-winning French-Moroccan novelist, Leïla Slimani. The panel also includes one of Britain's leading literary translators Uilleam Blacker, the Booker-shortlisted Malaysian novelist Tan Twan Eng, the staff writer and critic at The New Yorker, Parul Sehgal, and Literary Editor of The Financial Times, Frederick Studemann. 
Last year's award was given to author Geetanjali Shree and translator Daisy Rockwell for Tomb of Sand, the first Hindi novel to win the prize. The shortlist of six books will be announced on Tuesday, April 18.