Of lost loved ones and incomplete goodbyes
10 more die, 2,748 infected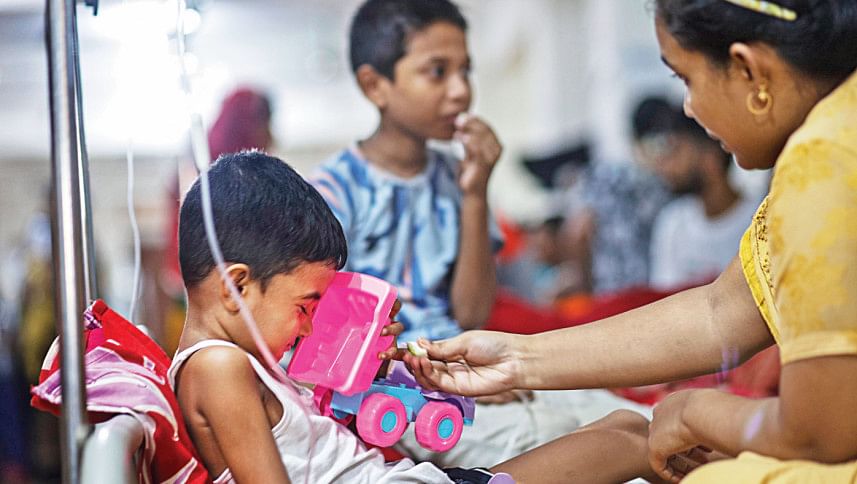 Asrafullah Jamal, a dengue patient being treated at the capital's Kurmitola General Hospital, had a difficult time bidding farewell to his son, Kazem Ashraf.
The 15-year-old, who was also battling the mosquito-borne disease in the same hospital, passed away yesterday morning, within 24 hours of being admitted.
Asrafullah had to be shifted to the Intensive Care Unit as his health condition sharply deteriorated following his son's burial in their ancestral graveyard in Bhola's Lalmohon upazila.
On Thursday afternoon, Kazem was discharged from a private hospital in Dhaka's Badda, after receiving dengue treatment for four days. However, his condition deteriorated rapidly, with diarrhoea and convulsions beginning that night.
"Perhaps, Kazem would have a better chance at survival if he had stayed at the hospital for a few more days," said his cousin Zubaer Khan.
According to Zubaer, Kazem was refused treatment at two other private hospitals in the capital before he was admitted to Kurmitola.
Both Kazem and his father were diagnosed with dengue infection on Monday -- around five days after the onset of fever.
"The only family member that could attend Kazem's burial was his brother-in-law, who took the body to Bhola via a launch. My aunt, Kazem's mother, is too shocked to cry, and everyone in Dhaka is now worried about my uncle's condition. It's a terrible situation for us," added Zubaer.
Kazem's death highlights the severity of the ongoing dengue outbreak in the country.
At least 10 dengue patients died around the country in  the last 24 hours till 8:00am yesterday, according to Directorate General of Health Services. Meanwhile, 2,748 others were hospitalised with dengue infections during this period.
With this, the total number of dengue deaths this year rose to 716 and the total cases to 1,45,335.
Last week, experts urged quick action, prophesying that dengue cases may fail to decrease throughout September.
SALINE IMPORT FROM INDIA
Health Minister Zahid Maleque, on the other hand, attributed the increasing number of dengue cases to a rise in the mosquito population.
"Many other countries have implemented effective mosquito control programmes and reduced their population. The number of dengue patients and related deaths is lower in those countries," said the minister while addressing an event at Colonel Maleaue Medical College Hospital in Manikganj yesterday.
He also said that the number of dengue cases and related deaths will not decrease until the mosquito population decreases.
He urged the municipal authorities and the city corporations to implement an effective mosquito control programme.
Zahid Maleque also said that the government has approved the import of seven lakh bags of injectable saline to tackle the current shortage.
According to the minister, around 3.5 lakh bags of saline were expected to arrive in the country yesterday.
"The remaining portion is expected to arrive shortly," he added.