Inflation, war eating away food gains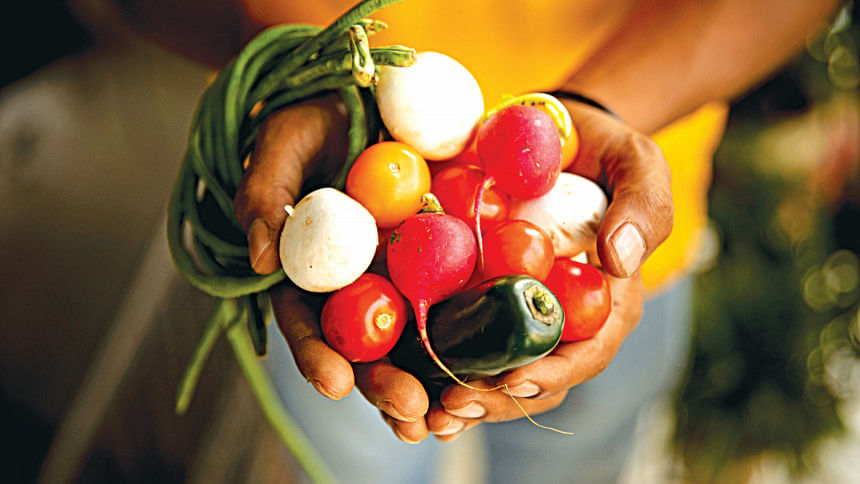 Bangladesh made gains in food production and ensured the availability of rice in recent years. But surging inflation, erratic weather, and the Russia-Ukraine war affected the availability of cereals and reduced low-income people's access to food this year.
Today, rice is being sold at near-record high prices.
Wheat, the second most consumed cereal in the country, sold for a record price in September amid slumping imports, according to the Food and Agriculture Organisation (FAO).
Prices of most vegetables also remain higher this year while eggs, the usual low-cost source of protein, also went out of reach for many.
"My two daughters love eggs. Their father used to buy four eggs every day. We can no longer afford that now because of the rising prices of essentials," said Tania Akhter, who works at a spinning mill in Taanbazar, Narayanganj.
She added that she and her husband, who drives a battery-run three-wheeler, are finding it increasingly hard to make ends meet these days.
Food inflation reached 9.08 percent in September after hitting 9.94 percent in August, highest since fiscal year 2012-13, according to Bangladesh Bureau of Statistics (BBS).
Prices of non-food items rose by 9.13 percent in September.
"Inflation affects the purchasing capacity of people," said Hossain Zillur Rahman, executive chairman of Power and Participation Research Centre (PPRC).
The low-income people's recovery from loss of earning during the pandemic has been slow, he said, citing a study by the PPRC and Brac.
People are being forced to spend less for food because they can't cut the spending on rent, utilities, and healthcare, he said, adding that people were cutting protein off their shopping list and risking malnutrition.
Tania said her family ate beef during the Eid in early August. "We can buy broiler chicken for our daughters only once a month," she said.
Nurul Islam, a textile mill worker in the capital, said he was dipping into his measly savings amid the squeeze from rising prices.
The FAO last week said, "Domestic prices of wheat flour, locally called atta, continued to increase and reached new record levels in September, over 70 percent above their year-earlier levels. The high domestic prices mostly reflect a slowdown in imports and high transportation costs, due to elevated prices of fuel."
In its September issue of Crop Prospects and Food Situation, the FAO said about 10 lakh Rohingya refugees from Myanmar reside in the country, mainly in Cox's Bazar and on the island of Bhasan Char. Floods in May affected approximately 72 lakh people, causing death, damage and destruction to agricultural infrastructure, as well as losses of livestock and food stocks.
In terms of food production and ensuring availability during the pandemic, Bangladesh responded well, Zillur said. "But climate change is complicating the situation."
Floods, torrential rains and low rainfall affected the cultivation of paddy this year. In July, the US Department of Agriculture (USDA) lowered its forecast about rice production in Bangladesh.
Heavy rains and flash floods in June damaged crops in the Aush season, which might cause a 24 percent dip in harvest this year.
Cultivation of Aman crops suffered due to scanty rainfall, lowest in over 40 years.
To increase the supply of rice and contain the prices, the government reduced import tariff and gave permission to 320 private firms to import 13.4 lakh tonnes of rice.
The food directorate also signed contracts with India, Vietnam, Myanmar and Thailand to import 530,000 tonnes of rice under state-to-state arrangement.
The arrival of imported wheat picked up pace in September, but still remained lower than last year's, according to food ministry data.
Professor Shahidur Rashid Bhuiyan, vice chancellor of Sher-e-Bangla Agricultural University, said the overall availability of food grains was somewhat low at the time.
Bangladesh produces a good amount of rice and still has to import almost every year to meet the demand for fragrant rice, make up for the losses resulting from polishing by millers, and to use the grain as feed for livestock and fish.
"The availability of carbohydrates in the country is enough," he said, citing potato production.
When the prices rise, the nutrition of many families gets affected, he said.
WHAT FOOD MINISTRY DID
Compared to the same period a year ago, the overall public food distribution under monetised and non-monetised programmes of the food ministry fell by 18 percent to 971,000 tonnes between July 1 and October 6 this year, according to food ministry data.
The amount of rice and wheat flour sold at subsidised prices at open market sales points has declined, it added.
Ismiel Hossain, secretary at the food ministry, said the government would continue its Vulnerable Group Feeding (VGF) and Food-Friendly Programme (FFW) to reduce food insecurity of nearly two crore families.
The distribution of grains under the FFW increased by 39 percent but distribution under VGF fell between July 1 and October 6 this year, the food ministry data shows.
"If necessary, we will import more rice and wheat to run the programmes for the next three months. We will increase procurement from the local sources," said the secretary.
On October 1, the food department started selling wheat flour at Tk 18 per kg and it would continue the programme to reduce the demand for rice, he said.
Benojir Alam, director general of the Department of Agriculture Extension, said, "We will hopefully achieve our Aman production target of 1.6 crore tonnes,"
As of October 12, the food grain stock at government facilities was 16.69 lakh tonnes, 14.74 lakh of which is rice.