Why is dengue being allowed to spread?
Authorities' lack of action is as dangerous as the disease itself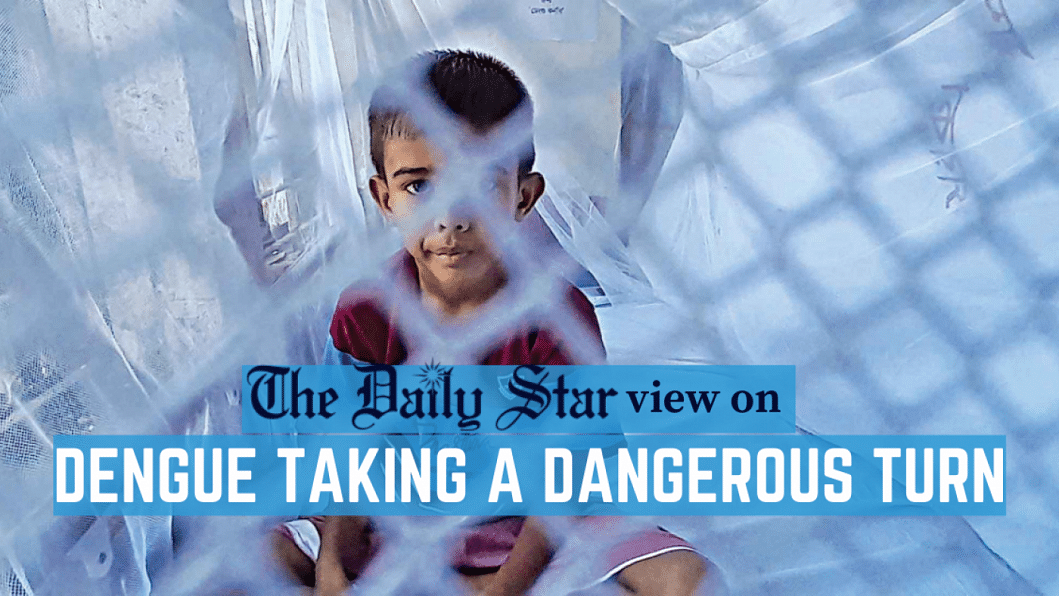 The alarming rise in dengue cases in the country shows the authorities' lack of action, and of priorities, to put an end to this growing health menace. We agree with the experts that had the authorities been vigilant enough since May, when the first cases were reported, the situation would not have been so dire now. As per data from the Directorate General of Health Services (DGHS), at least 36,131 dengue cases and 134 deaths have been recorded so far this year. In the 24 hours till October 29 morning, at least six died and 869 were admitted to hospitals across the country. Analysing the trend, a national daily has termed 2022 the second-worst year in terms of dengue cases recorded in the country's history, with the worst being 2019, when 101,354 cases and 179 deaths were recorded.
To illustrate the danger we now face, it can be noted that in a survey conducted by the DGHS in August, Aedes mosquitoes were found in 13.4 percent of houses under Dhaka North City Corporation and 11.75 percent of houses under Dhaka South City Corporation.
Sure, the situation this year may not be as bad as what it was in 2019 (yet), but why is it as bad as it is now anyway?
It is especially concerning that data on infections and deaths are only being collected from a selection of 123 healthcare facilities treating dengue patients, meaning that cases outside the purview of these facilities are not being counted. The actual reality may be much worse. We also fail to understand why the authorities have allowed the dengue situation to go so far this year in the first place. Since May, we have often heard about various drives conducted by the city corporations and the DGHS. But clearly, those were not effective, as dengue has now spread to at least 58 districts, most of which are not equipped enough to deal with this surge.
How is it that a country that faced a nationwide dengue outbreak barely three years ago is so ill-prepared? Why are the drives only concentrated within the capital? And why do healthcare facilities outside Dhaka not have the resources to treat all patients properly? As experts have pointed out in the recent past, dengue hotspots and risk areas are not being identified properly (in order to eradicate Aedes larvae and mosquitoes). And fogging areas indiscriminately (which only knocks down adult mosquitoes) is no use unless the authorities can also eradicate its larvae.
At this stage, one only hopes that the authorities will finally wake up and heed the advice of experts. It's vital that Aedes larvae and mosquito hotspots across the country are identified and eradicated. Equally important is the need to equip hospitals outside the capital with necessary resources so that they can treat more patients, and treat them properly. Dengue is not just an urban disease. We must stop treating it as such if we are to prevent another 2019.