What makes freelancers thrive?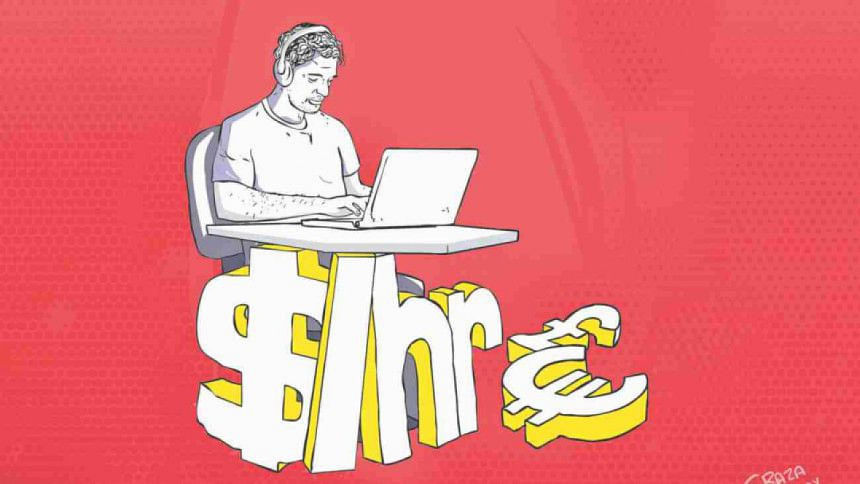 In recent times, a freelancing revolution has unfolded worldwide, allowing individuals to utilise their skills and expertise to earn independently. According to freelancing platform Fiverr, a staggering 78 percent of companies were projected to turn to freelancers instead of hiring more employees in 2023. The aftermath of the pandemic has facilitated the growth of freelancers thanks to flexible policies, while prevailing skill gaps have made their inclusion indispensable. As the demand surges for adept professionals in fields like software development, digital marketing and architecture, multinational enterprises are increasingly leveraging talented freelancers. This leads us to the pivotal question for Bangladesh, a nation endowed with a young demographic dividend: can it seize the opportunities presented by the freelancing surge?
According to the Bangladesh Bureau of Statistics, the unemployment rate among youths with secondary-level education stands at an alarming 29.8 percent. In 2018, the International Labour Organization ranked Bangladesh as the second-highest in educated unemployment rate among 28 countries in the Asia-Pacific region. As per the Labour Force Survey 2016-17, amid an average annual GDP growth rate of 6.6 percent, the growth in job opportunities lagged significantly at a mere 0.9 percent per year. We can gauge a country's effective utilisation of its demographic dividend through two key aspects: the conversion of young individuals into skilled professionals via quality education, and ensuring employment for these skilled youths.
While the youth of Bangladesh are diligently striving to secure employment through freelancing and other avenues, experts assert that they lack necessary support from the existing system. This is where higher education institutions step in. The domain of higher education operates as a dynamic catalyst and should play a pivotal role in fostering the expertise, skills, and acumen vital for nurturing the foundations of an advancing economy.
Presently, Bangladesh possesses a contingent of approximately 650,000 freelancers, complemented by about 1,600 team-oriented freelancing entities. They earn around $500 million each year. However, certain prevailing challenges faced by budding freelancers warrant attention.
While a host of free self-learning resources are accessible online (on platforms like YouTube) for acquiring freelancing skills, a majority of individuals still require a mentor to guide them to understand the process, sustain motivation, and attain high-level proficiency in multiple skills. Furthermore, with numerous students independently venturing into freelancing, there may be a lack of team-building skills, which is compounded by inadequate support from a closely-knit learning community.
Our freelancers struggle to adequately showcase their skills and communicate with clients on freelancing platforms like Upwork and Fiverr due to their limited proficiency in English. This is acting as a barrier, impeding their access to free courseware and other English-based platforms for learning. A considerable number of students lack access to high-speed internet, laptops, or smartphones, preventing them from fully benefiting from online learning resources. Furthermore, young people residing in remote areas may be completely unaware of the freelancing opportunities.
Clearly, our nation is currently unprepared to seize this burgeoning opportunity. The time has come for higher education institutions to collaborate with both industries and the government through a set of initiatives.
These institutions should introduce micro-credentials as an established higher education model, granting students the autonomy to choose what and how they wish to learn. Micro-credentials are concise, targeted credentials intended to offer sought-after skills, knowledge, and practical experience. Moreover, stackable micro-credentials can serve as a route toward obtaining a certificate or even a complete degree, whether immediately or at a later stage. To this end, the institutions ought to enlist adept professionals capable of mentoring students in sought-after domains like software development, search engine optimisation, digital marketing, content creation, graphic design, and more. Partnering with influential social media content makers can broaden the reach and inspire a larger audience.
Institutions collaborating with ed-tech companies would allow youngsters to harness the extensive resources of massive open online courses (MOOCs), available to a wide audience. Universities like Harvard, Cornell, MIT and other platforms are well known for their online certification programmes in highly sought after skill areas. The government has a very critical role to play here. It should allocate funds for the digitalisation of local institutions as part of its Digital Bangladesh initiative. Policymakers must formulate well-defined policies that foster partnerships between the institutions and ed-tech entities.
Engagement with industry experts as consultants or board members is also essential, as they are well-versed in the ever-changing market dynamics. These individuals can conduct regular assessments to ensure the curriculum remains aligned with the evolving job market. At the same time, the institutions should focus on establishing a socially responsible alumni network and work towards assisting cohorts of students from disadvantaged backgrounds rise up the ladder within the next decade. Through a combination of corporate social responsibility funds and government support, universities can enhance their capacity, offer scholarships to students, and improve their infrastructure.
Higher education institutions can assume a central role in training students to embrace English as a Second Language (ESL) and effectively communicate in a business context. For this, they can collaborate with many well-known ESL platforms. The Chinese government promoted foreign language education in schools through its China Education Association for International Exchange. The Bangladesh government can work in a similar fashion with the institutions to develop a cost-efficient and effective language learning system throughout the country.
While it is easier said than done, every newly devised system has its pros and cons. Nevertheless, the moment has arrived for higher education institutions to heed this wake-up call and overhaul their current educational approach, prioritising a promising future for our youth.
---
Farzana Noor Bindu is an adjunct faculty member at the College of Business, Prairie View A&M University.
---
Views expressed in this article are the author's own.
---
Follow The Daily Star Opinion on Facebook for the latest opinions, commentaries and analyses by experts and professionals. To contribute your article or letter to The Daily Star Opinion, see our guidelines for submission.
---