New Market clashes: Behind the scenes story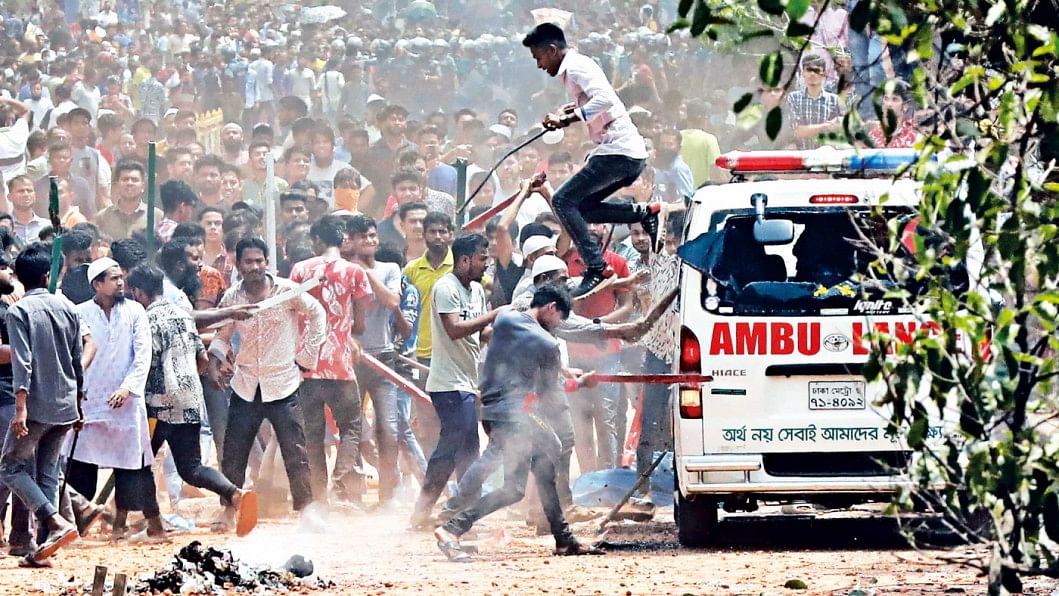 Heated arguments and brawls between the shopkeepers of New Market area and Dhaka College students are nothing new. Over the years, the city dwellers suffered their share when both the parties locked into running battles and violent clashes -- most of the time over trivial matters.
Records show major clashes between the students and traders occurred in 2008, 2009 and 2015.
"Whenever you go to the New Market, you would experience that they would charge more than the actual price. If you bargain at a lower price, they would pass bad comments. Sometimes, they force people to buy products. Such behaviour is common which causes brawls with the students."
In 2015, violence erupted over alleged extortion while other incidents took place mostly when both parties engaged in feuds over purchase of various products.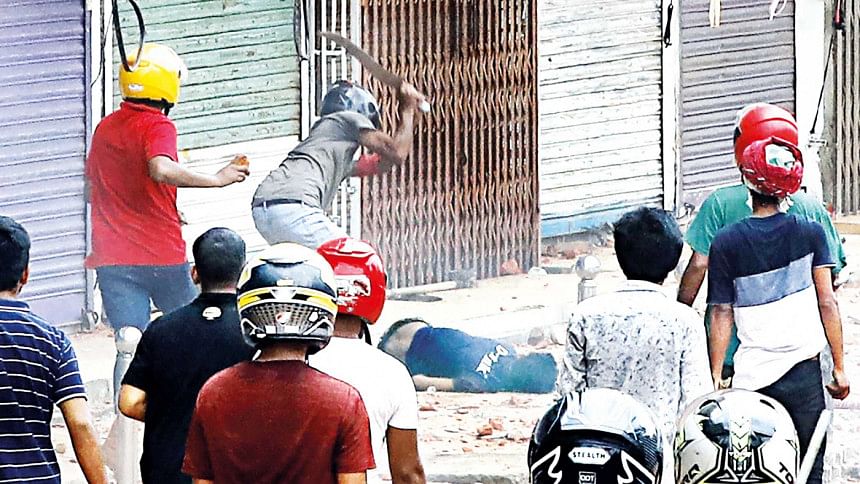 And each time local lawmakers or public representatives had to step in -- holding meetings between the embattled parties to quell the situation. Unfortunately, the Dhaka College authorities hardly played any role.
So the problem persists and the grievances of both parties never really have gone away.
The latest event, which crossed all the limits, is a glaring example. Storekeepers and students fought pitched battles for two days starting on April 18 night, resulting in the deaths of two people and damages to properties.
Traders and shopkeepers say it was the outburst of their pent-up grievances over "rampant extortion, harassment and torture" by a section of Dhaka College students, especially the Chhatra League men, who have created an environment of fear in the area over a long time.
The shopkeepers and hawkers in the New Market area got united this time and wanted to fight it out.
There are at least 40 markets around Dhaka College, including New Market, Chandrima Super Market, Globe Shopping Centre, Nurjahan Market, Badruddoza Super Market, Chandni Chowk Shopping Complex, Dhanmondi Hawkers Market, Gausia Market, and the Nilkhet bookshops.
A large number of traders in the area claim that Dhaka College students often pay less than the actual price, and in some cases even refuse to pay anything after buying clothes and books.
They alleged that the politically influential students demand a hefty amount of money from the businesses ahead of major festivals, like Eid. The defiance resulted in clashes sometimes.
The students, on the other hand, said the misbehaviour of the traders and shopkeepers has been a longstanding issue. Besides, they charge extra for products, and often treat women indecently. The shopkeepers turn aggressive when their behaviour is met with protests, they added.
They too claim the latest clash was the outburst of their long-standing grievances against the traders. That's why students of Dhaka University, Eden Mohila College, and Dhanmondi Ideal College came out to support the fellow students of Dhaka College.
"Whenever you go to the New Market, you would experience that they would charge more than the actual price. If you bargain at a lower price, they would pass bad comments. Sometimes, they force people to buy products. Such behaviour is common which causes brawls with the students," said Naimul Hasan, a second-year student at Dhaka College.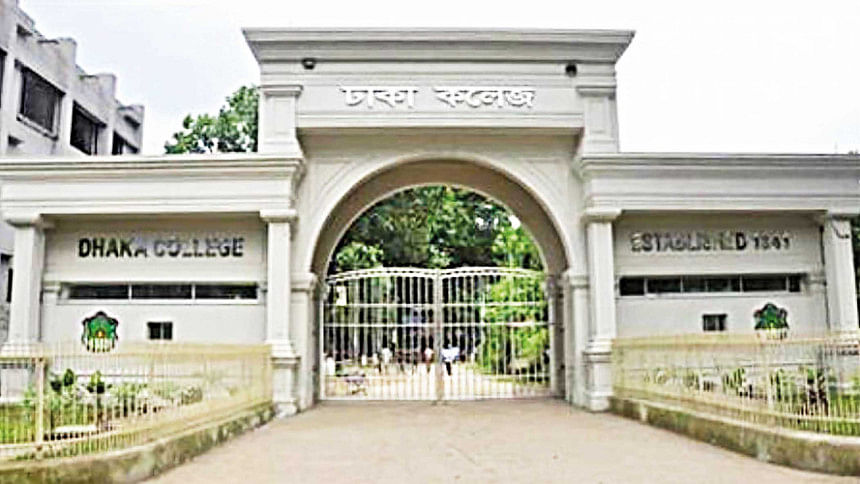 Regarding the traders' allegation, the students said some "influential" student leaders might have been engaged in such activities. The general students have nothing to do with this, they said.
Sources said Dhaka College Chhatra League men have control over their dormitories and force students to take part in political activities and even in clashes. Police even think twice to take action against them.
Helal Uddin, president of Bangladesh Shop Owners Association, said they have been angry for a long time over various issues. When Dhaka College Chhatra League men interfered in the April 18-19 events, the situation went out of control.
"Besides, the brawl [ that initiated the clash] was between the employees of two shops in New Market. Had the Dhaka College students not been engaged in the first place, things would not have gone this far," he added.
He said interference, harassment and torture by Dhaka College BCL men are frequent there.
Giving an example of February 3, he said traders at Chishtia Market had an issue with the distributors of an AC company. The AC distributors claimed that they were not given the full payment. Traders said they didn't give full payment as the ACs were faulty, and they wanted a replacement.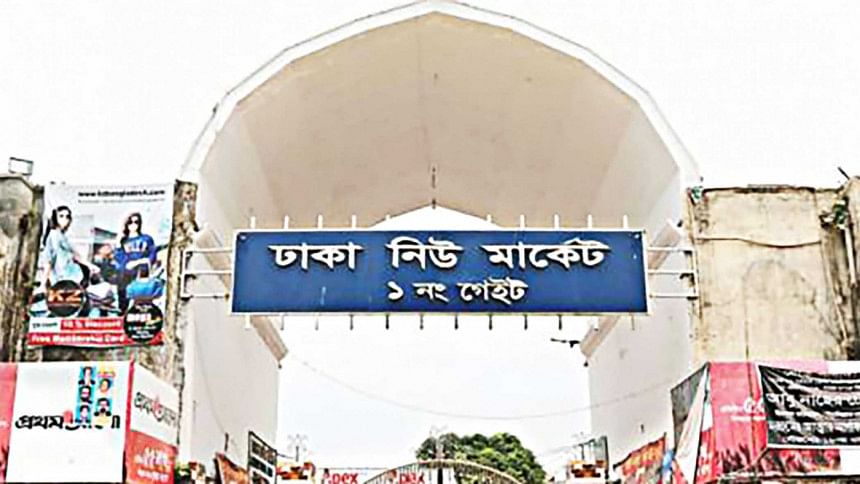 "After a few days, the AC distributors brought some Dhaka College students who introduced themselves as Chhatra League men. They pressured traders to give the money. Traders said they would not give full payment unless they get a replacement.
"At one point, they stabbed five traders there. When traders sought help from law enforcers, they got nothing," Helal said.
At least six incidents of torture and harassment by Dhaka College Chhatra League men allegedly took place in the last two months at Nurjahan Super Market, opposite to Dhaka College.
One of its traders said two students of Dhaka College came last month and bargained for two shirts. They gave half price for the shirts and told them that they would take two more after two days.
"When two shop employees protested this and asked for at least the buying price, they [students] beat them up," he claimed. 
Admitting harassment of customers by some employees, Helal said there will be complaint boxes for aggrieved persons and that they would also arrange counselling for the shopkeepers after Eid. 
Dewan Aminul Islam Shaheen, president of Dhaka New Market Business Owners' Association, said a core committee will be formed comprising representatives of teachers, students and traders who will resolve any complaints. 
Fuad Hasan, joint convener of the Dhaka College BCL committee formed in 2016, refuted the allegations raised by the traders. He blamed the harassment by shopkeepers of the area for such regular brawls. 
"The shopkeepers' behaviour sometimes triggers unwanted incidents," he said, adding that the latest clash was the explosion of grievances brewing over the years against the traders. 
ATM Mainul Hossain, acting principal of Dhaka College, said no traders came to the college authorities with any such complaints. 
"To avoid such incidents in future, we have asked the teachers to motivate the students. After the college reopens, we would motivate them about integrity and morality," he said.