Living and lifestyle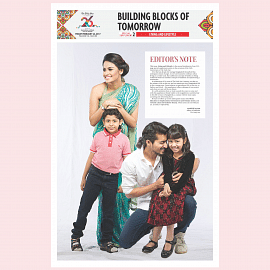 Editor's Note
This issue, Living and Lifestyle, is the second instalment of our 232-page special supplement series on the occasion of the 26th Anniversary of The Daily Star.
Over the last decade, the average Bangladeshi household has undergone drastic changes. As we have learned to embrace urban living on a wider scale, the traditional concepts of family are being redefined whilst our familiar concepts of tradition are experiencing a renaissance.

In celebration of 26 years of The Daily Star's journey, we take on the subject of life in the city, and our prediction for a Bangladeshi life in the coming years. From subjects on parenthood, life in the city to fashion and travel – this supplement offers a glimpse of our present and what can very well be our future.

It is with optimism that we look towards the years to come and with this supplement firmly testify to the magnificence and diversity to this life of ours in Bangladesh, a country with most open, accepting and welcoming heart.  
Be sure to follow up on the subsequent issues, titled From Education to Employment; Environment and Climate Action; and Towards a Just and Inclusive Society, which come out on February 25, 26 and 27 respectively
Mahfuz Anam

Editor & Publisher

The Daily Star